The classic takeout Crunchwrap Supreme, made from scratch and scaled down to make the perfect game day food that your crew will go crazy over.
Homemade Crunchwrap Supreme
These beauties are entirely Tim's brain child.
I can't take one ounce of credit for them.
You see, Tim LOVES Taco Bell. And, while it got him through high school and much of college, now, it's a guilty pleasure that he only rarely gets to indulge in.
One of his favorites is their Crunchwrap Supreme. If you're not familiar with it, think about a saucer-shaped burrito, stuffed with all the fixings, plus a crunchy corn tortilla, all wrapped in a huge flour tortilla.
It's warm, cheesy, oozy, salty, and crunchy.
Perfect comfort food.
One evening we were talking about game day food ideas, and he got this crafty look on his face, "What if we made mini crunchwrap supremes?"
I probably stared at him blankly, because he proceeded to lay it all out for me: a small flour tortilla, refried beans, ground beef, a round corn tortilla chip, sour cream, tomatoes, lettuce, and cheese. Pan-toasted to golden and crispy.
It sounded super tasty, perfect for game day, and just crazy enough that it might be amazing.
"And, it'd be healthier than what you get at Taco Bell too, since we're using real ingredients."
With that, he knew I'd be hooked.
Making Our Homemade Crunchwrap Supreme
So, we grabbed some flour tortillas and round corn tortilla chips from the store (Yes, the store. When you're doing something this epic, 100% homemade would have been a bit overkill, even for me.)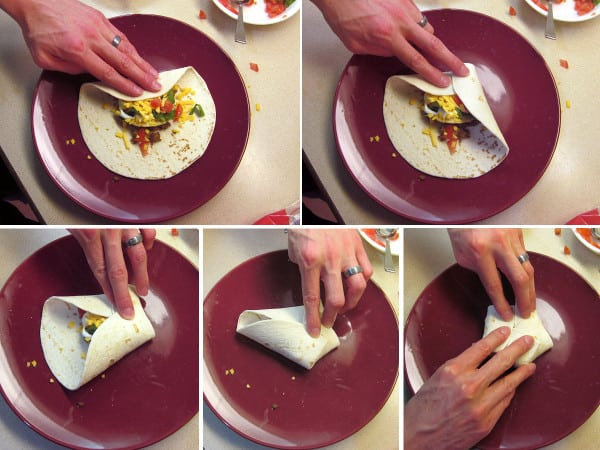 We whipped up a batch of our homemade refried beans, and we used our homemade taco seasoning mix for the ground beef.
The rest of the toppings were pretty easy: lettuce, tomato, sour cream, and shredded cheddar cheese.
For those of you Crunchwrap die-hards, yes, this is a compromise from the uber-fake cheese sauce that typically comes in the Crunchwraps, but if Tim was ok with the concession, you can be to.
Hey, now you can call them 'healthy.'
Deal?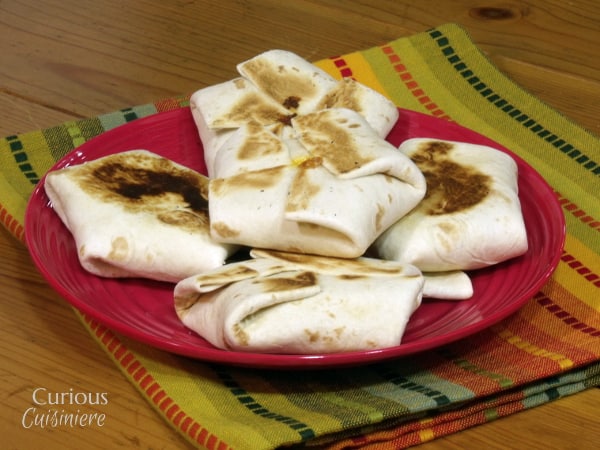 The result blew my mind.
It's everything a classic burrito should be, with a crispy outside and a fun crunch in the middle.
These guys are best served immediately. But, they do store well in the fridge for up to a week. Just heat them in the microwave for a few seconds and re-crisp them under the broiler or in a toaster oven. You'll still get the flavor of the tortilla chip in there, jut without the crunch.
Mini Homemade Crunchwrap Supreme
The classic takeout Crunchwrap Supreme, made from scratch and scaled down to make the perfect game day food that your crew will go crazy over.
Yield: 12 mini crunchwrap supreme
Ingredients
Putting It All Together
12

(6 inch)

flour tortillas

1

c

refried beans

12

round

corn tortilla chips

¼

c

sour cream

½

c

lettuce,

shredded

½

tomato,

diced

½

c

cheddar cheese,

shredded

Salsa

(to serve)
Instructions
For the Meat
Brown the ground beef in a medium skillet, over medium-high heat, until cooked through, 7-10 min.

Drain the grease, if necessary. Add taco seasoning and water. Mix well, heating over medium heat until the liquid has evaporated, 2-3 min. Remove from the heat and set aside.
Putting It All Together
Place a flour tortilla on your work surface. Spread 1 Tbsp of beans in a 2-3 inch round at the center of the tortilla. Top the beans with 1 Tbsp of the meat mixture. Place a chip over the meat. Top the chip with a dollop of sour cream, a pinch of lettuce, a sprinkling of diced tomatoes, and a bit of shredded cheese.

Fold the outer edges of the flour tortilla in over the filling, creating a five sided shape.

Preheat a cast iron skillet over medium heat. Reduce the heat to medium-low and place the taco, seam side down, on the hot pan. Cook for 1-2 minutes, until the tortilla is golden. Flip and cook on the other side for 1-2 minutes. Remove from the pan and keep warm in a warm oven while preparing the other tacos.

Continue with the remaining tortillas and filling. (If your pan is big enough, make a couple and cook them at the same time.) (You may need to lower the temperature of your burner as you go along and the pan starts to get hot.)

Serve immediately with salsa, if desired.
Nutrition
Calories:
254
kcal
|
Carbohydrates:
3.4
g
|
Protein:
11.5
g
|
Fat:
9.1
g
|
Saturated Fat:
3.2
g
|
Cholesterol:
26
mg
|
Sodium:
533
mg
|
Fiber:
1.3
g
|
Sugar:
1.9
g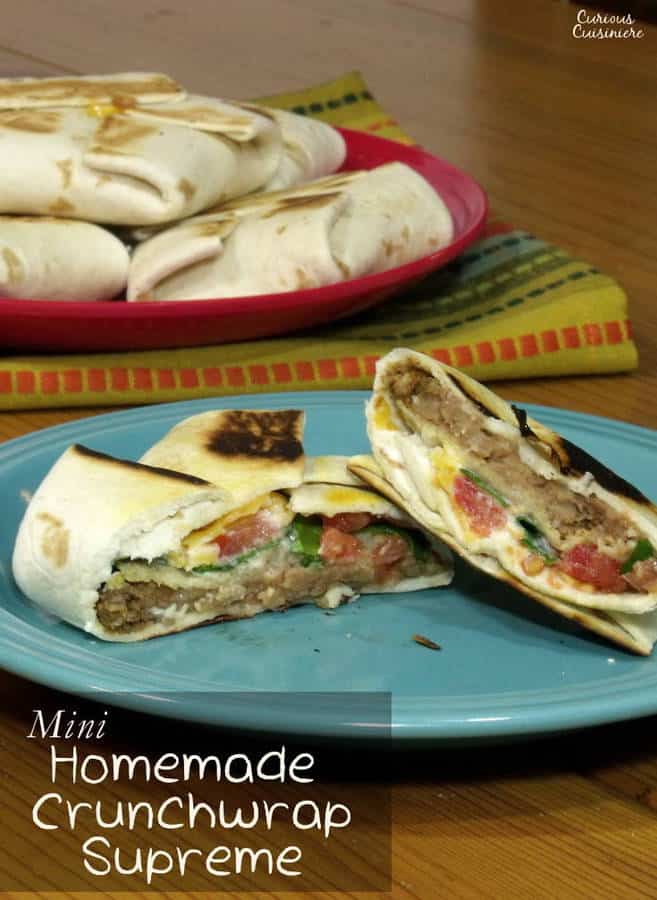 If you liked this recipe, here are some similar dishes you may enjoy!