Mbatata from Malawi are easy to make Sweet Potato cookies that are soft and cakey, making them the perfect healthy cookie recipe to fill your cookie craving!
Mbatata Cookies from Malawi
Malawi is a small country in southeastern Africa that is bordered by Zambia, Tanzania, and Mozambique. It is one of the smallest countries in Africa, and the lake from which the country gets its name, Lake Malawi, takes up nearly a third of the country's area!
Malawi is a very poor country, but the people are know for their hospitality and friendliness. So much so, in fact, that it is known as the "Warm Heart of Africa".
Because of this, it is traditional to cut these Mbatata (pronounced MM-ba-TA-ta) cookies into the shape of a heart, making them a true tribute to the people and character of Malawi.
Healthy Sweet Potato Cookies
Malawi's economy is highly dependent on agriculture. The sweet potato, with it's high nutrient content, is an important nutritional element in the diet of Malawi's people.
Sweet potatoes are one of the best sources of the vitamin A, a serious antioxidant.  They are also a good source of vitamins C, B6, and D, among other nutrients. And, as you can tell by their orange color, they are high in carotenoids, like beta carotene, which help with your eyesight and immune system.
I think it's pretty safe to say that since these cookies are packed with all the nutrients sweet potatoes have to offer, these can qualify as HEALTHY COOKIES!
Making Our Mbatata Recipe
The consistency of the dough for these cookies will depend on how soft your sweet potatoes are cooked before they are mashed. If your sweet potatoes are very soft and moist, then your dough might be a little on the soft side.
If you find your dough to be too soft, just add a little more flour as you knead it out. Add flour until you have a dough that is soft, but able to be easily rolled and cut.
Tasty Sweet Potato Cookies
The texture of these cookies is quite surprising. They are not crisp or chewy like other cookies may be. Instead, they are pleasantly soft and almost cakey.
Also, these cookies are not overly sweet. Rather, the sweet potato and raisins lend their natural sweetness to the cookies, giving them a beautiful flavor that is complemented by the cinnamon and touch of brown sugar.
Really, they are the perfect fall cookie, full of warm cinnamon and raisins accented by that robust sweet potato flavor. They're a cookie that you can feel good about eating while you survey the changing leaves or snuggle in front of a fire with a glass of milk.
Serious comfort and lots of happiness!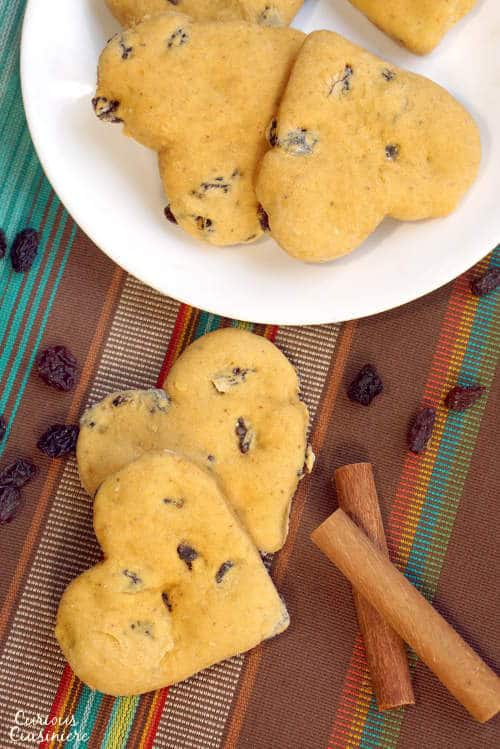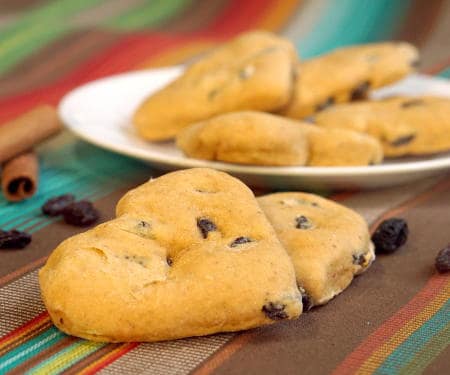 Mbatata (Malawian Sweet Potato Cookies)
Yield: 1 dozen (3 inch) heard cookies
---
Ingredients
½

cup

mashed sweet potatoes *

2

Tbsp

unsalted butter,

melted

¼

c

brown sugar,

loosely packed

2

tsp

baking powder

¼

tsp

salt

1

tsp

cinnamon

¼

c

raisins
Instructions
In a large bowl, mix mashed sweet potatoes and melted butter.

Add flour, brown sugar, baking powder, and salt. Mix well until a soft dough forms.

Add the raisins and mix until incorporated.

Turn the dough out onto a well-floured surface and knead it a few times until the dough is solid enough to roll out.

Roll the dough 1/2 inch thick and cut the cookies with a cookie cutter (heart shaped is traditional). Place the cut cookies onto a parchment lined baking sheet. Re-roll and cut any remaining dough, until all the dough has been used.

Bake the cookies for 12-15 minutes, until firm and slightly springy when touched.

Remove the cookies from oven and let them cool on the pan for 5 minutes.

Remove the cookies from the baking sheet to finish cooling on a wire rack.
---
Recipe Notes
*To make mashed sweet potatoes, peel and quarter a medium sweet potato (roughly 1/2 lb). Place it in a saucepan and cover it with water. Cover the pan and bring the water to a boil. Boil the peeled sweet potato for 30 minutes, or until easily pricked with a fork. Once cooked, drain and mash the potato with an electric hand mixer, until smooth.
You will need ½ cup of mashed sweet potatoes for 1 dozen cookies.

If you liked this recipe, here are some similar dishes you may enjoy!