Korean Bibimbap is a mixed rice dish full of vegetables and Korean beef that is bursting with flavor and textures. If you haven't tried this nourishing and healthy dish, you need to!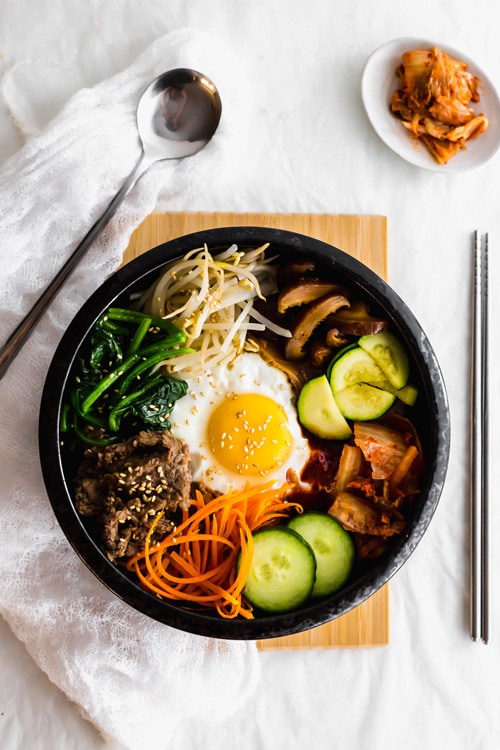 DISCLOSURE: As an Amazon affiliate we earn from qualifying purchases. See our privacy policy for more information.
When it comes to healthy, nourishing and complete meals, I always think of Korean Bibimbap. To me, it epitomizes the perfect balance of vegetables, carbohydrates, and protein.
What is bibimbap?
"Bibimbap" means "mixed rice" in Korean.
The dish consists of various sauteed vegetables, fermented kimchi, gochujang (Korean red pepper sauce), marinated meat (such as bulgogi beef), and a fried egg all served with warm rice.
The dish comes as a beautiful presentation of colors and textures. And, it's all stirred together before eating.
The history of bibimbap
There are different theories as to how bibimbap came to be.
It was purported that after making offerings to the gods (in an ancestral rite), they would mix rice with various side dishes (banchan) and eat it.
Another theory is that before the lunar new year, people would make bibimbap as a way to get rid of all the leftover side dishes prior to the new year. They would place all the leftovers into a bowl and mix it with the rice.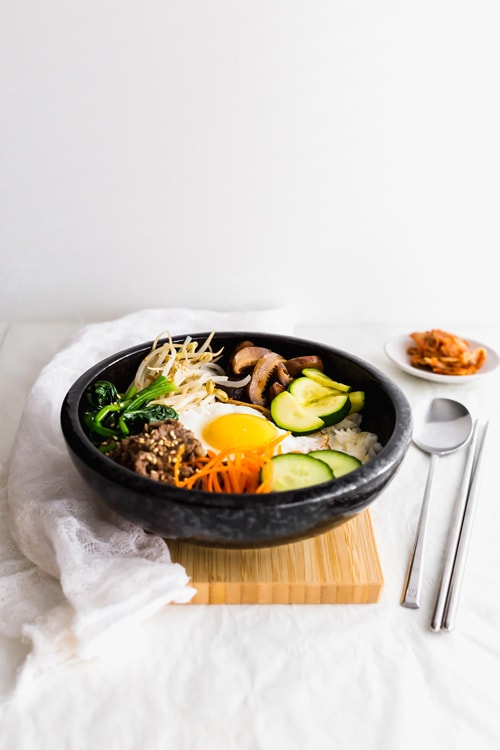 How to make this beef bibimbap recipe
Bibimbap comes together relatively quickly once you have your individual ingredients gathered and prepared.
The most time consuming part is cutting up all of the vegetables. The vegetables should be cut in a similar thickness so they cook quickly and evenly.
Once you have the pan hot and oiled, you can saute the vegetables individually and set them aside. Repeat the process with each vegetable.
The beauty of bibimbap is that you can choose any vegetables you like and lightly saute them.
Traditional vegetables for bibimbap are julienned zucchini, carrot, spinach, mung bean sprouts, mushrooms, radish, and bellflower root.
Sauteed, marinated beef is a classic addition, as well as a raw or fried egg. The vegetables are artfully arranged on top of the rice in a visually pleasing manner with the egg at the center.
Gojuchang (Korean red pepper paste) and sesame oil are added to the mix and give an aromatic punch of flavour to the final dish.
In this version, I've omitted the bellflower root (since it may be difficult to find) and radish as a personal preference.
For the marinated beef in this bibimbap, thinly sliced or shaved beef can be found at Asian supermarkets in the frozen section, near the hotpot items. If you don't have access to an Asian supermarket, you can easily take a cut of beef and place it into the freezer for 2-3 hours. Then, using a sharp knife, slice the meat against the grain thinly.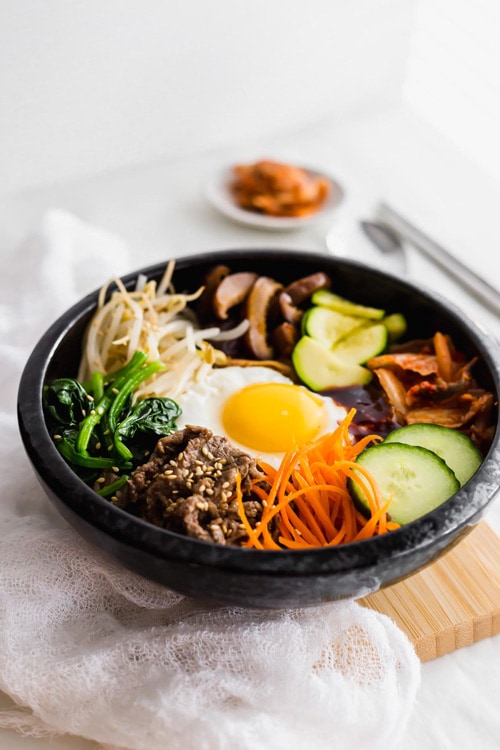 What is kimchi?
Kimchi is a salted, slightly spicy, and fermented vegetable side dish that is common in Korean cuisine.
It's made with napa cabbage and radish.
You can find kimchi in Korean or Asian markets in the refrigerator section.
What is gochuang?
Gochujang is a sweet, spicy, yet savoury red chili pepper paste that is fermented (similar to kimchi).
It is made with chili powder, glutinous rice, fermented soy bean powder, barley malt powder and salt.
Gochujang may be a little more difficult to find, although it is becoming more popular in the States and can often be found in the Asian section of your grocery store. Korean grocers will also carry it.
Feel free to omit the gochujang from the recipe if you can't find it. And, particularly if you're not a fan of spicy food, you can omit it.
What is the difference between bibimbap and dolsot bibimbap
Sometimes on a Korean restaurant menu, you may come across something called "dolsot" bibimbap.
This is a variation of bibimbap which is served in a piping hot stone bowl. "Dolsot" refers to the "stone pot."
The stone pot is sizzling hot and a coating of sesame oil is at the bottom of the bowl. The rice at the bottom of the bowl develops a crispy golden brown exterior.
The remaining ingredients are similarly mixed together and the raw egg gets cooked in the hot bowl.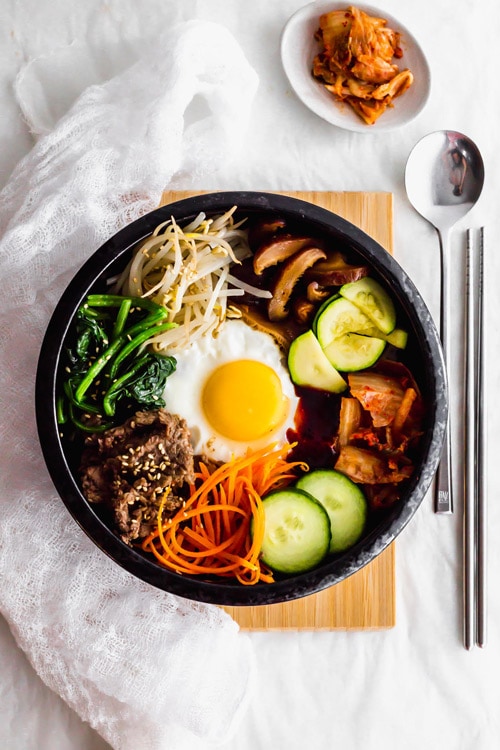 A classic Korean dish, bibimbap is a comforting, filling and nutritious meal that you can jazz up with whatever ingredients you prefer or have on hand.
Switch the beef up for tofu or chicken, or omit it for a vegetarian version.
It's a great way to use up those wilting vegetables in the crisper and make a healthy and delicious dinner!
Yield: 1 hearty serving
Korean Beef Bibimbap (Mixed Rice Bowl)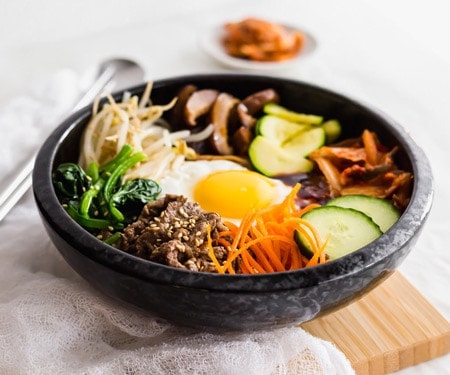 Korean Bibimbap is a mixed rice dish full of vegetables and Korean beef that is bursting with flavor and textures. If you haven't tried this nourishing and healthy dish, you need to!
Total Time
4 hours
55 minutes
Ingredients
For the bulgogi beef
½ lb thinly sliced beef
3 Tbsp soy sauce
1 tsp brown sugar (optional)
½ c grated Asian pear
2 cloves garlic, minced
¼ onion, minced
pinch of black pepper
1 tsp oil, for cooking
For the toppings
2 carrots, julienned
1 small zucchini, julienned
5-6 shiitake mushrooms, sliced
1 tsp soy sauce
2 c hot, cooked white rice
1 bunch spinach
1 package mung bean sprouts
1 fried egg
To garnish
white sesame seeds
1 Tbsp sesame oil
1 Tbsp gochujang
2 Tbsp kimchi
Instructions
Place the beef, soy sauce, brown sugar (if using), grated Asian pear, garlic, onion, and black pepper into a bowl. Gently mix the marinade into the meat with a fork. Cover with plastic wrap and place into the fridge for a minimum of 4 hours or overnight.
Heat a frying pan over medium high heat, add 1 tsp of oil and the marinated beef. Stir the meat around for 3-4 minutes -- because the meat is thinly sliced, it will cook quite quickly. Place the cooked meat onto a clean plate and cover. Set aside.
Wipe down the frying pan and add a little oil. Heat over medium high heat, and add in the julienned carrot. Sauté for 2-3 minutes, until lightly softened. Transfer to a clean bowl.
Repeat with the zucchini -- no need to add any oil -- sauté for 3-4 minutes, until the zucchini softens. Transfer to a clean bowl.
Repeat with the shiitake mushrooms -- add a little bit of oil to the frying pan and sauté for 4-5 minutes, until the mushrooms are cooked through. Season with a little soy sauce. Set aside.
Fill a large pot with water and bring to a boil.
Place the washed mung bean sprouts into a colander and pour half of the boiling water over top of the bean sprouts. Drain. Transfer the sprouts to a bowl and drizzle with 1 tsp sesame oil and 1 tsp white sesame seeds.
Using the remaining boiling water, blanch the spinach for 1-2 minutes, and drain. Submerge the spinach in an ice bath to stop the cooking process. Gently wring out the spinach and place into a bowl. Drizzle with 1 tsp sesame oil and 1 tsp white sesame seeds. Set aside.
Heat up a small frying pan with a little oil and crack an egg in it. For sunny side up eggs, cook over medium heat for a few minutes. Remove from heat.
To assemble: Add the cooked white rice to the bowl, and top with the sunny side egg in the middle. Layer the veggies and meat on top of the rice around the egg. Add a drizzle of sesame oil, dollop of gochujang, some kimchi, and sprinkle of sesame seeds. Serve immediately.

Recommended Products
As an Amazon Associate and member of other affiliate programs, We earn from qualifying purchases.
If you liked this recipe, here are some similar dishes you may enjoy!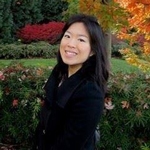 Michelle enjoys learning and discovering different foods from around the world and recreating them in her own kitchen. She is an avid matcha lover and believes that the best food is made from scratch. Michelle develops and photographs recipes at her blog SiftAndSimmer.com.