Tender and juicy Cuban Mojo Pork brings robust flavor of garlic and bright citrus notes to this easy, slow cooker recipe.
What Is Cuban Mojo Sauce?
Mojo (pronounced MOH-hoh) is a sauce that is widely used in Spanish and Portuguese cooking. There are a number of variations on mojo sauce, depending on which country you are in, but today, we're talking about the Cuban version.
The Cuban version of mojo sauce is thought to have come from immigrants to the Caribbean from the Canary Islands (off the coast of Spain). In the Canary Islands, you will find versions of mojo that are heavy on the garlic, and we see that element carried through in the Cuban version of mojo.
In Cuba, mojo sauce is made with garlic, citrus, and oregano. Some versions will include cumin as well for an extra smoky flavor.
Mojo is a robust and flavorful sauce, where, surprisingly, the citrus takes a back seat to the other flavors and acts simply as a unifier, rather than a bright and loud burst of flavor.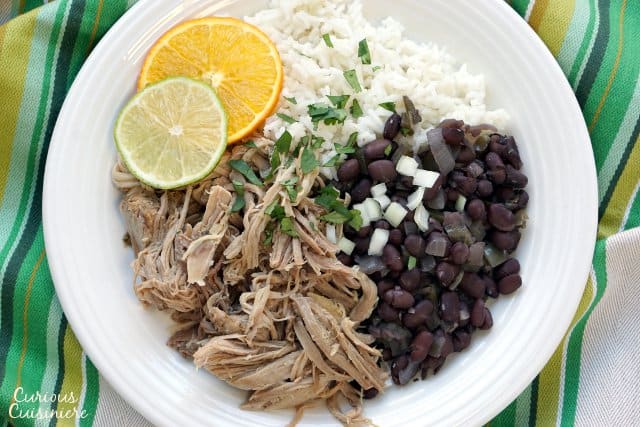 How Do You Make Mojo Sauce?
Traditional Cuban mojo sauce is made using Cuban sour oranges. These almost bitter oranges grow throughout Cuba, and can also be found in south Florida. However, if you live much farther north than that, you'll have a hard time finding one of these bitter oranges.
The good news is that you can get close to the flavor of sour orange juice by using a combination of regular orange juice and lime juice.
If you were making a Cuban mojo sauce for dipping or to use as a marinade, you would crush the garlic with the salt and oregano, creating a paste. To this paste, you would add the citrus juice and let the mixture stand for at least 30 minutes for the garlic to infuse the sauce.
Our Slow Cooker Cuban Mojo Pork Recipe
Since we're making our mojo pork in a slow cooker, it will have plenty of time to infuse with flavor, so for our recipe, everything simply goes into the slow cooker, and you get to walk away.
After pulling the meat, we veer from tradition a bit by adding a little cornstarch to the slow cooker. This thickens the juices slightly, helping the mojo sauce to really coat the tender pulled pork.
You don't want to leave all that flavor back in the slow cooker!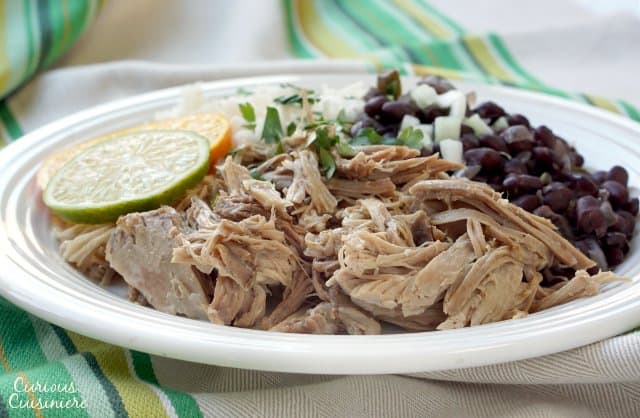 As a word of warning, you will be tormented all day long with the fragrance of garlic and citrus.
But that just makes dinner all the more worth it, right?
Serve your mojo pork with a side of Cuban black beans for a full Cuban fanfare meal!
Slow Cooker Cuban Mojo Pork
Tender and juicy Cuban Mojo Pork brings robust flavor of garlic and bright citrus notes to this easy, slow cooker recipe.

Yield: 1 (3lb) pork shoulder
Ingredients
3

lb

pork shoulder

6

cloves

garlic

minced

½

tsp

salt

¼

tsp

oregano

1/8

tsp

ground black pepper

¼

c

orange juice

(1/2 large orange, juiced)

¼

c

lime juice

(1 large lime, juiced)

1

tsp

cornstarch

mixed with 1 tsp water
Instructions
Place all the ingredients (except the cornstarch) into your slow cooker.

Cook on low for 8 -10 hours.

Once the meat is tender, but about 30 minutes before you want to eat, remove the meat from the crock pot and shred it with two forks.

Mix 1 tsp cornstarch with 1 tsp water, until smooth. Add this mixture to the slow cooker and stir to combine.

Add the shredded meat back to the crock pot and cook for another 30 minutes to thicken the sauce.

Serve with black beans and rice.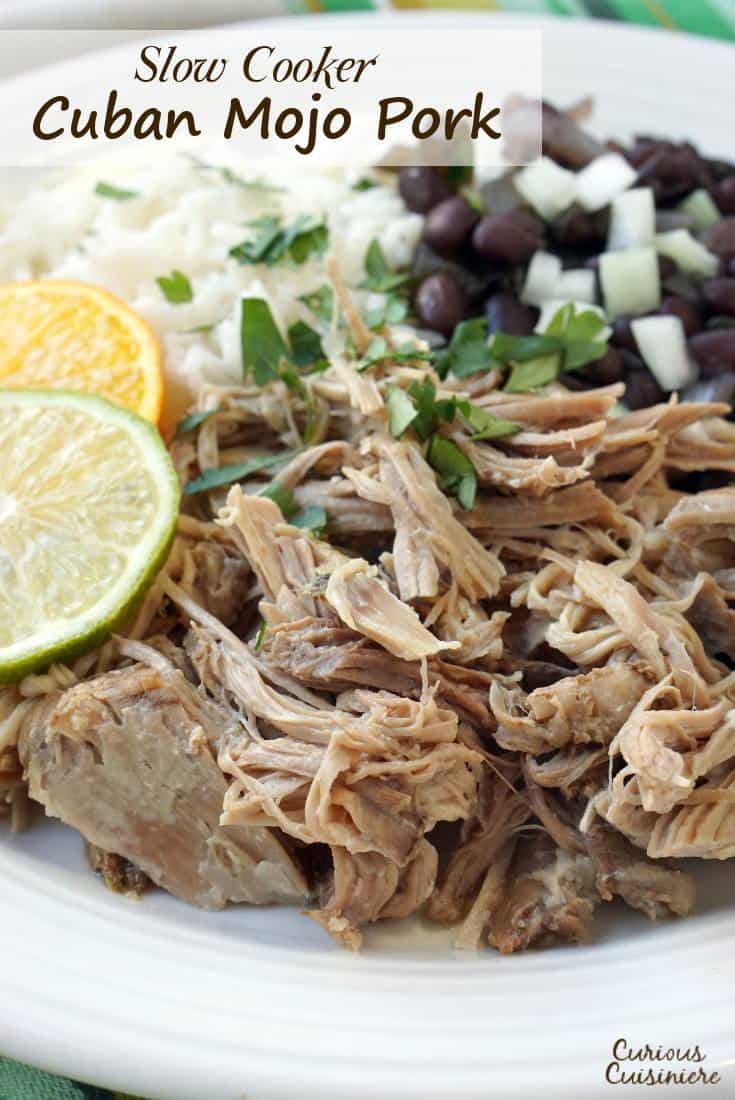 ---
If this recipe has you wanting to try your hand at more Cuban food, read on!
Today, we're exploring Cuba and Cuban recipes along with bloggers from around the world as a part of the #EatTheWorld challenge hosted by CulturEatz.
Check out some of these tasty Cuban recipes to complete your meal!
---
If you liked this recipe, here are some similar dishes you may enjoy!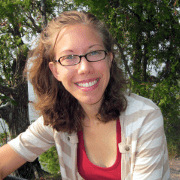 Sarah is one of Curious Cuisiniere's founding duo. Her love for cultural cuisines was instilled early by her French Canadian Grandmother. Her experience in the kitchen and in recipe development comes from years working in professional kitchens. She has traveled extensively and enjoys bringing the flavors of her travels back to create easy-to-make recipes.