Cuban chicken fricassee – tender chicken simmered in a robust tomato sauce – is the ultimate comfort food. It's easy and inexpensive to make, hearty and perfect for hungry appetites.
Made with whatever chicken pieces you prefer and chunks of creamy potatoes, everything gets simmered in a flavorful tomato-based sauce.
This fricassee is an affordable meal that is great for a large crowd.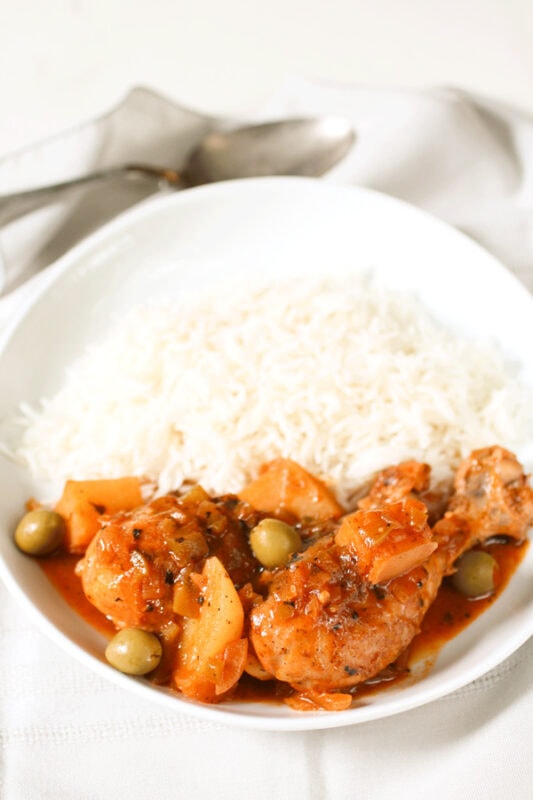 Cuban gastronomy
In traditional Cuban food you find many outside influences.
For example, it is influenced heavily by the indigenous people of Africa (during the time of slavery, the cooks were African slaves). This influence greatly affected the preparation of dishes and also brought in new ingredients, like yams.
Cuba also received thousands of Chinese immigrants, who contributed their grain of sand to Cuban gastronomy. In this case, the most outstanding element of their contributions was the guinda (wild sour cherries).
All these influences have given Cuban cuisine its own identity, unique in the world.
Slow cooking dishes are quite common in Cuban cuisine, as are spices and all kinds of herbs to achieve a unique flavor.
Plantains and tubers are some of the basic ingredients of the Cuban diet. Plantains appear in most traditional Cuban dishes. They are a good source of fiber, potassium, and vitamin C.
Cubans also love their rice, a grain that is included at lunch and dinner.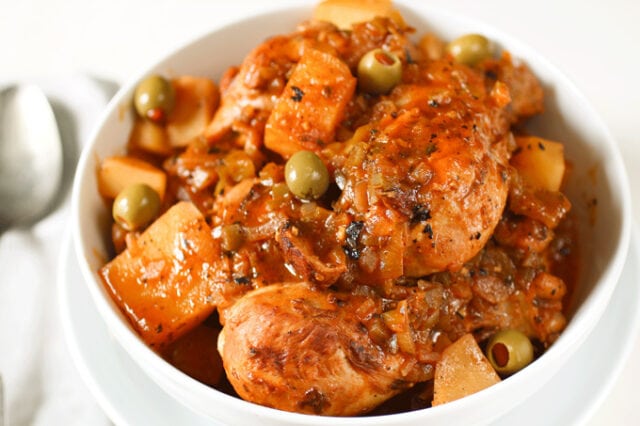 What is a fricassee?
Fricassee is a cooking style that originated from France. In a fricassee, the meat is cut up into chunks and first pan-fried until golden, then slow-cooked in a sauce made with its own stock.
Over the years the dish has undergone many modifications. Each region or country that has adopted this technique has changed the ingredients to suit local products and their palates.
Unlike the traditional French fricassee, Cuban fricassee is tomato-based and made with dry white wine.
How to make Cuban chicken fricassee
This is a Cuban version of chicken fricassee. Many Latin American countries share a similar recipe.
The process starts by marinating chicken with sour oranges, garlic, onion, and bay leaf.
After an hour, the chicken is browned in a large saucepan. Using the same pan, a sofrito (or sauce) is made.
After browning, the chicken cooks in the tomato sauce until tender. The whole dish is finished off with salty olives and creamy potatoes.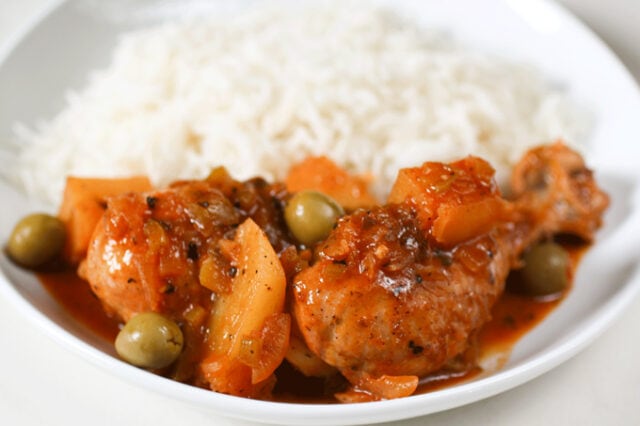 What to serve with chicken fricassee
You can serve this chicken fricassee with rice and fried plantains.
What is sour orange?
Sour orange, also known as bitter orange and Seville orange is often used in Cuban cooking.
Seville orange is a variety of citrus, known in Latin as the Aurantium Citrus. They are seasonal, with a thick peel, and very popular for making marmalade.
The juice is often used for seasoning meat and fish and used in salsas too.
A great substitute is a mixture of fresh lime, orange, and grapefruit juice, mixed with a splash of vinegar.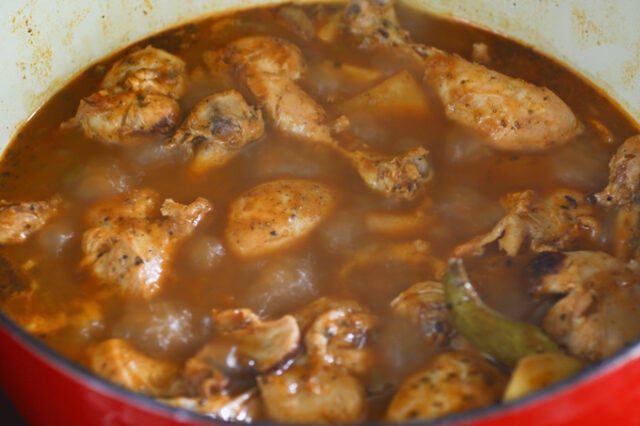 Can I make chicken fricassee in the slow cooker?
As this a slow-cooked meal, it's great for making it in a crock pot.
I do recommend that you don't skip the marinate and browning the chicken before adding it to the crock pot though. These steps are essential to getting the proper, robust flavor to the dish.
Once the chicken is browned, place it in the crockpot with the rest of the ingredients and cook on high for 2-1/2 hours, or low for 5 hours.
More Cuban recipes
If you like this recipe, try you hand at another slow cooked Cuban meal: slow cooker mojo pork and Cuban black beans.
Yield: 5-6 servings
Cuban Chicken Fricassee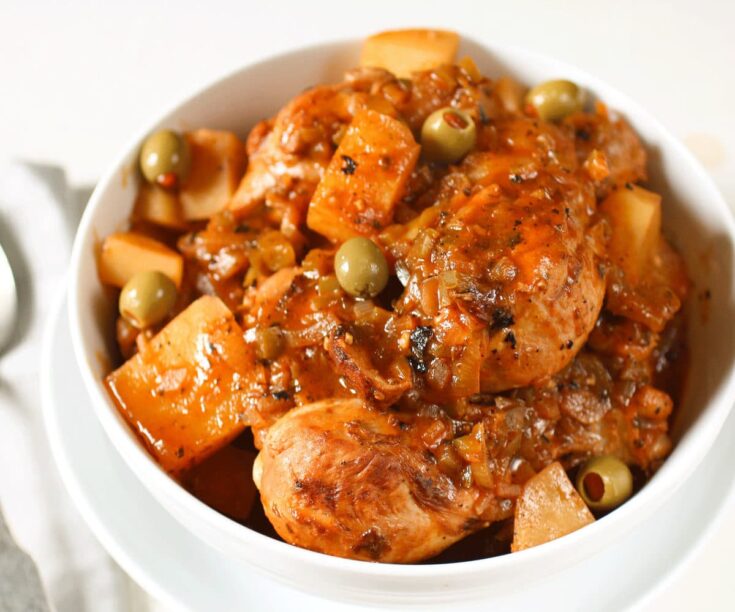 Cuban chicken fricassee - tender chicken simmered in a robust tomato sauce - is the ultimate comfort food. It's easy and inexpensive to make, hearty and perfect for hungry appetites.
Total Time
1 hour
55 minutes
Ingredients
For the marinade
1/4 cup freshly squeezed lime juice
1/4 cup freshly squeezed orange juice
1/4 cup freshly squeezed grapefruit juice
1/4 cup white distilled vinegar
10 chicken drumsticks, skinned
4 garlic cloves, minced
½ onion, chopped
1 bay leave
1 teaspoon salt
For the sauce
¼ cup vegetable oil
1 onion, chopped
1 bell pepper, chopped
1 (8 oz) can tomato sauce
1 cup dry white wine
Salt and pepper to taste
1 teaspoon ground cumin
½ tablespoon dried oregano
1 lb russet potatoes, peeled and cut into 1.5 inch pieces
1 cup green olives
Instructions
To marinate the chicken
Place the chicken in a zip-lock bag, add juices, vinegar, salt, garlic, onion, and bay leave. Close bag and chill for 1 hour.
For the dish
Remove the chicken from the marinade; pat dry using paper towels and reserve marinade.
Heat the oil in a large saucepan over medium-high heat. Brown the chicken and transfer to a plate.
To the same saucepan, add the onion and bell pepper and cook until they are soft.
Reduce the heat to low. Add tomato sauce and wine. Cook for about 5 minutes, or until the sauce thickens.
Return the browned chicken to pan and add the reserved marinade, potatoes, salt, pepper, cumin, oregano, and 1⁄2 cup water; bring to a boil. Cover and cook until the chicken and potatoes are tender, about 20 minutes.
Stir in the olives before serving.
Nutrition Information:
Yield:
6
Serving Size:
1/6 of recipe
Amount Per Serving:
Calories:

558
If you liked this recipe, here are some similar dishes you may enjoy!