This Slow Cooker Sirloin Tip Roast is simple to make but has enough flavor to make it the star of any dinner table!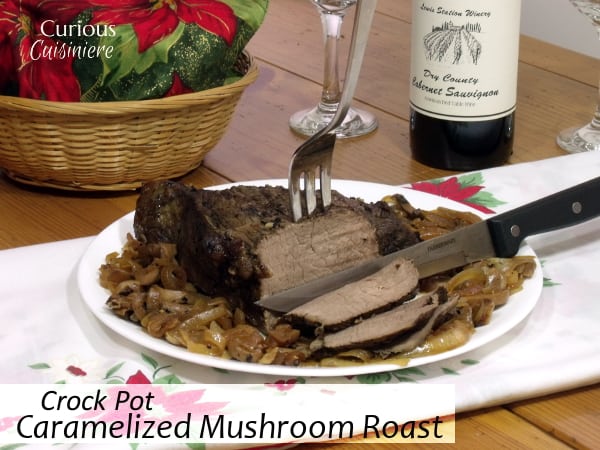 Have you started thinking about the dish that will be the star of your Christmas table?
Unlike Thanksgiving, where the main dish is pretty much a given, Christmas brings more room to play. Will it be a fancy roast, a sweet ham, a roasted bird?
Slow Cooker Sirloin Tip Roast
Today's roast is great for a crowd, because it transforms a more inexpensive cut of meat into a tender and juicy main event.
Even better?
You make this roast in your crock pot, meaning it's a 'set it and forget it' deal, leaving your oven and stove-top free for other dishes.
We're using a sirloin tip roast here, but you could also use a top round roast. The sirloin tip is just a cut away from the sirloin, so it is a pretty tender cut of meat. This means that it doesn't need extended braising time like a round roast. We're cooking the roast to get it up to a medium done-ness, roughly 145⁰F internally. As the roast sets, prior to serving, it will continue to cook, bringing it to more of a medium-well, pale-pink. This creates a roast that is infused with the flavor of slow cooking and has a perfect texture.
(Those of you who know your meat will notice that our pictures show a roast that's more well-done than medium-well. As happens, life got in the way, and we ended up taking our roast out of the crock pot when it was closer to 160⁰F, so our final roast had just crested the well-done mark. But, you don't have to worry if you overcook the roast, because, even well-done, this roast is super tasty!)
For more great tips on creating the perfect roast, check out our Keys To The Perfect Roast Beef article.
Wine pairing with our Mushroom Sirloin Tip Roast Recipe
You can't have a Christmas roast without wine!
We're incredibly excited to be pairing today's roast with Lewis Station Winery's new release: Dry County Cabernet Sauvignon.
This is a pretty special wine. Do you want to know why?
They aged this Cabernet with charred Jack Daniels oak.
Yup. We're talking whiskey and wine here folks. And, it's as amazing as it sounds.
If you're a whiskey drinker, you will be able to taste the whiskey and charcoal notes to this wine immediately. This is an incredibly smooth wine with a lot of flavor. A perfect warming, winter drink.
And, let me tell you, this roast and the Dry County Cabernet Sauvignon are a match made in heaven.
The beef and mushrooms accentuate the smoothness of the wine, bringing out the juiciness of the grapes and the sweet notes from the oak and whiskey. While the sweetness from the caramelized onions holds onto the fiery sensation that you crave from a whiskey, bringing a perfect balance to this pairing.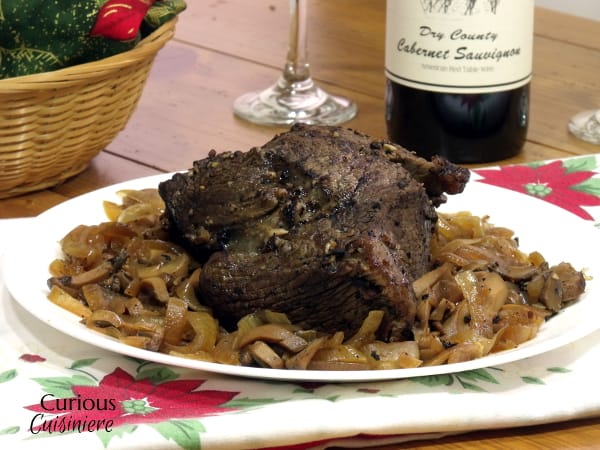 Slow Cooker Caramelized Mushroom Roast
This Slow Cooker Sirloin Tip Roast is simple to make but has enough flavor to make it the star of any dinner table!
Ingredients
2

tsp

salted butter

2

onions,

quartered and sliced

8

oz

button mushrooms,

sliced

4

garlic cloves,

minced

4

lb

sirloin tip beef roast,

trimmed of excess fat, if necessary

2

c

beef broth

(we prefer low sodium)

¼

c

Worcestershire sauce

¼

c

soy sauce
Instructions
In a cast iron skillet or Dutch oven, heat butter. Add onions and saute over medium heat until lightly caramelized, 7-10 minutes. Add mushrooms and garlic, and saute until heated, 2-3 min. Transfer the onion mixture to the bottom of your crock pot.

Place the roast in the hot pan. Increase the heat to high and sear the meat on all sides, 1-2 minutes per side, to lock in the juices. Once the meat is seared, nestle the meat over the onion mixture in the crock pot.

Reduce the stove-top heat to medium and add the beef broth to the hot skillet. Scrape the suck bits from the pan while the broth simmers. Add the Worcestershire and soy sauce to the broth, mixing to combine. Pour the warm mixture over the meat in the crock pot.

Cover the crock pot and cook your roast on low heat for 5-6 hours. (Or high for 2-3 hours.)

Check the roast near the cooking time by inserting a thermometer into the center of the thickest part of the roast. You are looking for an internal temperature of 145F. (This will give you a nice medium roast that will continue to cook to a medium well as it sets.)

Once the roast has reached temperature, remove it from the crock pot to your serving dish, along with the onions and mushrooms. Cover it with aluminum foil and let it rest for 10 minutes.

Transfer the remaining juice into a saucepan. Turn the heat to medium-high and bring the mixture to a simmer. Slowly sprinkle ¼ c of flour into the sauce, whisking to combine into a smooth sauce. Continue to simmer the mixture until it thickens into a gravy, 10-15 min.

Serve the roast and veggies topped with the gravy as desired.
Notes
This recipe can easily be halved to serve a smaller crowd (6-8). Cook a 2 lb roast for 5-6 hours on low.
Nutrition
Calories:
286
kcal
|
Carbohydrates:
6.8
g
|
Protein:
37.6
g
|
Fat:
12
g
|
Saturated Fat:
4.6
g
|
Cholesterol:
96
mg
|
Sodium:
560
mg
|
Fiber:
9
g
|
Sugar:
2.6
g
If you liked this recipe, here are some similar dishes you may enjoy!