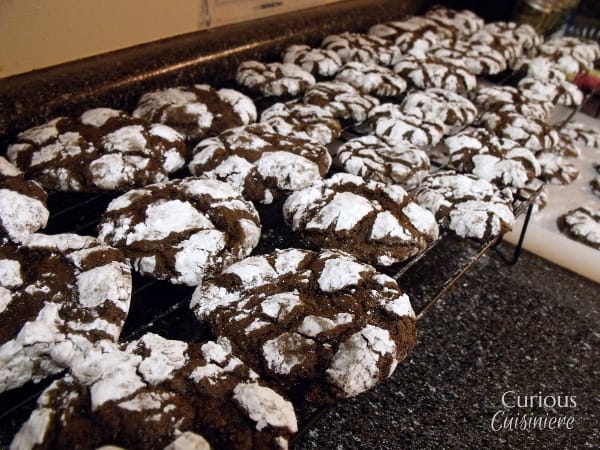 For years, whenever Tim and I would talk about Christmas cookies, his Mom's Chocolate Macaroons were the first to come to mind. He didn't know the recipe, and hadn't had them in years, but they found a place in his memory and stuck there.
Then, one year we finally asked his mom about the cookies. Apparently Tim's love for them went way back, because it took quite a bit of digging to find the recipe. But, the excitement once we had it in our hands was contagious.
Why his family calls these macaroons I will never understand. (Everywhere else I've heard these called Chocolate Crinkle Cookies.) It may have to do with the light and airy texture with a slightly crisp exterior that makes these a potential American cousin to the French macaron. All we really know is that they are tasty!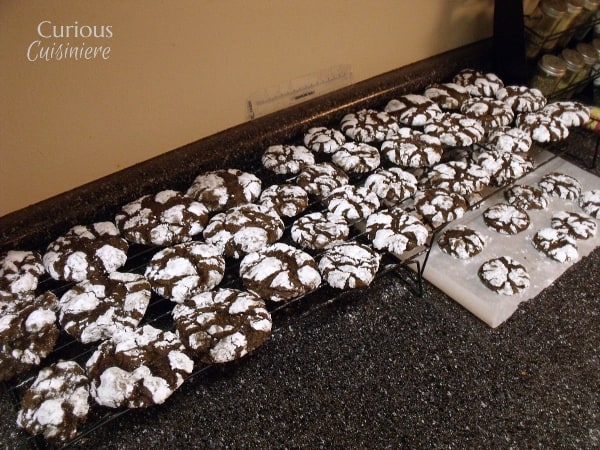 These guys don't really hit on the healthy treat spectrum. But, regular readers will know by now that around here, we try to keep to the motto of healthy with moderation. And, moderation really does mean enjoying your favorite cookie.
I do have half a mind to try to 'healthify' these guys this year, but I have a feeling the new version won't hold a candle to the light and airy chocolate mouthful that these cookies bring.
(And, I know I'm talking Christmas cookies and we're barely into November. Please forgive me. It's raining and dreary out today, and powdery chocolate comfort just sounds so good!)

Chocolate Crinkle Cookies
Yield 4 dozen 2" cookies
Author:
Sarah | Curious Cuisiniere
Ingredients
2 c sugar
½ c canola oil
4 squares melted semi-sweet chocolate
2 tsp vanilla
4 eggs
2 c flour
2 tsp baking powder
1 c powdered sugar
Instructions
In a large bowl mix together sugar, oil, melted chocolate, and vanilla.
Add the eggs, one at a time, beating after each addition.
Sift in the flour and baking powder and stir until just combined.
Cover the dough and chill several hours or overnight.
Preheat oven to 350?F.
When you are ready to make the cookies, roll the dough into balls the size of large grape. Toss the dough ball in a bowl of powdered sugar, to coat.
Place the powdered dough balls on a greased cookie sheet, spaced 2" apart. (Do not flatten out.) Bake at for 8-12 min until the edge starts to dry out. (When you take them out of the oven they will still look a bit under-done by normal cookie standards.)
Nutrition Information
Serving size:
2 cookies
Calories:
181
Fat:
5.8g
Saturated fat:
.8g
Carbohydrates:
30.6g
Sugar:
22.2g
Sodium:
11mg
Protein:
2g
Cholesterol:
27mg
I'm sharing this recipe today with the 12 Weeks of Christmas Treats Blog Hop over at Meal Planning Magic. The goal of this hop is to lessen the December stress and business by giving some gifting and treats suggestions early to get you thinking and planning ahead. Enjoy the treats!
If you liked this recipe, here are some similar dishes you may enjoy!