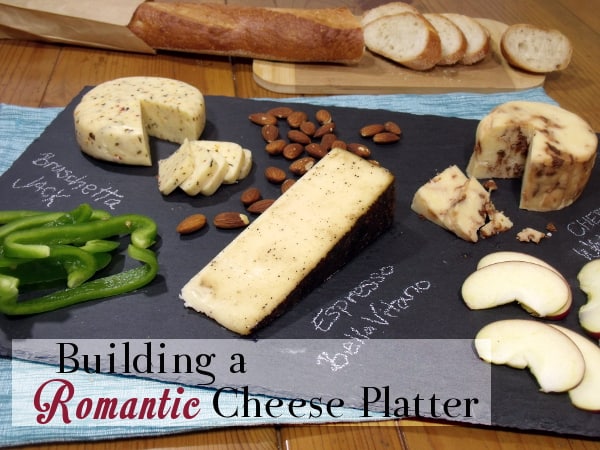 Apparently, we have cheese on the brain this Valentine's Day. We started things off with Swiss Fondue for Two, and then we brought you the Gruyère-laden Croque Monsieur. Now, we're finishing off our Valentine's week with some tips for putting together the perfect romantic cheese platter.
Honestly though, even if you don't have time to put together a fancy meal, or don't have the budget to go out to a nice dinner, a low-key meal of cheese, bread, and wine is one of the best ways to sit, relax, and enjoy an evening together.
Often in the spring and summer, we'll pack up some cheese, bread, wine, and a smattering of fruits and veggies and head over to our favorite park for an hour or two, just to slow down and enjoy the sun. Sometime's we'll just bring a brick of whatever we have in the fridge. (Pepper Jack left from the week's Turkey sandwiches. Done!) But, other times we'll make a special trip to the store to pick up something fun and unique.
Where to start? 
There are a number of different ways to put together a cheese platter, depending on what you like. But, the key is to find a nice balance of flavors and textures.
For the two of you, three cheeses will be too much for one sitting. (You only need 3-4 oz of cheese per person.) But three is the perfect number to get a nice range of flavors. Which means you have the perfect excuse for a second (or even third) date night in the near future!
With each cheese, we like to have at least one pairing item: fruits, nuts, veggies, or meat. These items make for a more well rounded meal, and it's exciting to see how the flavor of the cheese can change when paired with different textures and flavors.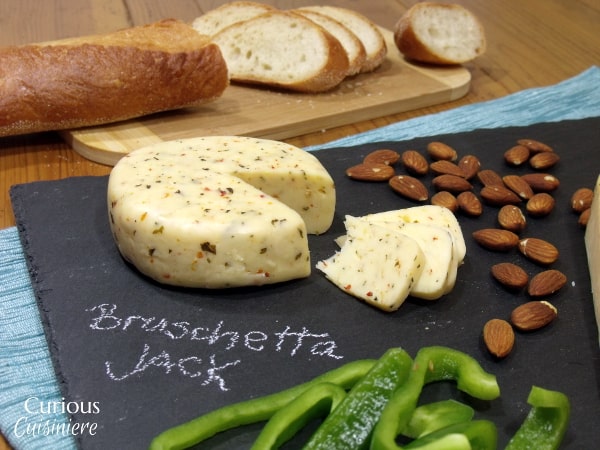 What kind of cheese?
Cheeses are typically classified by their hardness, and that is a good place to start.
Soft/Fresh: These light, creamy cheeses are incredibly mild. Think Goat Cheese (Chèvre), Mascarpone, Ricotta, and Fetta. They go great with other mild flavors, like honey or sun-dried tomatoes. Try these with a fruity wine.
Semi-soft: Cheeses like Fontina, Muenster, Havarti, Mozzarella, and Monterey Jack are still mild and creamy, but pair well with slightly more flavorful items like roasted veggies. Stick with a fruitier, but bold flavored wine for these.
Soft-ripened: These cheeses, like Brie and Camembert, start off firm and mild, but over the course of their life change to a gooey cheese with intense flavor. Try these with melon, berries, and a drier white wine.
Semi-hard: These cheeses are typically aged for longer than the softer varieties, giving them a stronger flavor. Cheddar, Swiss, Gruyère, Edam, and Gouda fall into this range. Pair Cheddars with cranberries or apples, Swiss or Gruyère with cured meats, and Edam or Gouda with nuts or peppers. If you're not a wine drinker, these cheeses pair well with a variety of beers, or try them with a fruity, semi-dry red.
Hard: Also known as 'grating cheeses', these cheeses, like Parmesan, Romano, and Asiago, have a rich and nutty flavor that pairs well with nuts and dry wines.
Blue: The distinct blue/green veining in these cheeses comes from a type of mold that gives them their characteristic flavor. You'll find the blue veins in English Stilton, French Roquefort, and Italian Gorgonzola. Pair these with walnuts, dark greens, and bold but sweet red wines.
For your platter, you could pick one soft, one semi-hard, and one hard cheese to get a range of textures from creamy to hard. Or, a semi-soft, a semi-hard, and a blue would give a range of flavors from mellow to strong.
The really important thing is to go with what sounds good to you. (If you won't eat it, why buy it?)
A word about bread:
And then there's the bread. A crusty French baguette is always our preference, but any Italian or French bread would do. You will want something with a mild flavor, so that the cheeses and their pairing items can shine through.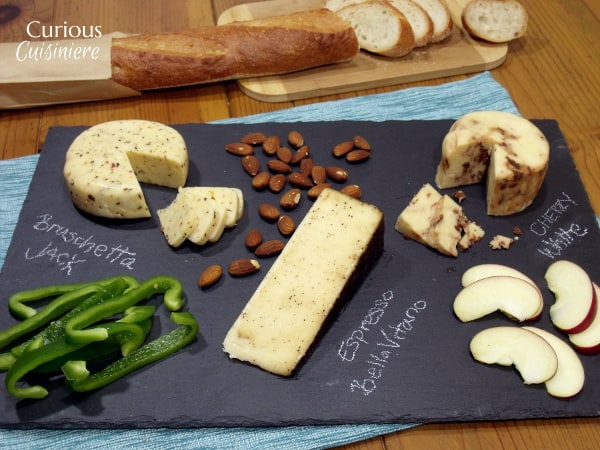 For our cheese platter, we chose to go local. We love flavored cheeses, and this time we had a hankering for a bit more flavor. So, we picked cheeses that would create a balance in the range of added flavors: vegetable, earthy, and sweet.
On our plate:
Maple Leaf Cheese's Cherry White Cheddar – This sharp white cheddar was perfect for studding with sweet-tart cherries. We loved this cheese with crisp apple slices, but pairing the cheese with green peppers brought out the sharpness of the cheddar.
Sartori Cheese's Espresso BellaVitano – A BellaVitano combines the consistency of Parmesan with a sweet and light creaminess that was reminiscent of Gouda. The Espresso-rubbed rind of this version added deep earthy notes that paired great with the crunch of roasted almonds.
Kase Meister Creamery's Bruschetta Jack Cheese – Creamy and mild Jack Cheese made a great background for the tomatoes and herbs in this Bruschetta Jack. We loved it with crisp veggies like green peppers and zucchini.

Enjoy your Valentine's Day!
If you liked this recipe, here are some similar dishes you may enjoy!