An intriguing, light, twist on your classic cheese souffle using shredded carrots, Carrot Souffle is a fun dinner treat!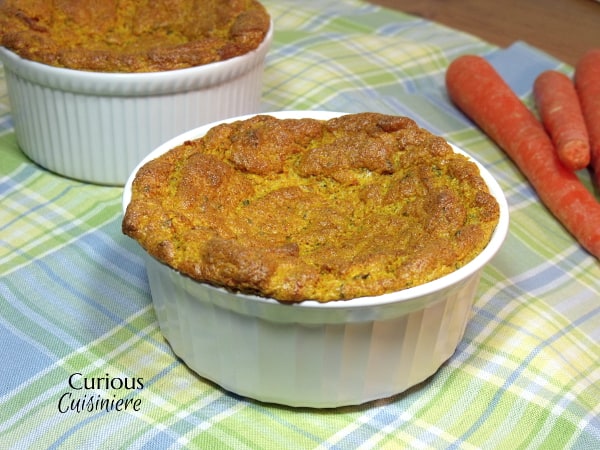 Vegetable Souffle
I had no idea you could make vegetable soufflés.
A soufflé to me was this daunting, heavy, high-class dish, made with of loads of rich and salty cheese or dark and creamy chocolate.
After seeing a recipe for vegetable soufflés in our Doubleday Cookbook, we knew we had to try it. And, now we have successfully made this 'high-class' dish an every-day favorite!
What Is A Souffle?
Soufflé comes from the French verb souffler, which means 'to puff up'. It is basically a combination of a cooled, egg-yolk custard and egg-whites beaten to soft peaks. Seasonings and other add-ins are mixed with the custard and give the finished dish its flavor, while the egg-whites provide the lift.
The magic of souffles happens in the oven, where they puff impressively.
But, no matter how hard you try, in our experience they will fall within 5 minutes of leaving the oven. (So have the family and guests gathered for that magic unveiling moment!)

How To Make An Easy Souffle
Our first foray into soufflés started in college.
We had a friend who would go on about how amazing soufflés are, and that he had no idea why people were afraid of them, because they always turn out perfect.
Now, he is a pretty adventurous and amazing cook, so that probably had something to do with it. But, he's also incredibly humble, so to hear him talk, it's all about how easy the dish is, and not about his care and skill.
So, one afternoon, armed with a large bunch of carrots that desperately needed to be used – we thought, what the heck, lets give the veggie soufflé a try.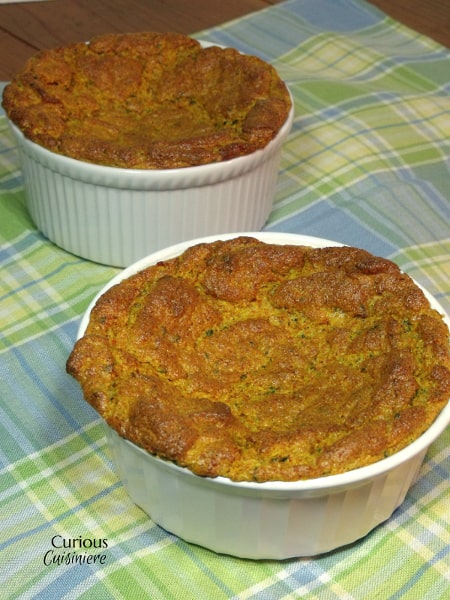 Our Carrot Souffle Recipe
When I think of cheese soufflés, I think of a dish light in texture, but heavy with cheese, creating a meal that sticks with you a while.
Our veggie soufflé was nice and light in texture and easy on the stomach.  It's almost more like an incredibly fluffy, crust-less quiche.
As you can see, ours aren't quite as glorious as some pictures you will see. But the results are still quite tasty.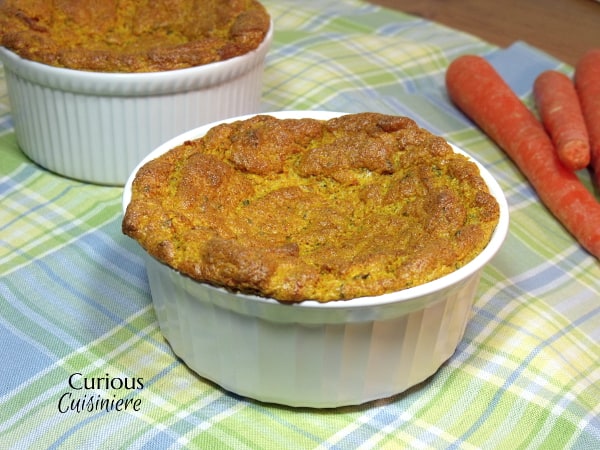 Carrot Soufflé
An intriguing, light, twist on your classic cheese souffle using shredded carrots, Carrot Souffle is a fun dinner treat!
---
Ingredients
3

Tbsp

salted butter

3

Tbsp

unbleached all-purpose flour

½

c

milk

½

c

chicken broth

(we prefer low sodium)

5

eggs,

separated

1 1/3

c

carrots,

pureed in a food processor

1

Tbsp

onion powder

1

Tbsp

parsley

1/8

tsp

thyme

1

tsp

salt

Pinch

ground white pepper

Pinch

cream of tartar
Instructions
Melt butter in a small saucepan over medium heat. Whisk in flour until smooth, then add in milk and chicken broth. Heat, stirring until thickened (5-7 min).

Beat the egg yolks in a small bowl. Add a little of the warm custard mixture slowly to the yolks, stirring constantly. Stir the tempered yolks into the saucepan. Heat and stir 1-2 minutes over low heat.

Remove the custard from the heat and stir in pureed carrots, onion, parsley, thyme, salt, and white pepper. Set mixture in the refrigerator to cool to room temperature, stirring often.

Preheat your oven to 350F.

In a large bowl, beat egg whites until frothy. Add cream of tarts and beat until the mixture just barely forms stiff peaks form.

Fold the egg whites into the vegetable mixture, gently, by making S-shaped scooping and pressing motions. (It is ok if some streaks of white remain.)

Spoon mixture into an ungreased 5 c soufflé dish, or into smaller ramekins.

Bake, uncovered on the center rack for 35-45 min for a large dish, or 25-35 min for the smaller dishes.

When the soufflé is done it will be puffy and browned.

Serve immediately.
---
If you liked this recipe, here are some similar dishes you may enjoy!