An Asian rib rub gives these charcoal-grill smoked ribs a sweet and spicy flavor.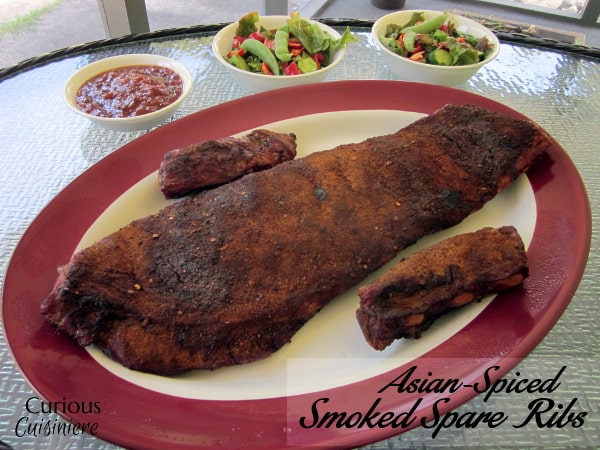 Smoking Meat On A Grill
This summer, we have discovered how to smoke spare ribs on our charcoal grill, and it has been one of the best learning experiences of the summer!
We love the slow smoked flavor, and have been excited to discover that smoking ribs is really only a two to three hour deal. (And, not the whole day affair that many, thicker cuts of meat become.)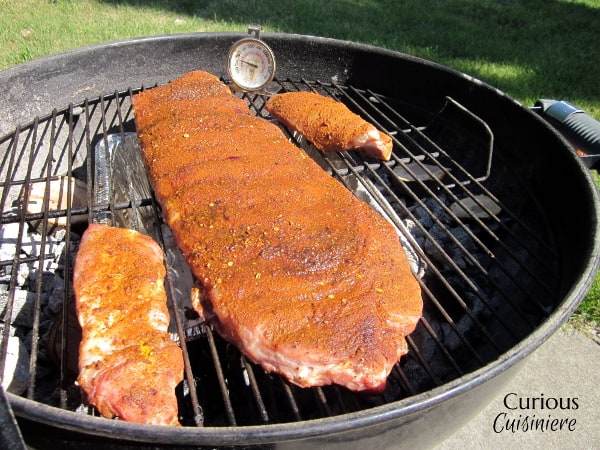 Even if it did take longer, the smell of ribs slow cooking as we're working in the yard or just sitting and enjoying the sun, makes the waiting well worth it.
How can you resist that smoky smell of summer?
And then, there are the rib sandwiches. Because, if you're going to smoke meat, why not smoke enough meat to enjoy it again and again?
An Asian Rib Rub
This time, we changed up the spicing from our basic rib rub and went for a more Asian-inspired spice rub.
This rub combines the warm spices of a Chinese 5 Spice Blend with a little brown sugar sweetness, and a splash of soy sauce. You don't even need to head to the store for another spice jar. Just take a look at our Chinese five spice powder recipe.
The resulting rub gives you sweet, smoky, and slightly spicy ribs that find their flavor somewhere in between teriyaki and General Tso's.
The rub and smoke gives these ribs great flavor on their own, but if you'd like a bit of a sauce to go along side, try some homemead teriyaki sauce or mix your favorite homemade barbecue sauce with some crushed pineapples and a splash of soy for a nice sweet twist.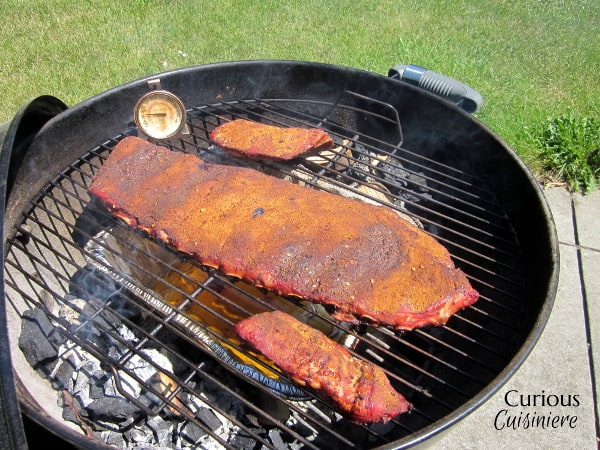 Smoking on a charcoal grill
While we have been smoking ribs just for the two of us, this really is the perfect cooking method for a party.
Forget slaving away over the hot grill when you'd rather be playing games or enjoying conversation with your guests. The nice thing about smoking is that you prepare your meat and start everything cooking well before the party arrives. All you have to do is check on the meat every now and again, leaving you plenty of time to kick back and enjoy the day with everyone.
If you don't have a smoker, don't worry. Just check out our guide on how to smoke ribs on a charcoal grill.
Asian Spiced Ribs (Smoked On the Grill)
An Asian rib rub gives these charcoal-grill smoked ribs a sweet and spicy flavor.
Ingredients
For the Rub (Yields roughly ½ cup of rub.)
For the Ribs
4 1/2

lbs

Pork Spare Ribs

6

handfuls

wood chips of your choice

(We used apple wood.)
Instructions
Prep the Meat
If your spare ribs are not St. Louis Style or have not been trimmed, turn the ribs over and remove the back flap and membrane. (The flap can be grilled separately, but it will take much less time.)

Mix the rub ingredients together and pat the rub into both sides of the ribs. Let stand, covered, for 1-2 hours. (This can be done ahead of time. Let your ribs set with the rub for up to 24 hours in the refrigerator. Remove from the refrigerator 1 hour before cooking to let them come to room temperature.)
Soak the Chips
Place the wood chips in a bowl and cover with apple cider or water. Let soak for 1 hour.
Start Your Grill
A half hour before you want to start cooking, set up your grill for indirect grilling. (Use a disposable aluminum pan to keep the coals clustered to the sides of the grill, where they will not be under the meat.) Preheat the grill to low heat, 250-300F. (You should be able to hold your hand 4 inches from the cooking grate for 10 seconds.)

When you are ready to cook, arrange a handful of soaked and drained wood chips on the coals. Place your meat on the center of the hot cooking grate, over the drip pan.

Cover the grill and cook for 1 ½ - 2 hours.
Check and Baste
Every half hour, check your grill. Add 2-3 coals and a few more soaked and drained wood chips to each side. Using a clean spray bottle, spray your meat with apple cider to keep it from drying out. Check the temperature of your grill and adjust the vents to keep it at a low heat.
Enjoy the Goods
The ribs are done when the meat has shrunk back from the tips of the bone. Transfer the ribs to a large platter and let stand for a few minutes before serving.
Nutrition
Calories:
670
kcal
|
Carbohydrates:
7.7
g
|
Protein:
61.1
g
|
Fat:
42.9
g
|
Saturated Fat:
18.3
g
|
Cholesterol:
157
mg
|
Sodium:
1537
mg
|
Fiber:
0.9
g
|
Sugar:
8.1
g
If you liked this recipe, here are some similar dishes you may enjoy!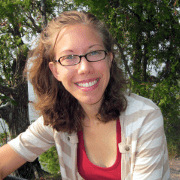 Sarah is one of Curious Cuisiniere's founding duo. Her love for cultural cuisines was instilled early by her French Canadian Grandmother. Her experience in the kitchen and in recipe development comes from years working in professional kitchens. She has traveled extensively and enjoys bringing the flavors of her travels back to create easy-to-make recipes.