This light and bright African Coconut Chicken Curry is a creamy and comforting dish: the perfect recipe for serving over steamed rice. 
African Chicken with Coconut
This wonderfully flavorful curry comes from Kenya, along the East African coast. The word 'kuku' means 'chicken' in Swahili and many believe that 'paka' refers to a dish made with coconut milk. However, 'paka' is also the Punjabi word for 'delicious.' The combination of African and North Indian terms is a testament to the fusion of African, Arab, and Indian cultures in the coastal regions of Africa.
The dish is sometimes referred to in the full Swahili as 'kuku na nazi,' or 'chicken with coconut.' 
Our African Coconut Chicken Curry Recipe
Spicy chili, garlic, and ginger mingle with creamy coconut, ample veggies, and, of course, chicken, in this traditional dish.
You will find recipe variations that include lemon juice and those that leave it out. Using lemon juice brings the dish closer to similar chicken and coconut dishes from further south along the East African coast.
We find that lemon juice adds a nice lightness and brightness to the creamy curry, while leaving it out creates a more hearty and deeper flavored dish. Either way the dish is delicious.
You might just have to try it both ways to determine which you like best!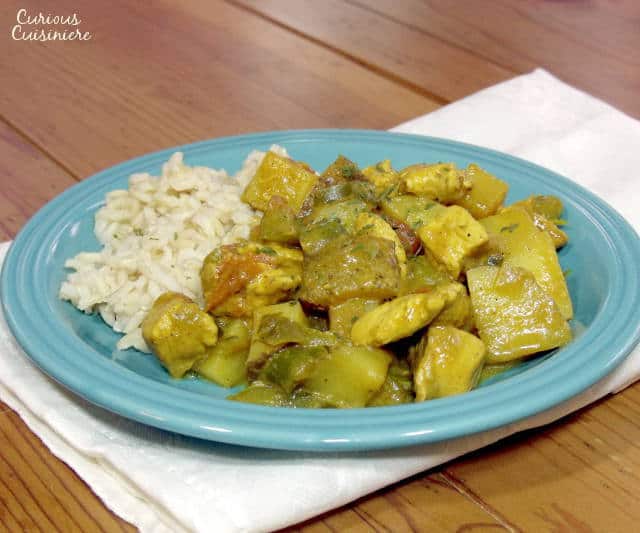 Kuku Paku (African Coconut Chicken Curry)
Serve this African Coconut Chicken Curry with rice.
Ingredients
1

tsp

butter,

unsalted

½

green pepper,

diced

½

onion,

minced

2

green chilies

(mild jalapenos or small poblanos)

2

garlic cloves,

minced

1

inch

fresh ginger,

minced (or 1/4 tsp dry, ground ginger)

1

lb

chicken breast

1

lb

potatoes,

diced

1

tomato,

diced

½

small lemon,

juiced (about 1 Tbsp juice), optional

1

Tbsp

curry powder

½

tsp

salt

¼

tsp

turmeric

1

Tbsp

unbleached all purpose flour

1

c

water

1

c

coconut milk

4-6

hard boiled eggs,

peeled, optional
Instructions
Melt butter in a large, skillet (cast iron works well). Add onions and green peppers and sauté for 5 minutes, until soft.

Add the chicken and brown over medium high heat, until golden, 5-7 min.

Add the potatoes, tomatoes, garlic, ginger, chilies, lemon juice (if using), turmeric, curry powder, and salt. Whisk the water into the flour until smooth. Add to the mixture the skillet. Simmer, uncovered over medium heat until the potatoes are tender and the mixture has begun to thicken.

Mix in the coconut milk (and boiled eggs, if using) and simmer for an additional 15 minutes,

Serve immediately with steamed white rice.
If you liked this recipe, here are some similar dishes you may enjoy!