Smooth avocado pairs with juicy turkey, tomatoes, and the sharp cheddar cheese to make the perfect, warm and toasty Turkey Avocado Melt.
Making A Toasted Sandwich
Can I tell you a secret?
This sandwich is not my handiwork.
It's not even a joint effort.
This beauty is completely Tim's doing.
You see, (here's the secret) I can't make a grilled, toasted, or otherwise melty and delicious sandwich to save my life – unless you give me a panini press and all I have to do is stand there.
That I can do.
If the sandwich requires any sort of timing, flipping, or buttering, mine always end up burnt to a crisp or a soggy mess.
Lucky for us, Tim loves his hot sandwiches, and he has a perfected technique for each method.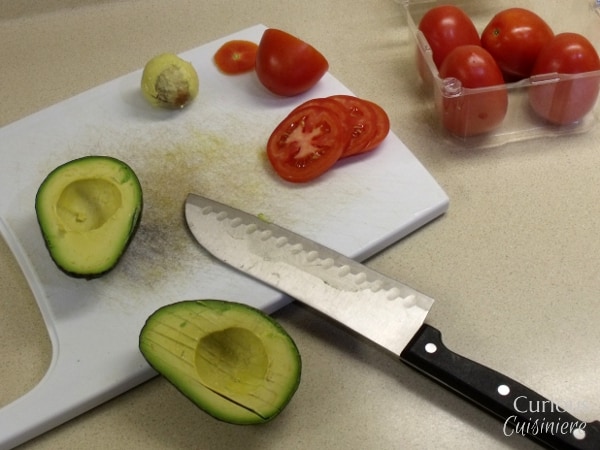 How To Make The Perfect Melt
So, according to the master, here is how "The Melt" comes together.
Order and ingredients are key.
Start with a good hefty bread. A flimsy bread will cause the sandwich to fall apart or get soggy too easily.
Meat goes on first to create a barrier between the bread and your more juicy ingredients (like tomatoes), which come next.
Then comes with rest of your ingredients with cheese topping the whole thing off. One important note is that some ingredients, like lettuce, stay off of the sandwich until just before serving. No one likes warm and wilty lettuce.
Finally, into the toaster oven or under the broiler of your conventional oven the sandwich goes.
You might be saying, 'But we're missing a slice of bread!'
That last guy comes later, after the bulk of the sandwich is warm and the cheese is melted.
Also, leaving the top off creates a slightly roasted flavor in ingredients like your tomatoes and peppers. Otherwise, you end up burning your top bread before the cheese even starts to feel the heat.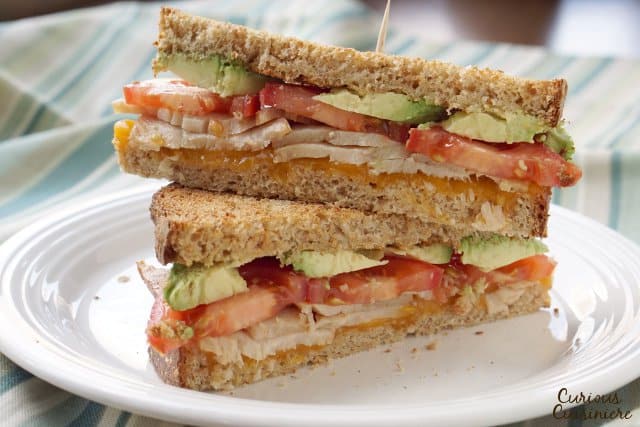 Tim's Turkey Avocado Melt Recipe
For this Turkey Avocado Melt, the ingredients are simple.
Smooth avocado pairs with juicy turkey, which is complimented by the slight acidity of tomatoes and the sharpness of cheddar cheese.
For all this simplicity, there's so much flavor going on here that you don't even need mustard or mayo.
You could add them if you like, but we prefer to make our spreads into dipping sauces for warm sandwiches like this one.
Tim was all over the BBQ sauce, while I stuck with Thousand Island dressing.
Using the sauce as a dip keeps the sauce cool, creating a nice contrast with the warm and toasty sandwich.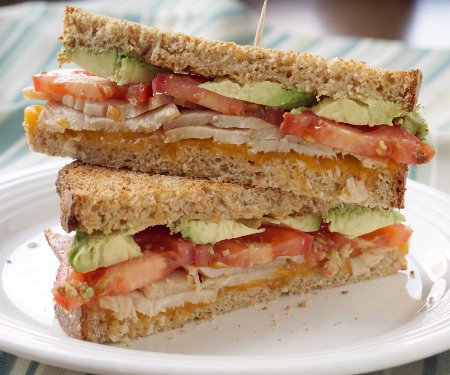 Turkey Avocado Melt
Smooth avocado pairs with juicy turkey, tomatoes, and the sharp cheddar cheese to make a warm and toasty Turkey Avocado Melt.
Yield: 2 melts
---
Ingredients
4

slices

wheat bread

4

slices

deli turkey

1

small

tomato,

sliced

½

avocado,

sliced

¼

c

cheddar cheese,

shredded (or 2-4 slices)
Instructions
Layer turkey, tomato, avocado, and cheese on two slices of bread.

Place both loaded slices in a toaster oven or on a baking sheet in an oven under the broiler. Toast for 5-7 minutes, until cheese is melted.

Top each sandwich with a second slice of bread and return to toaster oven or oven for an additional 5-7 minutes, until top bread is nice and toasted.

Remove sandwich, cut in half (because everything tastes better that way) and enjoy while warm!
---
---
This is one of the recipes from the early days of Curious Cuisiniere. We've updated our pictures since we first made it, but we've left an original here, in case you've found us in the past and are looking for that old, familiar image.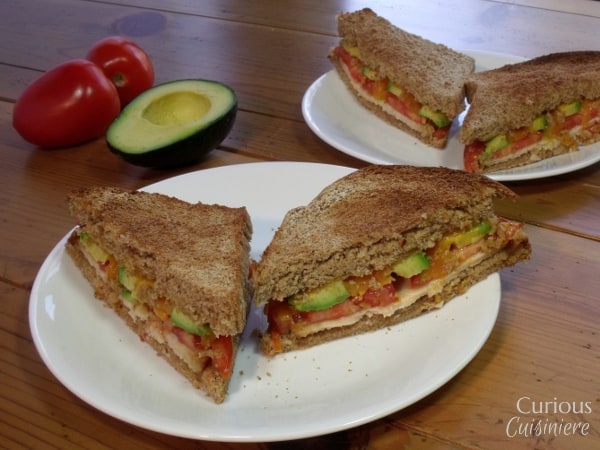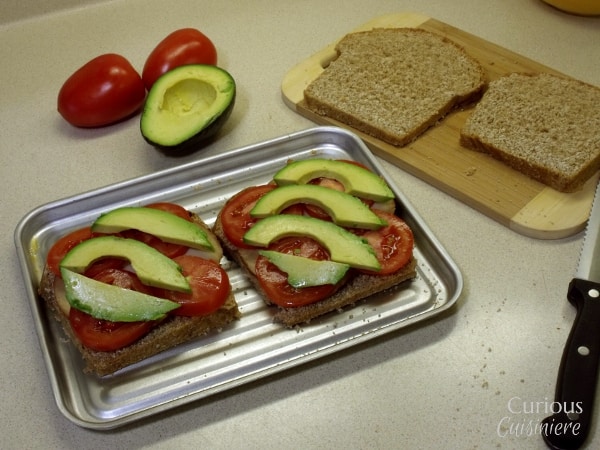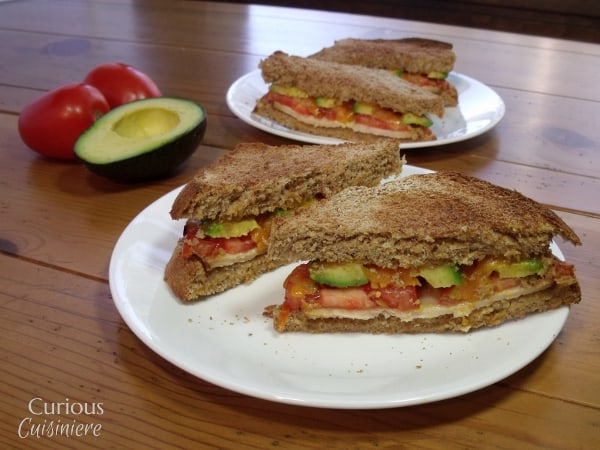 ---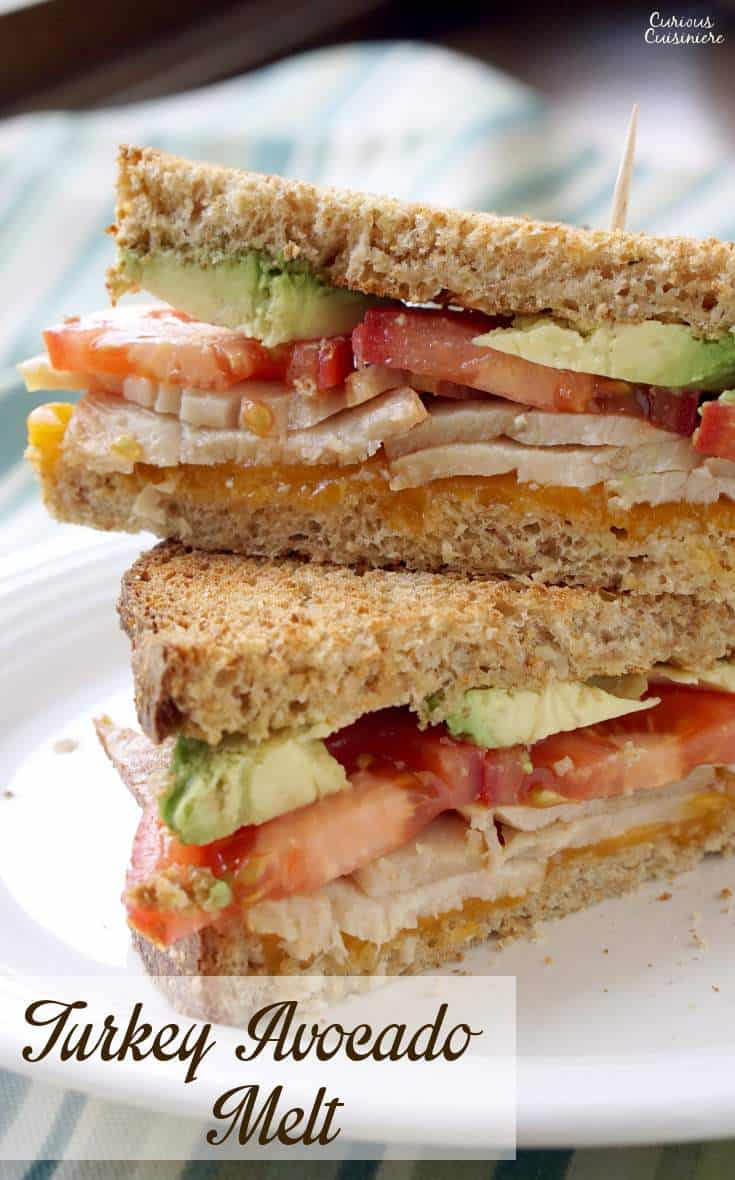 If you liked this recipe, here are some similar dishes you may enjoy!