Sweet potatoes mingle with cinnamon spiced apples, this Sweet Potato Apple Bake is a sweet, but healthy alternative to classic sweet potato casserole. 
Giving Thanks
I'm so excited to be seeing family and friends.  While it will be hard for us this year to separate the day and not get to see both of our families since they live in different states, it is exciting to be starting new traditions as we go into our first holiday season together.
One thing that I am really thankful for is that travel is relatively easy for us right now.  I know many people who are far from family who, due to whatever circumstance, are not able to travel to be with them.  They make it work, and many of them have loving friends locally who will adopt them for the day.  But, hearing them talk about the holidays makes me realize how much I take for granted the simple fact that we can travel and that our families and friends are so willing to travel to visit us as well.

To any of you traveling this week, I pray that your travels are safe and uneventful.
And, on to the recipe!
Sweet potato apple bake recipe
I LOVE sweet potatoes.  Baked, mashed, fried, glazed with brown sugar:  I've never met a sweet potato dish I didn't like.  But, I wanted to play a bit to find a sweet potato side that featured their great flavor and the flavors of the fall season, while not going overboard with the sweet.  I mean, come Thanksgiving dinner, you've got pecan pie to look forward to for satisfying the sweet tooth, do we really need sweet potato casseroles brimming with marshmallows and sugar?  Some may answer with a resounding:  YES!  And sometimes I do too.
However, this dish is an attempt to lighten up the classic use of that beloved Thanksgiving veggie.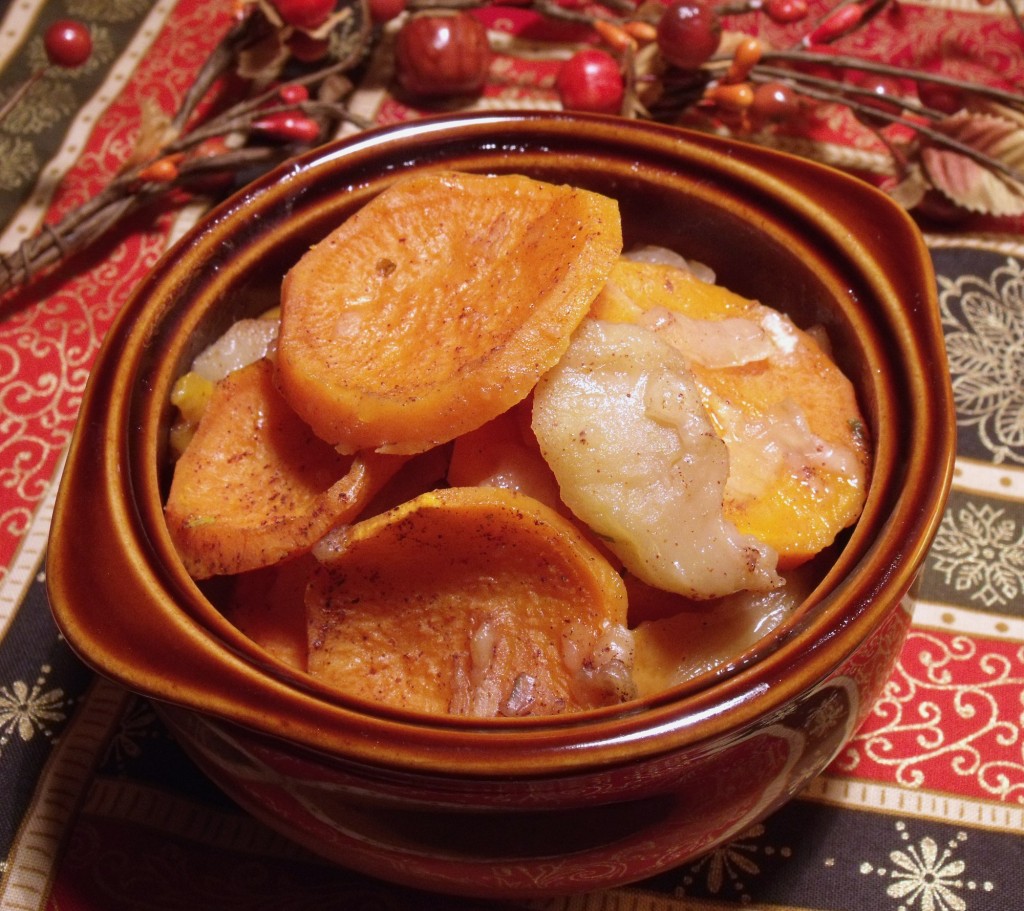 Here, sweetness comes from the apple's natural sugars (with only a smidge of brown sugar added for good measure). I call it a bake, but the sweet potatoes are really simmered and steamed to a satisfyingly soft texture.  Imagine the sweet, robust flavor of the potatoes mingling with warm cinnamon apple sauce.
And, it makes the house smell heavenly.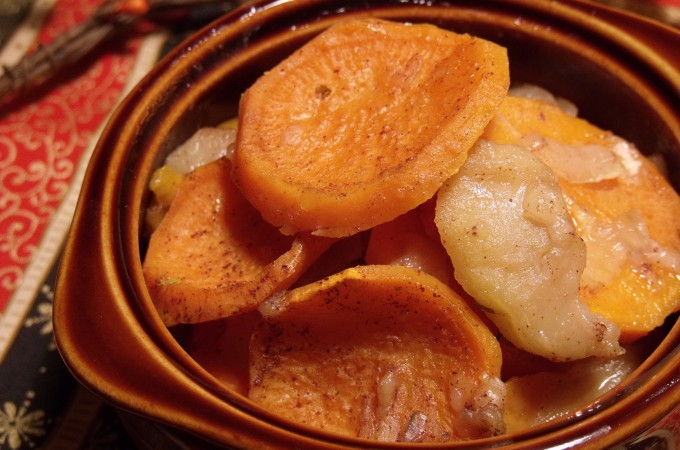 Sweet Potato Apple Bake
Sweet potatoes mingle with cinnamon spiced apples, this Sweet Potato Apple Bake is a sweet, but healthy alternative to classic sweet potato casserole.
Yield: 1 (8x8) baking dish (Triple the recipe to fill a 9x13 dish. Baking time may take longer.)
---
Ingredients
2

lbs

sweet potatoes,

peeled and sliced thin (4 c sliced)

3

apples

(Gala or Fuji work well) peeled and sliced (roughly 2 c sliced)

1/2

c

sweet onion,

sliced thin

2

Tbsp

unbleached all-purpose flour

1

tsp

brown sugar

1

tsp

cinnamon

1

c

vegetable stock

(low sodium)
Instructions
Preheat oven to 400F.

Create layers of sweet potatoes, apples, and onions in a greased 8x8 baking dish. Repeat, until all your ingredients are used, reserving a few sweet potato slices for the top layer.

Before putting on your last layer of sweet potatoes, sprinkle the top of the onions with flour, brown sugar, and cinnamon.

Top with remaining sweet potato slices and pour the vegetable stock over the whole thing.

Cover the dish tightly with aluminum foil, and bake for 45 minutes.

Remove the dish from the oven and check to see if the potatoes are soft. If they are, return the dish to the oven, uncovered for 15 minutes, to crisp the top layer slightly.

Remove the dish from the oven and let it stand on a cooling rack for 5-10 minutes before serving, to absorb any remaining liquid.
---
If you liked this recipe, here are some similar dishes you may enjoy!