Our Southwest Stuffed Sweet Potatoes are filled with a homemade corn salsa, queso fresco, avocado, and black beans for a nutrient rich twist on a loaded baked potato. Serve it as a filling vegetarian main meal! 
Why Are Sweet Potatoes So Healthy?
I'm sure you've heard that sweet potatoes are supposedly "so much better for you" than white potatoes.  And, if you go by the color test – the brighter the color of produce, the more nutrients it contains, sweet potatoes seem to fit the bill well.
But, what makes them such a nutrition powerhouse?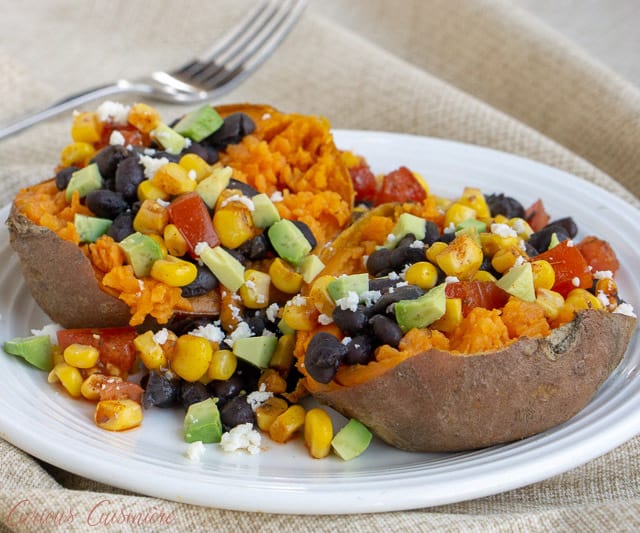 Turns out, they are incredibly high in fiber, vitamin A, and vitamin C.
Vitamin A (via beta-carotene) is most prevalent in the orange variety of sweet potato that we are most familiar with in the States.
Vitamin C makes them a perfect food for fighting off those winter colds.
And, don't be afraid to eat them skin and all, because that fiber will keep you full and fueled longer, as the fiber helps the natural sugars in the potato digest more slowly.
They're so packed with nutrients, that sweet potatoes are rated as one of the most nutritious commonly eaten vegetables!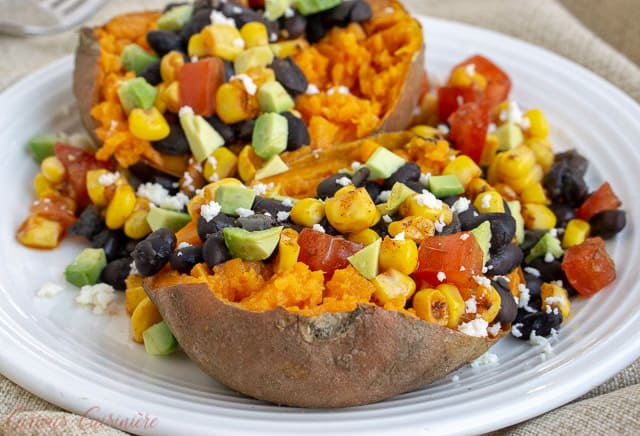 Our Southwest Stuffed Sweet Potatoes
Sure, you've heard of a classic loaded baked potato. Bacon, cheddar, chives, sour cream.
The works.
Well, these Southwest stuffed sweet potatoes are taking that classic baked potato for a spin.
The sweet potato's sweetness is a perfect complement for the southwest flavors introduced by a zest corn salsa, creamy queso fresco, hearty black beans, and smooth avocado.
It's a loaded baked potato unlike any you have tasted!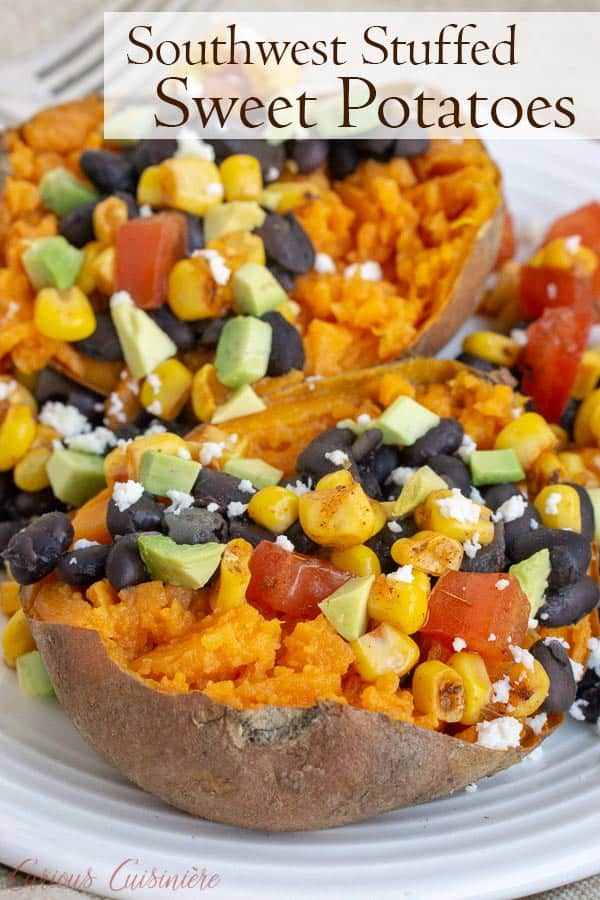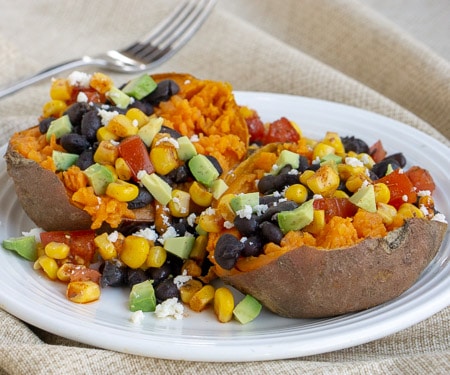 Southwest Stuffed Sweet Potatoes
Our Southwest Stuffed Sweet Potatoes are filled with a zesty blend of corn, cheese, avocado, and salsa for a nutrient rich twist on a loaded baked potato.
Yield: 4 stuffed sweet potatoes
Keyword:
loaded potatoes, sweet potatoes
---
Ingredients
For the Potatoes
4

large

sweet potatoes

2

c cooked

black beans,

1

avocado,

pitted and diced

2

oz

queso fresco

(or shredded cheddar)

1

recipe Corn Salsa

(See following)
For the Corn Salsa
1 1/2

c sweet

corn

, thawed if frozen

1

c

diced tomato

1

tsp

lime juice

1

tsp

white wine vinegar

1

tsp

oregano

1/2

tsp

paprika

1/4

tsp

chili powder

1/4

tsp

salt

Hot sauce

(your favorite variety), to taste
Instructions
Preheat your oven to 450F. Wash sweet potatoes, prick with a fork, and bake in the oven for 30-45 minutes, until fork tender.

Combine the Corn Salsa ingredients in a large bowl, adding hot sauce to taste. Mix to combine.

When your sweet potatoes are soft when pricked with a fork, remove them from oven. Let them stand for a few minutes to cool before serving.

To serve your Southwest Sweet Potatoes, cut a slit, lengthwise, in the potato. Fill with beans, corn salsa, avocado, and cheese.
---
If you liked this recipe, here are some similar dishes you may enjoy!