You could run to the store for a ranch seasoning packet, or you could just open your pantry and make a ranch seasoning mix yourself!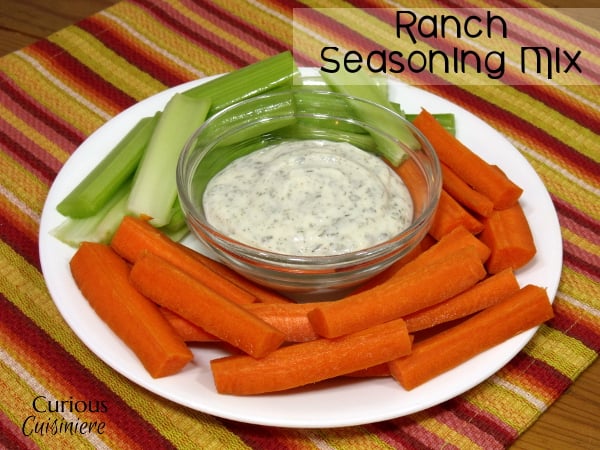 Ranch pasta salad. Ranch roasted potatoes. Or just good old ranch dip for some crisp veggies.
Maybe it's really good marketing on the part of Hidden Valley, but something about the creamy tang of ranch dressing makes it a classic to have on hand during the summer.
But, did you know you can make ranch dressing or ranch seasoning using common pantry ingredients?
Ranch Seasoning Mix
So many summer recipes call for using ranch seasoning mix.
Have you ever stopped to take a peek at the ingredients on the Hidden Valley seasoning packet?
Maltodextrin, Buttermilk, Salt, Monosodium Glutamate, Dried Garlic, Dried Onion, Lactic Acid, Calcium Lactate, Citric Acid, Spices, Artificial Flavor, Xanthan Gum, Soybean Oil, Calcium Stearate, Carboxymethylcellulose, Guar Gum.
Some of the ingredients are well known. Others are words we see often on packaging, but, if you're like us, though the word may be familiar, we have no idea what they actually are.
How To Make Your Own Ranch Seasoning
Personally, I'd rather my spice mix ingredient list read something more like this:
Parsley, Dill, Garlic Powder, Onion Powder, Chives, Salt, Celery Salt, Pepper.
See.
I bet you have all of those in your pantry already.
Why clutter it with another half-used packet?
Plus, by making it yourself, you can control the amount of salt in your ranch seasoning, which is perfect if you have family members who are watching their salt intake.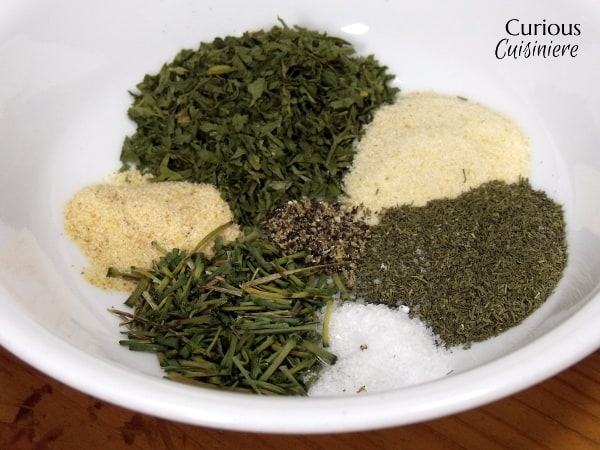 Using Buttermilk Powder In Ranch Seasoning
Many ranch spice mixes call for buttermilk powder. If you have some in your pantry, great! It will add a thickness to the dressing and a bit of that familiar tang.
However, we typically don't have buttermilk powder hanging around in our pantry, so we don't use it. We'll thrown in a bit of citric acid granulars, if we have them on hand. Or, we'll just omit the tangy dry ingredient totally.
If we miss the tang when we're using the ranch seasoning, we just add a splash of white vinegar to whatever we're making with the seasoning.\
Making Healthy Ranch Dressing From Your Homemade Ranch Seasoning Mix
By making your own ranch dressing from pantry spices, not only do you know exactly what is in it, you can also make a healthier ranch dressing. (Without reaching for the grocery store "light" or "low fat" versions.)
The base to traditional ranch dressing is basically mayonnaise, but by using plain yogurt with your homemade ranch seasoning mix, you get a creamy (not fake-tasting) dressing with less calories and all the nutritional bonus points of yogurt!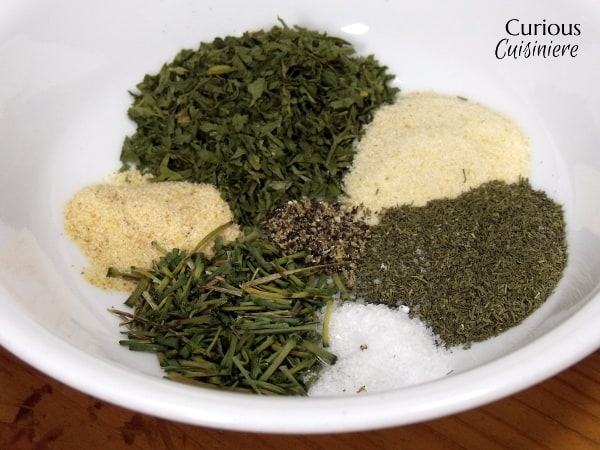 Ranch Seasoning Mix
You could run to the store for a ranch seasoning packet, or you could just open your pantry and make a ranch seasoning mix yourself!
Yield: 1/3 c of seasoning
Servings
:
32
(1 tsp) servings
---
Ingredients
2

Tbsp

parsley

2

tsp

dill

2

tsp

garlic powder

2

tsp

onion powder

2

tsp

celery salt

2

tsp

chives,

dry

1

tsp

salt

1

tsp

ground white pepper

1/4

tsp

citric acid granulars *

optional
Instructions
Mix all ingredients together. Store in a glass jar in the pantry for up to 3-4 months.
---
Recipe Notes
*Citric acid will give your ranch seasoning mix that extra bit of buttermilk kick. You can typically find citric acid with the canning supplies in your grocery store.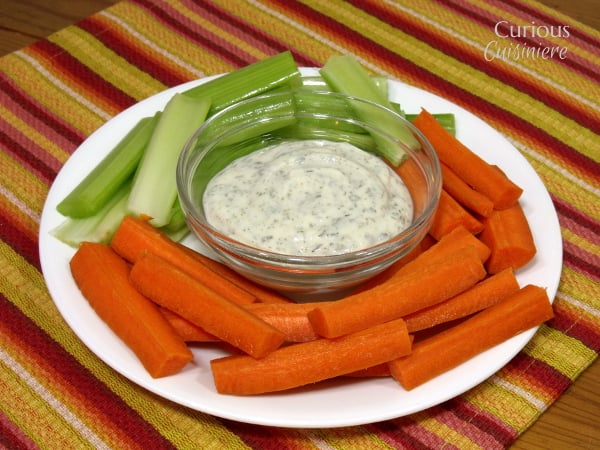 Healthy Homemade Ranch Dressing
Usine your homemade ranch seasoning mix and plain yogurt to make a ranch dressing that you can feel good about eating!
Yield: 1/2 c of dressing
---
Instructions
Mix all ingredients.

Store in the refrigerator up to 1 week.
---
If you liked this recipe, here are some similar dishes you may enjoy!