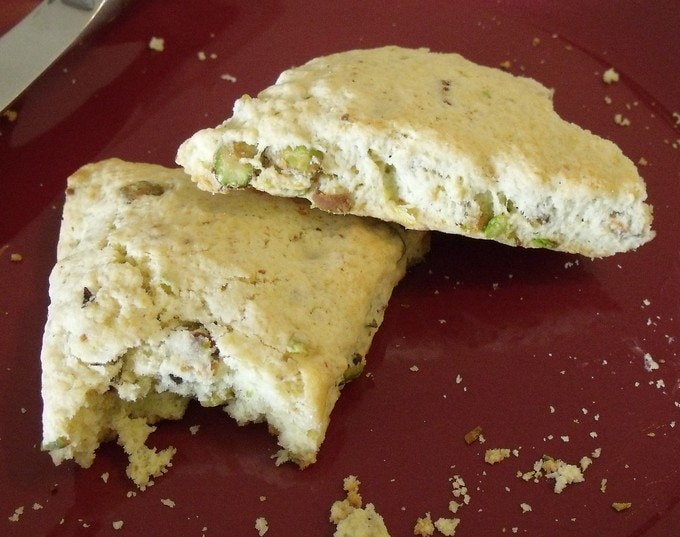 Now, I realize that scones originated in Scotland, so hopefully no one gets upset that I'm trying to make a connection between scones and the Irish.
I know, being St. Patrick's day, I could have posted about one of many great Irish dishes, like Irish Soda bread or Corned Beef and Cabbage, which ring out of St. Paddy's day to me and many others.  But, Karen over at Lavender and Lovage set the challenge of scones for the Tea Time Treats challenge for March, and I wanted to find a way to tie the holiday in.  A hint of green from the pistachios seemed like the way to go
These scones are nice and crumbly, slightly sweet, and have a great nutty flavor from the pistachios.  The lemon flavor is very subtle, and could be upped a bit if you'd like it to ring out a bit more.
Happy St Patrick's Day!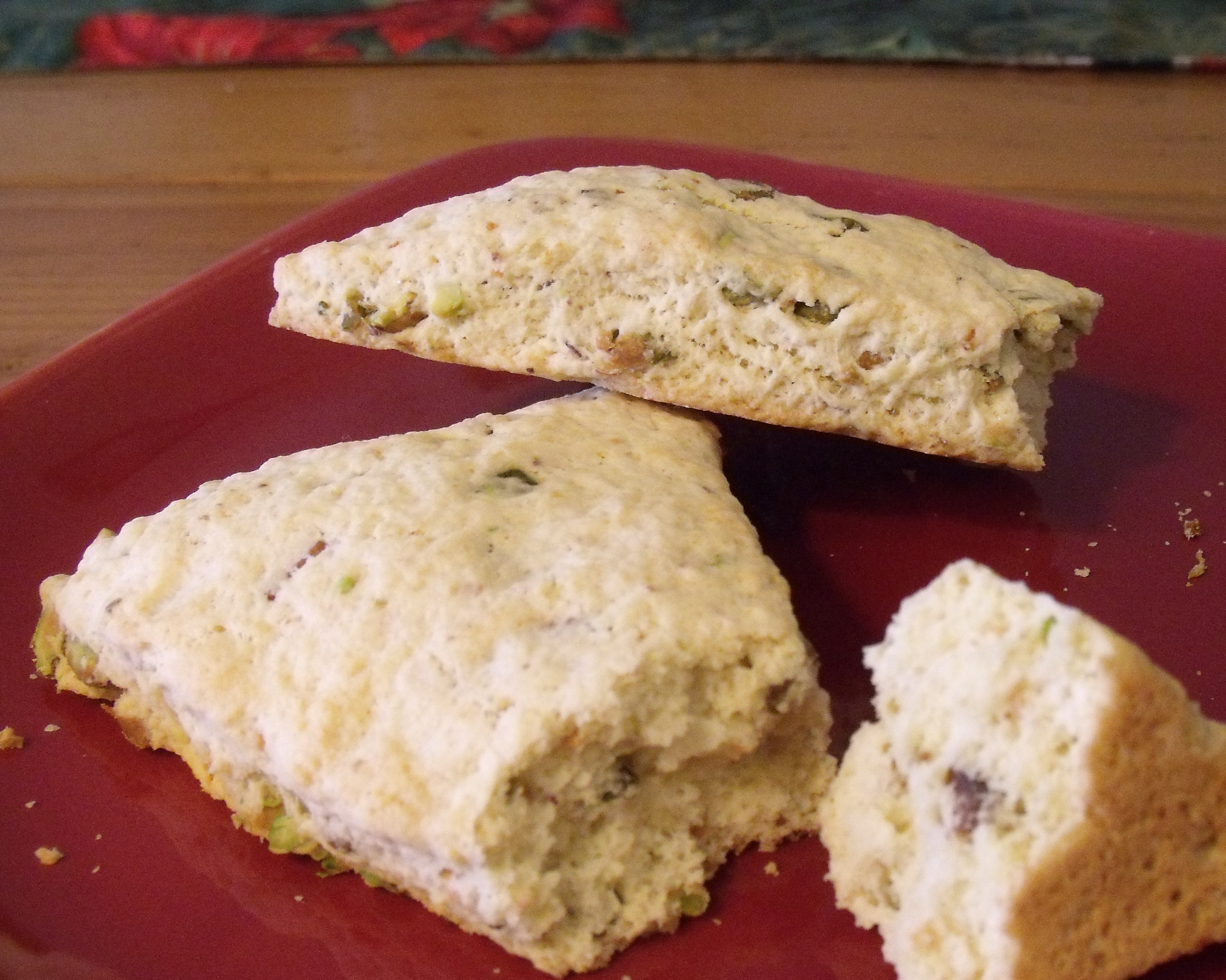 Pistachio Scones
Yield: 8 scones
Adapted from Doubleday Cookbook
Ingredients
1 1/2 c (185g) flour
1/4 c (55g) sugar
1/4 tsp salt
1 1/2 tsp baking powder
1 tsp lemon zest
4 Tbsp (55g) butter
1/3 c (40g) chopped, shelled pistachios
1 egg, lightly beaten
2 Tbsp milk
Directions
1.  Preheat oven to 425F (225C).
2.  In a large bowl, mix together flour, sugar, salt, baking powder, and lemon zest. Cut in butter until the mixture resembles coarse crumbs. Mix in pistachios.  Add egg and milk, mixing until moistened. (You may need to knead a bit with your hands to get the dough to come together.  You'll be tempted to add more milk, but don't.)
3.  Roll out into roughly a 1/2″ thick rectangle. Cut in to triangles.
4. Place on an un-greased cookie sheet. Bake  for 12-15 min, until golden.
5. Remove scones from the oven and let cool on a wire rack 1-2 minutes before eating.
I'm excited to be sending these scones to Lavender and Lovage and What Kate Baked for the Tea Time Treats challenge.
If you liked this recipe, here are some similar dishes you may enjoy!