Juicy, flavorful, and perfectly balanced. That's Memphis style BBQ, and we have the perfect Memphis style barbecue pulled pork sandwich to show it off. Plus, we're pairing this elegant summer sandwich with the bold Uncaged Cabernet Sauvignon wine from Z. ALexander Brown.
Get ready for a taste of summer!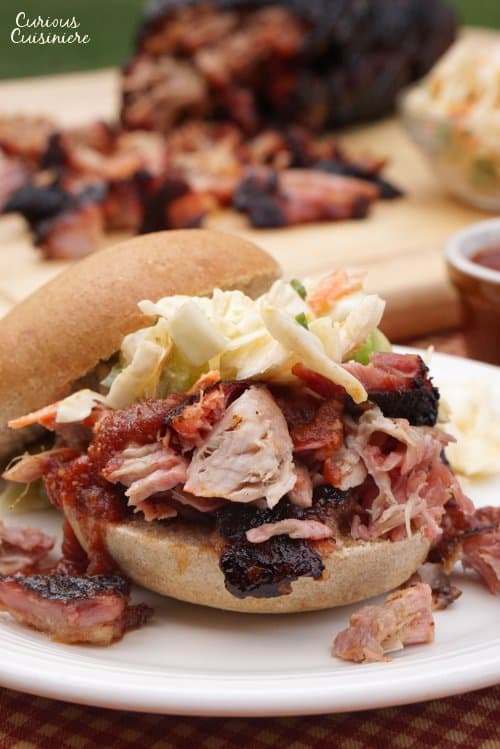 (DISCLOSURE: We received the Z. Alexander Brown wine and pocket knife that we used for this recipe. We were not compensated for our time. As always, all opinions are our own. This post also contains affiliate links. These links are provided to help you find some of the more specialty products we mention in the recipe. If you make any purchase after clicking through one of our links, we receive a small commission, at no extra cost to you. Thank you for supporting Curious Cuisiniere!)
What is Memphis Style BBQ?
One of the 4 major styles of American barbecue hails from Memphis, Tennessee. And Memphis is where you will find one of the largest BBQ competitions: the Memphis in May World Championship Barbecue Competition.
Memphis style BBQ is heavy on the pork, with ribs and shoulders (or butts) being the most used cuts. The meat is known for being incredibly tender and juicy.
The tenderness comes from smoking very slowly over a low heat. And the flavor comes from hickory smoke and the use of an incredibly balanced dry rub.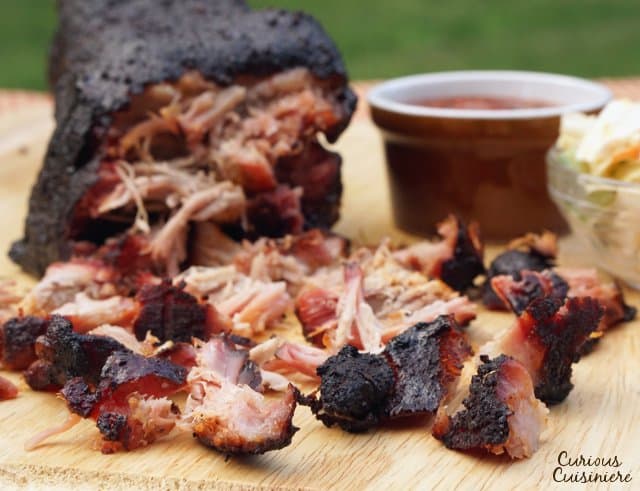 A Memphis Style Rub
The biggest characteristic that we found in Memphis style barbecue was balance. This balance of flavors starts with a good rub.
While pit-masters will debate about what makes for the best rub, most Memphis style rubs start with a paprika base. To the paprika, savory, sweet, and spicy elements are added in different quantities to create the balance that each pit master believes is perfection.
We believe that the rub we've crafted below creates the perfect balance of these flavors. It's not to sweet, not to spicy, not to savory. But, it finds itself in a nice middle ground that complements the hickory smoke flavor very nicely.
What is a Memphis mop sauce?
While most Memphis style barbecue is cooked dry, with only the dry rub for seasoning, some pit masters prefer to baste their meat with something called a "mop sauce".
The mop sauce is a thin sauce that is typically made with extra dry rub mixed with water and/or vinegar. This thin sauce is used to baste the meat every 30 minutes or so during cooking. The constant basting helps ensure that your low and slow cooked meat will come out nice and juicy!
We didn't use a mop sauce on our smoked pork, and it still came out incredibly juicy. But, if you'd like to make a mop sauce, mix 1 Tbsp of the rub with 1/2 c water or white vinegar. This will be your sauce for mopping!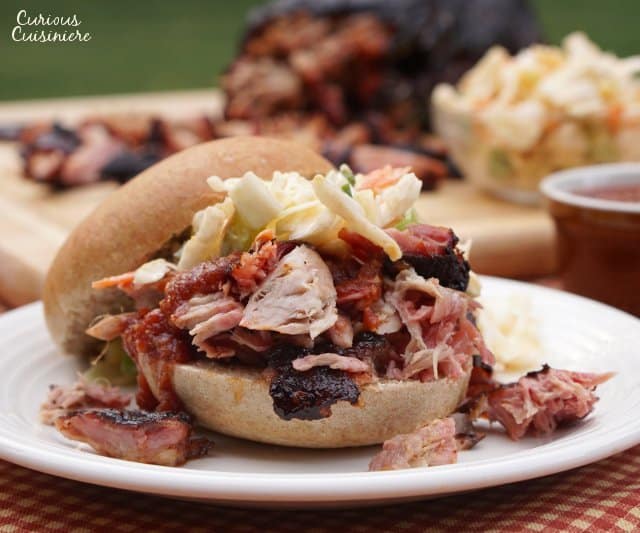 Memphis style barbecue sauce
In Memphis style BBQ, a sauce is not essential. Since the goal of Memphis barbecue is to have juicy, tender meat, GOOD Memphis BBQ really doesn't need a sauce to cover anything up.
Ribs are most often served dry (seasoned with just the dry rub), and these dry ribs may or may not be served with a side of BBQ sauce for dipping.
Sauce is more commonly found adorning a pulled pork sandwich, but, again, the sauce comes after the meat has done it's thing in the smoker.
When it comes to Memphis BBQ sauce, again balance is key.
The classic Memphis sauce is a thinner barbecue sauce, made with vinegar and tomatoes, but not too much of each. It is slightly sweet and slightly spicy, but again, not too much of either.
This balance may seem boring, but in reality it is the perfect sauce to let good quality smoked meat shine through, while adding just enough of a saucy kick to keep sauce lovers satisfied.
Our Memphis Style Smoked Pork Recipe For A Memphis Style Pulled Pork Sandwich
To make our Memphis style pulled pork sandwiches, we smoked a 4 lb pork butt over hickory wood at around 225F for 8 hours. This might seem long for such a little butt, but low and slow is the Memphis way, and in the end, our pork butt had just hit the magic 195F internal temperature.
This low and slow cooking gave our pork a nice, crispy layer on the outside, a beautiful and thick smoke ring, and a super juicy inside.
The combination of the crispy and dark exterior with the juicy interior meat is what makes a Memphis style pulled pork sandwich incredible.
(That in combination with a great sauce and a little crispy slaw!)
As a side note: if you're looking for an incredible thermometer or your smoking endeavours, ThermoWorks makes a wonderful tool in their Smoke 2-Chanel Alarm. It lets you monitor both the temperature of your meat and smoker at the same time, from one easy display! While we don't have one yet, it is definitely on our list of soon to buy tools!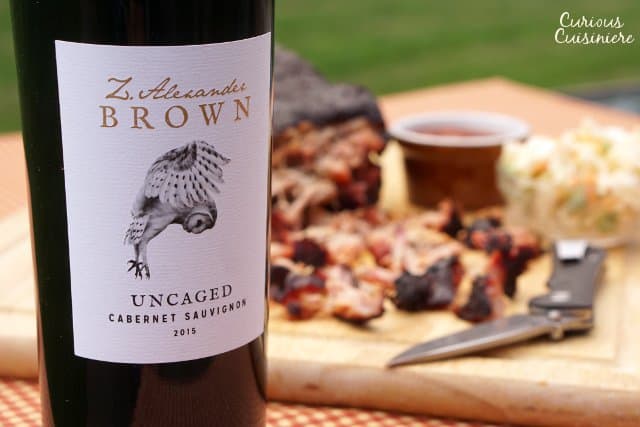 Wine and Memphis Style Barbecue
We're on a kick pairing wine with barbecue, and we can't help it! There's just something so perfect about deep, dry reds and smoked meat!
We paired our Memphis barbecue pork with Uncaged Cabernet Sauvignon from Z Alexander Brown. Uncaged is a wonderfully dry and earthy red wine with notes of black cherry and cocoa. The dry, earthiness of the wine paired perfectly with the smokiness of the meat, while the fat from the pork played the perfect balance to those drier notes.
Even in its depth, this wine has a hint of light acidity that opens up when paired with an acidic element, like the vinegar in the BBQ sauce and coleslaw, bringing forth a burst of new, brighter flavors.
All in all, this is a perfect wine for BBQ and a wonderful pairing.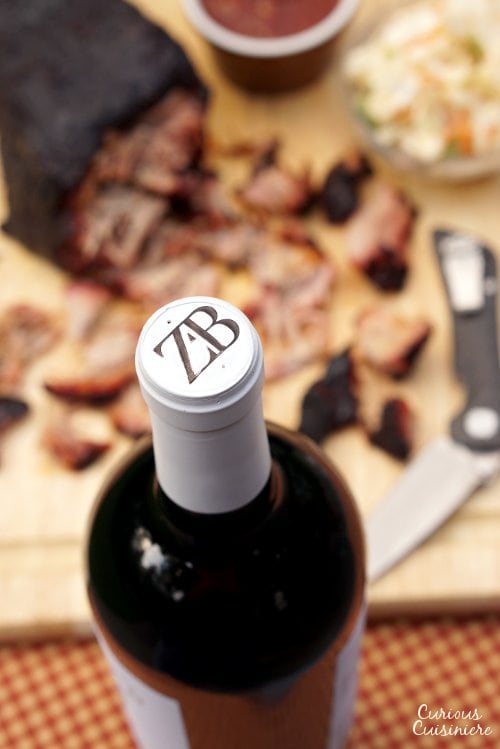 Z. Alexander Brown Wines: Southern roots and giving back
Z. Alexander Brown wines are a creative partnership between musician Zac Brown (from the Zac Brown Band) and Napa Valley winemaker John Killebrew. Not only a Grammy Award winning musician, Zac is a foodie and cookbook arthur as well. His Southern roots inspire his recipes, like the Pocket Knife Cole Slaw that we adapted to top our Memphis pulled pork sandwich.
Pocket knife slaws bring Zac back to hunting camp with his father, where they would all get out their pocket knives to make the slaw for dinner. Maybe it was his time hunting that inspired Zac to craft a line of high quality Southern pocket knives, called Southern Grind.
As a hunter himself, Tim was quite impressed by the quality and craftsmanship of Zac's pocket knives. And we both really appreciated the fact that Zac is not only committed to quality and craftsmanship in his artistic endeavors, but he is also committed to giving back to the Southern community that is such a part of his heritage through his Camp Southern Ground, a camp to help children overcome academic, social and emotional difficulties.
It's always wonderful to come across an artist who is using their passions to make a difference in their local community. And, it doesn't hurt when they love good food and wine as well!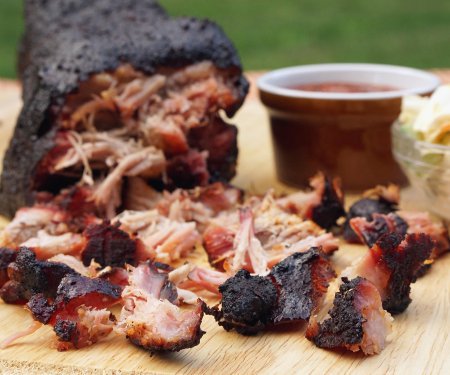 Memphis Style BBQ Smoked Pork
Juicy, flavorful, and perfectly balanced. That's Memphis style BBQ. Our Memphis style barbecue pulled pork sandwich recipe brings smoked pork to perfection.

Yield: 1 (4 lb) roast
Rub Yield: 5 Tbsp
Keyword:
bbq, grilling, summer
---
Ingredients
Memphis Style Pork Rub
1 ½

Tbsp

paprika

½

Tbsp

chili powder

1 ½

Tbsp

brown sugar

½

Tbsp

salt

½

Tbsp

garlic powder

¾

tsp

onion powder

½

tsp

ground black pepper

⅛

tsp

cayenne pepper
Instructions
Mix the rub ingredients together in a small bowl.

Rub the pork shoulder or butt with as much rub will coat it generously. Cover the pork and refrigerate for 3 hours or overnight.

Remove the meat from the refrigerator 1 hour before you plan to start smoking.

Preheat your smoker to 225F, according to manufacturers instructions.

Smoke the pork at 225F for 6-8 hours, until meat is dark and crispy on the outside and the inside registers 190F, adding more wood chips every 30 minutes.

Chop the smoked pork, combining the crispy exterior and juicy interior meat.

Serve piled on a bun and topped with Memphis BBQ Sauce and cole slaw, if desired.
---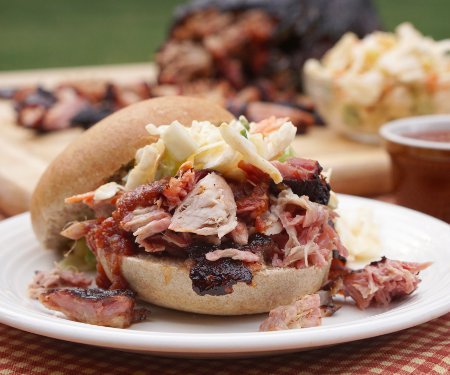 Memphis BBQ Sauce
A thin, slightly sweet and not too spicy, vinegar and tomato based BBQ sauce.
Yield: 1 c
---
Ingredients
¾

c

water

¼

c + 2 Tbsp

apple cider vinegar

¼

c

tomato paste

¼

c

ketchup

¼

c

brown sugar

4

tsp

Worcestershire sauce

2

tsp

onion powder

2

tsp

dry mustard powder

2

tsp

paprika

2

tsp

garlic powder

2

tsp

salt

1

tsp

hot sauce

(or to taste)
Instructions
Combine all the ingredients in a small saucepan. Cook and stir over low heat until the sugar melts and the ingredients are blended.

Continue to simmer for 7-10 minutes.

Remove the sauce from the heat and let cool.

BBQ sauce will stay good in the refrigerator for 1 week.
---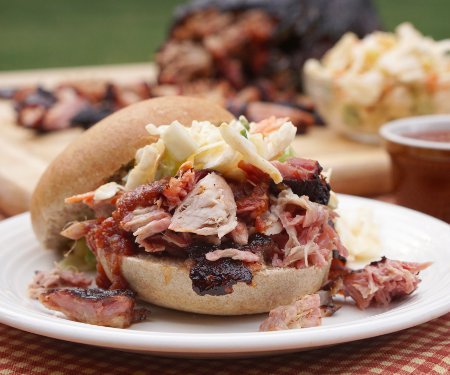 Memphis Style Slaw
We've adapted Zac Brown's "Pocket Knife Slaw" to mirror a Memphis Style coleslaw. This creamy slaw is a balance of tangy and sweet, giving your pulled pork sandwich a nice crunch and pop of bright flavors.
---
Ingredients
For The Veggies
¼

head cabbage

cut into ¼ inch dice

½

green pepper

cut into ¼ inch dice

2

scallions

sliced

1

small carrot

grated
For The Dressing
½

c

mayo

½

Tbsp

mustard

1

Tbsp

brown sugar

3

Tbsp

white vinegar

½

tsp

salt

⅛

tsp

pepper
Instructions
In a large bowl, mix all the chopped vegetables together.

In a small bowl, mix together the dressing ingredients.

Pour the dressing over the vegetables and mix well to coat.

Cover the coleslaw and refrigerate until ready to use.
---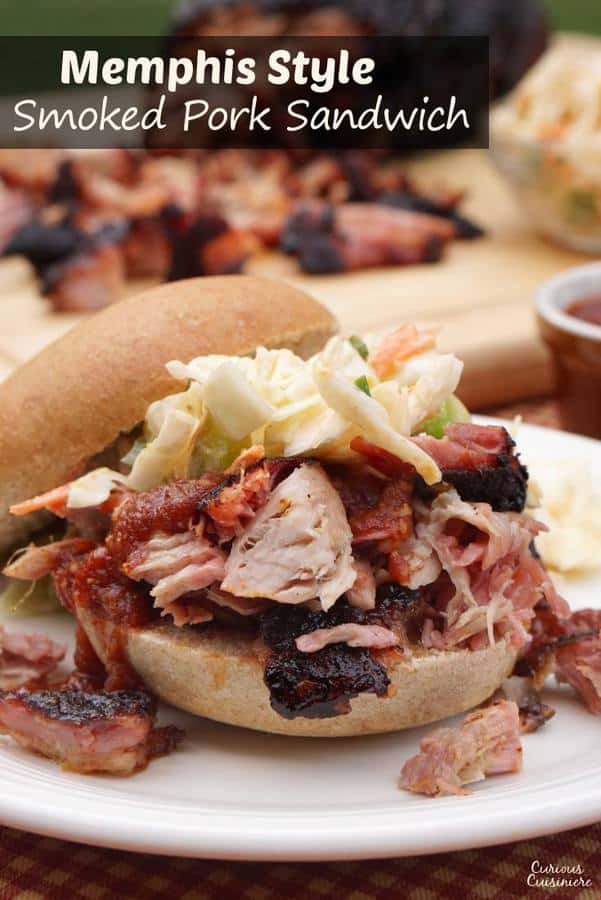 If you liked this recipe, here are some similar dishes you may enjoy!