Dress up your green beans with toasted almonds and a splash of lemon. Haricots Verts Amadine is the perfect, easy yet elegant side dish for your holiday dinner!
Haricots Verts Amandine
Whether you're familiar with the spelling Almondine or Amandine, you've probably come across this bright and nutty preparation.
Amandine (pronounced AH-mon-deen), is the French term for a dish that is served garnished with almonds (derived from amande, pronounced AM-on-DEUX, the French word for almond). The nutty and slightly citrusy flavors are a wonderful complement to white fish, but equally as common is their use to dress up a side of green beans.
The almonds add a fun crunch to barely cooked and still crisp green beans, and the nuttiness of the almonds and brightness of the lemon juice transform simple beans into something incredibly gourmet and festive.
We like our amadine with LOTS of almonds!
What are Haricots Verts?
Haricots verts (pronounced A-ree-koh VER) is the French word for green beans. Typically, you will find that French green beans are longer and thinner than American varieties. They are also younger and have a light and complex flavor. You really could use any version of green beans for this recipe, but we chose to use fresh green beans, for their shape and flavor.
A Bordeaux wine pairing
This month, the French Winophiles group is taking a look at a wine region that many of you are probably quite familiar with, at least in name: Bordeaux. Bordeaux is the name of any wine that comes from the Bordeaux region near the middle of France's western border.
It is one of the largest wine growing regions in all of France. A whopping 89% of the wines that come out of this region are reds, which is probably why when most people think Bordeaux, they automatically think red wine. We sure did! And, that's why when we came across a Bordeaux Blanc, or white Bordeaux, we just had to try it.
We had never seen a White Bordeaux before. Sure, we figured they had to exist, but we were instantly intrigued. And, even after buying it, we still weren't sure if White Bordeaux wines were a 'thing' or if this wine was just a novelty thought up by some TV promotion agency, since it does bear the name of an incredibly well-known TV series: Downton Abbey. The TV show's popularity aside, we figured it would at least be an interesting experience. Funny thing is, once you notice something that you've never noticed before, it starts popping up all over the place. After we purchased this bottle, White Bordeaux wines seemed to pop out of the woodwork. I'm not sure where they were before, but all of a sudden, they were everywhere we looked. Strange how that happens.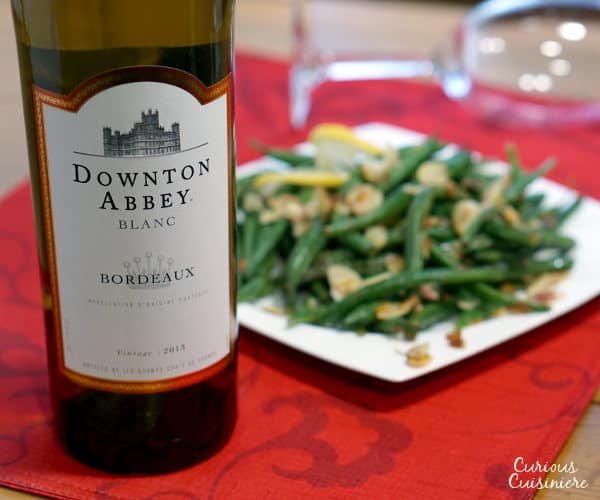 With a beautiful golden color, the Downton Abbey Bordeaux Blanc is very pretty to look at. But, there's no point leaving it alone in the glass for too long just to admire the color. Is there? The blend of 70% Muscadelle and 30% Sémillon Blanc gives this wine a nice deep, roundness with a burst of citrus flavors and a bright and clean finish.
Wine pairing for green beans
The lemon in the Haricots Verts Amadine really brought the lemon and grapefruit notes in the wine forward, while the almonds accentuated the wine's depth, creating the experience of an incredible spectrum of flavors as it passed over your tongue.
While you may not typically choose a wine simply to pair with a side dish, we had fun with the play of flavors here. This wine would also pair well with any meal that brought in elements of citrus complemented by a bit of juicy depth from either a creamy sauce, poultry (Like that holiday turkey!), or even fish.
Haricots Verts Amandine
An easy and refreshing green bean side dish.
Ingredients
1

lb

green beans,

trimmed if necessary

½

tsp

salt

¾

c

sliced almonds

½

Tbsp

butter,

unsalted

½

lemon,

juiced (roughly 2 Tbsp)
Instructions
Place the green beans in a medium pot and cover with water. Add the salt and bring the water to a boil over high heat. Reduce the heat to maintain a simmer and cook the green beans until bright, but still crisp, 1-2 minutes. Drain the beans and rinse under cold water to stop them from cooking further. Place the cooled and drained beans in a bowl.

In a medium sauté pan, toast the almonds over medium-high heat, 4-5 minutes, stirring occasionally until fragrant and golden. Remove 2 Tbsp of almonds from the pan and set aside.

Add the butter and lemon juice to the remaining almonds in the pan. Heat until the butter has melted, and then add the drained green beans. Sauté the beans for 1-2 minutes, stirring constantly, until well coated with the lemon butter and heated through.

For serving, garnish the beans with the toasted almonds you removed from the pan.
---
Are you ready to explore Bordeaux wine? Take a look at the other great wines and pairing from the Bordeaux region from the #Winophiles crew!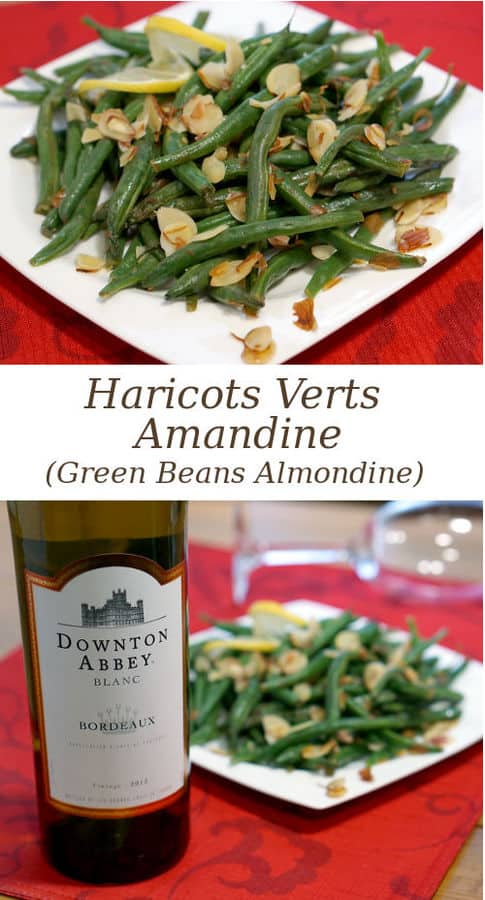 If you liked this recipe, here are some similar dishes you may enjoy!