This easy Ham Salad is a chunky and lightened up twist on the American classic. Get ready for a perfect, light summer lunch!
Did You Grow Up With Ham Salad?
Ham salad.
It either conjures up a twisted face of "eww gross" or bring back childhood memories of picnics and other family gatherings.
It falls into the class of traditional, creamy American salads, much like chicken salad, egg salad, or tuna salad, and even hearkens to those other creamy picnic stables like potato salad and macaroni salad.
Like those other classic American picnic salads, classic Ham Salad recipes will call for finely ground, cooked meat mixed with chopped veggies and loads of mayo.
Our Lightened Up Chunky Ham Salad Recipe
But, the concept of ground ham grosses Tim out a bit, the same way that thinking about all that mayo does for me. So, as we were thinking about classic American dishes from our childhood, and I had a hankering for the ham salad that played a crucial role in family gatherings of my childhood, we knew we'd have to adapt the classic recipe to fit both of our tastes now.
Our resulting version of Ham Salad is a bit chunkier than the traditional, ground ham version, since we didn't take the meat to the grinder, but simply did a good number with the butcher knife to chop it as fine as we could.
We also substituted plain yogurt for the mayonnaise, giving the whole salad a much lighter, summery feel. If you miss some of the mayo heartiness, feel free to use half mayo and half plain yogurt to give yourself a nice balance while still sticking on the lighter side of things.
We thought the chunkiness gave a nice substance to the salad, and Tim even had to admit that this version changed is previous "eww gross" opinion of Ham Salad.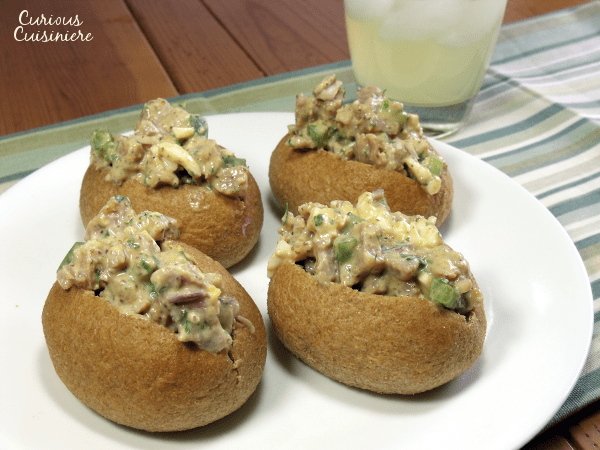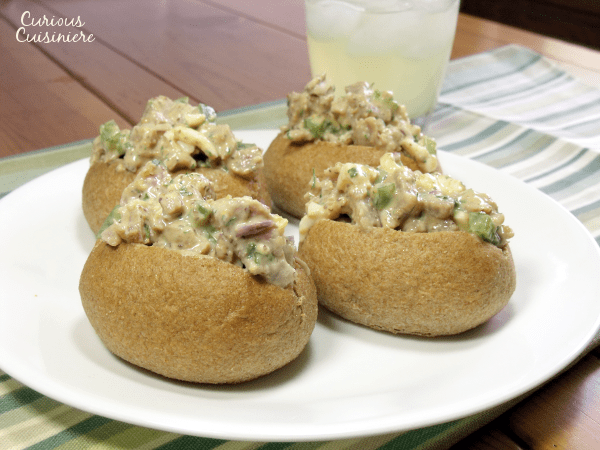 Ham Salad
This easy Ham Salad is a chunky and lightened up twist on the American classic. Get ready for a perfect, light summer lunch!
Yield: 2 1/2 c of ham salad
---
Ingredients
2

c

cooked ham,

chopped

2

hard boiled eggs,

chopped

¼

c

green pepper,

diced

¼

c

celery,

diced

2

Tbsp

red onion,

diced

¼

c

plain yogurt

4

tsp

grainy mustard

2

tsp

Worcestershire sauce

2

tsp

parsley

Salt and pepper

(to taste)
Instructions
In a large bowl, mix chopped ham, eggs, green peppers, celery, and red onion.

In a small bowl, whisk together yogurt, mustard, Worcestershire sauce, and parsley. Pour the dressing over the ham mixture and mix until well coated, adding additional yogurt as needed to reach your desired creaminess.

Add salt and pepper to taste.

Stuff the salad into hearty rolls or serve it over crisp summer greens.
---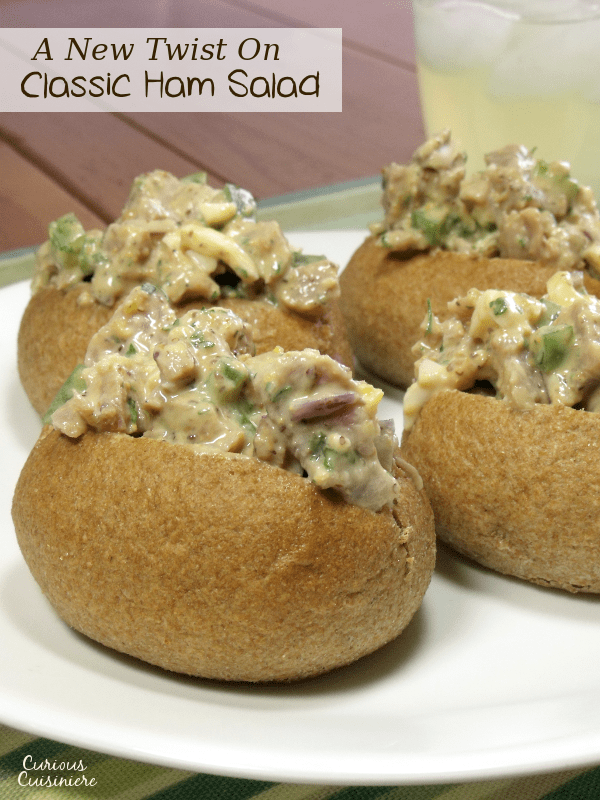 If you liked this recipe, here are some similar dishes you may enjoy!