You don't need a smoker to get the great flavor and juicy meat of a Smoked Turkey. We'll show you how to make a smoked turkey on a charcoal grill!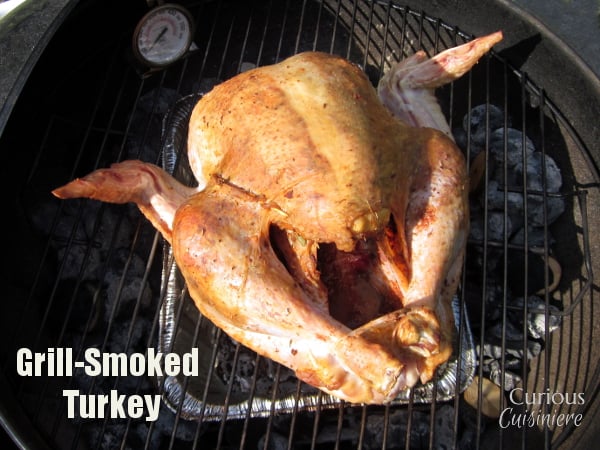 Grilled turkey?
Oh yeah. We're going there.
Although not a traditional way to cook turkey by any means, particularly here in Wisconsin, where we already have a light blanket of snow, a smoked turkey is a fantastic last hurrah for the grill.
Actually, I have heard that the cold and/or snow makes perfect conditions for smoking, since the cooler temperatures keep the grill (or smoker) from getting too hot. A low and slow smoke is just what you need to create a bird that is moist and tender, with a heavenly smoky scent and flavor.
Smoking, particularly on the grill, can be tricky. And when you add cooler outdoor temperatures, there is even more to think about. But, that shouldn't deter you from trying to smoke your turkey this year, because there are some easy fixes if everything doesn't proceed as perfectly as you would like.
Troubleshooting smoked turkey on a charcoal grill
Baby it's cold outside: If it is cold outside, you will want to check on your grill more often, to make sure there are ample coals and it is staying at the correct temperature (around 170-200F). We'd also recommend allowing an extra hour of cooking time if it is cold, just in case the heat in your grill does dip below 150F. That way you give yourself the time to let it cook really, really slow, if needed.
My turkey's done early: If the turkey hits temperature (165F in the thickest part of the breast and thigh) sooner than anticipated, don't worry. A turkey should rest for at least 20 minutes before carving, for the juices to settle. But, a 12 pound bird can handle up to an hour of resting, if necessary. Just tent it with aluminum foil and keep it away from any drafts.
If it is done WAY early, cover it with aluminum foil and place it in an a 200F oven. Place a pan of water on the rack below the turkey. This will keep it warm and moist, until you are ready to eat.
It's not done yet: If you find yourself an hour or so from dinner and the temperatures aren't anywhere near 165F, take the bird off of the grill and finish it in the oven at 325F, as if you were roasting the turkey. Tent it loosely with aluminum foil to prevent it from over-browning, and cook it until the internal temperature registers that magic 165F. The smoke flavor will be infused in the bird from the time it spent on the grill, so you will still reap the delicious, smoky benefits.
I don't know about you, but we can't think of a better way to 'end' the grilling season.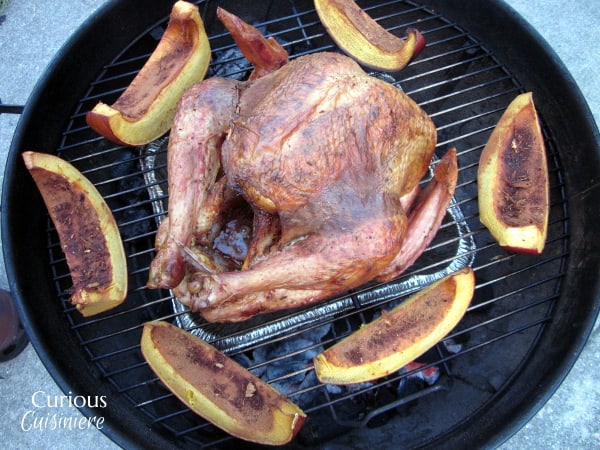 Grill Smoked Turkey
Get a flavorful smoked turkey on a charcoal grill!
Yield: 1 (12 lb) turkey
---
Ingredients
For the Rub
2

Tbsp

ground black pepper

1

Tbsp

salt

1 ½

tsp

garlic powder

1 ½

tsp

onion powder

1 ½

tsp

thyme

1 ½

tsp

oregano

1

tsp

ground white pepper

1

bay leaf,

crumbled

1

habanero pepper,

minced (optional)
For the Turkey
12

lb

turkey,

fully thawed and cleaned of giblets

4

cups

smoking chips,

soaked

1

- 2 c

chicken broth
Instructions
Clean your grill grates and set up your grill for indirect heating, with a drip pan directly in the center of the bottom grate and your coals arranged around the pan. Place an oven thermometer in the grill and preheat the grill to 200F.

Mix the rub together in a small bowl. Rub under the skin and inside the cavity of the bird. (For instructions on how to get under the skin, see our post on

Roasting a Turkey

.)

Place a handful of smoking chips over the warm coals and place the bird on the top grill grate, above the drip pan. Cover the grill.

Smoke for 5-6 hours. Pour ½ c of chicken broth into the cavity every 2 hours, as needed if the bird looks dry. Add new coals and chips every half hour and check to be sure your temperature is holding around 200F.

The bird is done when the internal temperature of a thermometer inserted into the thickest part of the thigh and breast registers 165F. (The leg bone should feel loose inside of the leg meat and the juices where you punctured the bird to take the temperature should run clear.)

Let the bird rest on the counter, loosely covered with foil, for 20 minutes before carving, to allow the juices to settle.
---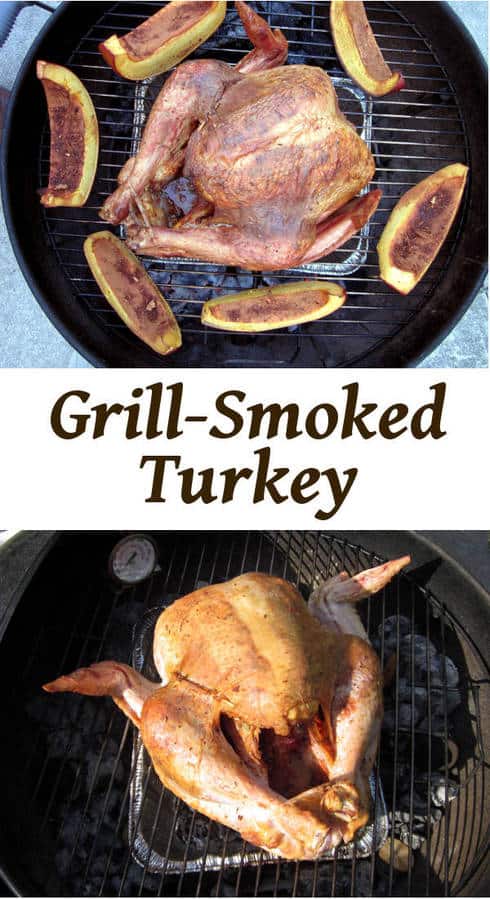 If you liked this recipe, here are some similar dishes you may enjoy!