Classic fruitcake gets a modern and tasty spin in these baked Fruitcake Donuts, chocked full of fruit and topped in a brandy glaze.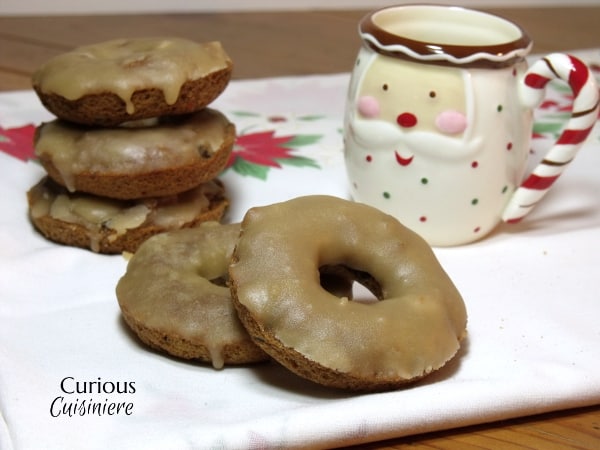 How Do You Feel About Fruitcake?
Do you cringe when you hear the word fruitcake?
Or, do you try to hide a happy dance, since you're the lone wolf in the family who enjoys that fruit-laden, liquor-soaked cake?
If you love fruit cake, we won't have to convince you that these donuts deserve a place in your December baking lineup. But, even if you're a fruitcake hater, these babies are going to change the way you think about fruitcake.
I mean, who doesn't like a donut?
What is Fruitcake?
Lets get down to the basics.
A fruitcake is simply a cake made with candied and/or dried fruit, nuts, and spices.
That's not so bad now, is it?
Traditionally, particularly the American version, is soaked in liqueurs or brandy, not as a flavoring, but as a preservative.
Two things that we see wrong with the traditionally thought of American version of fruit cake.
First, those brightly-colored candied fruits have been so mal-treated with chemicals and high fructose corn syrup to get them to that state, they really should be called candy, and not mar the title of fruit.
Second, nowadays, there is no reason to turn a fruited cake into a liquor sponge to keep it from going bad.
Thank goodness for refrigeration!
Our Baked Fruitcake Donuts
We're getting back to basics.
Fruit. Nuts. Spice.
And, just enough brandy to perk up the taste buds.
We're pretty sure baking fruitcake it into a donut would tempt even the long-time fruitcake haters to give it a second try in this version.
You just can't resist a donut.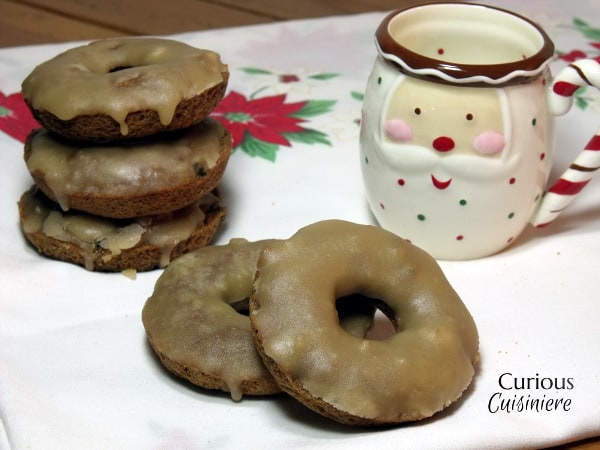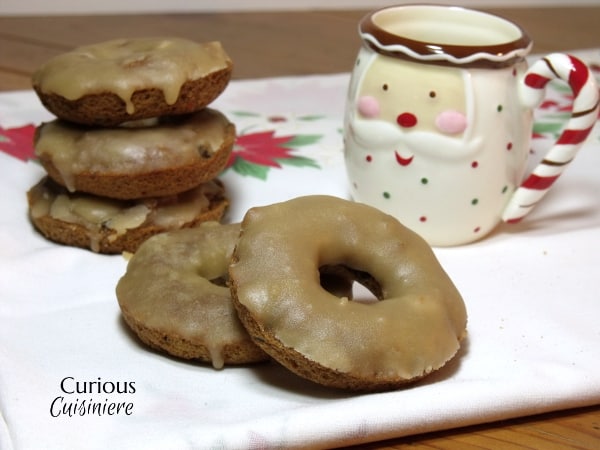 Fruitcake Baked Donuts
Classic fruitcake gets a modern and tasty spin in these baked Fruitcake Donuts, chocked full of fruit and topped in a brandy glaze.
Yield: 6 donuts
---
Ingredients
1/2

c

whole wheat flour

¼

c

sugar

1

tsp

baking powder

1/8

tsp

baking soda

¼

tsp

salt

½

tsp

cinnamon

½

tsp

nutmeg

¼

tsp

allspice

¼

tsp

mace

1/8

tsp

cloves

1

Tbsp

salted butter,

softened

1 ½

tsp

molasses

¼

c

milk

¼

c

brandy

½

tsp

pure vanilla extract

½

tsp

orange zest

1

egg

½

c

mixed dried fruits

(chopped apricots, raisins, currants, golden raisins, etc)

2

Tbsp

walnuts,

chopped
For the Glaze
¾

c

sugar

½

c

brandy

1

tsp

pure vanilla extract
Instructions
Preheat your oven to 350F.

In a medium bowl, mix flour, sugar, baking powder, baking soda, salt, and spices.

Melt butter and molasses together in a small bowl in the microwave. Set aside to cool slightly.

In a large bowl, add milk, brandy, vanilla, and orange zest. Add egg, and beat until incorporated. Stir in flour mixture until moistened.

Add fruit and nuts and mix until just combined.

Spoon batter into greased baked donut pans*, filling ¾ of the way full.

Bake for 8-10 minutes, until firm.

Remove from pan to a wire rack and cool completely before making glaze.
For the Glaze
Combine the glaze ingredients in a small saucepan over medium heat. Stir until sugar is dissolved.

Increase heat to high. Simmer, stirring, for 3 minutes. (Glaze should be just starting to turn from clear to opaque when it is done.)

Let the glaze cool slightly.

Dip the slightly cooled donuts into the still runny glaze, and place on a wire rack to let the glaze set up. (It cools fast!)
---
Recipe Notes
*Alternately, this batter can be used to make 6 muffins. Bake 20-22 min, until a toothpick inserted in the center comes out clean.
If you liked this recipe, here are some similar dishes you may enjoy!