Our easy French cassoulet recipe takes all the rich flavors of traditional cassoulet in a dish that is easy to make in just a few hours. This cassoulet is a chicken, white bean, and Italian sausage casserole that is slow-cooked and wonderfully flavorful. True comfort food.
We served our French cassoulet with a Tannat wine from Urugyay. Why Uruguay? Read on to see the connection between Uruguay and cassoulet.
What is cassoulet?
Cassoulet (pronounced 'ka-SOU-lay') is a hearty, slow-cooked casserole from the southwest of France.
It is a peasant dish from the regions of Gascony and Languedoc.
Being peasant food, recipes vary greatly from region to region. Peasants use what they have on hand to feed their families.
There are three staple ingredients that make a dish a cassoulet:
meat
some type of pork
beans
What type of meat is in cassoulet?
Preserved goose or duck (confit) are common meats to find in cassoulet, as well as mutton. You may also find cuts of pork and, more-commonly nowadays, chicken.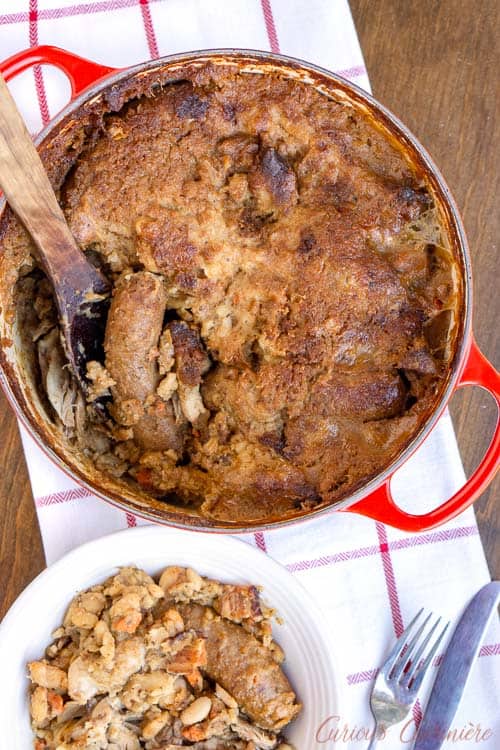 Keep in mind that cassoulet is a slow cooking dish, so it is the perfect way to use those more tough or gamey meats that wouldn't be as appetizing if cooked quickly on their own.
Now, since we don't have a lot of goose, duck or mutton hanging around, for our easy cassoulet, we're using chicken thigh quarters seared in duck fat (but you could just as easily use butter). The thigh and leg meat is rich and flavorful, and the duck fat is our tribute to the more traditional meats.
What kind of sausage is in cassoulet?
Traditionally, cassoulet will include pork in the form of sausage and/or bacon.
For the sausage, Toulouse sausage is the most traditional. (Toulouse is a city in South France, in the Gascony region.)
Toulouse sausage is a simple garlic and black pepper seasoned pork sausage that has a coarse grind, so it has a really nice, meaty texture.
If you can't find Toulouse sausage, any good garlic pork sausage or Italian sausage (sweet, not hot) works perfectly well.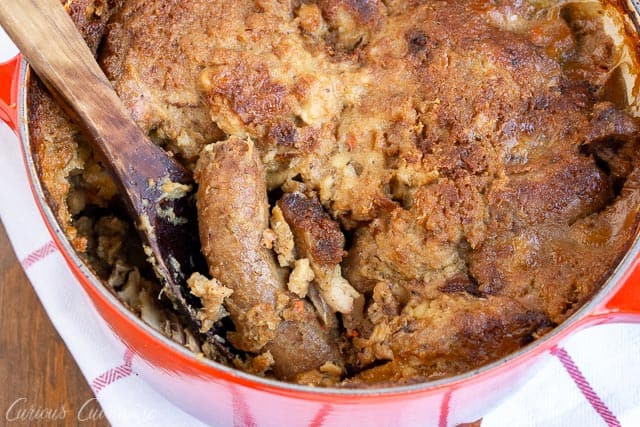 What kind of beans are used in a cassoulet?
The most common (we would almost say, essential) beans to use in cassoulet are a white bean (haricots blanc). Often lingot beans are the particular bean that is called for in French recipes. These beans are small, white, and creamy when cooked.
Navy beans are a great substitute for lingots. Cannellini beans would work as well, as long as you can find them dried. Using canned beans in this slow-cooking recipe would turn them to mush.
How to make traditional cassoulet?
It is easy to be intimidated by the traditional recipe for cassoulet.
Traditionally, this dish takes days to prepare and a day to cook. Most traditional recipes look something like this:
Soak your beans for 24 hours
Prepare a duck confit (slow cook duck thighs and legs in fat until they are fall-off the bone tender)
Par-cook your beans with aromatics
Saute bacon and sear sausage
Layer the beans, meats, and seasonings in a casserole with stock
Top with a breadcrumb crust
Cook for 4-6 hours removing it from the oven 7 times during cooking to break the crust and let more fat and juices seep to the top
As you can tell, this process takes at least three days, plus most of a day to prepare the final dish.
Is it worth it?
It our opinion, YES!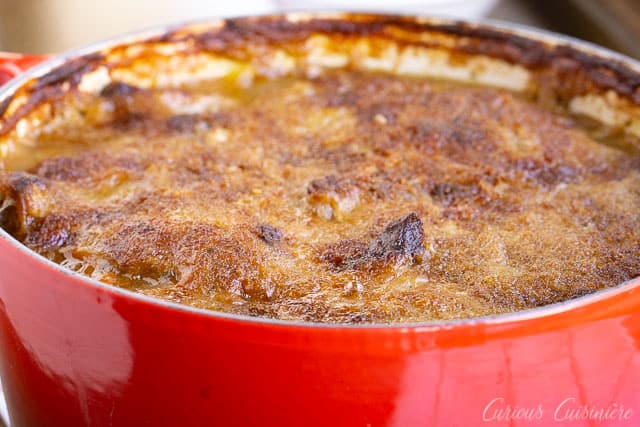 Our easy cassoulet recipe
However, to make this comfort food dish more accessible to our everyday lives and menu, we have made a few adjustments to make it easier to prepare and easier to source the ingredients.
First, as we mentioned, we're using chicken thigh quarters instead of duck. We're also using a sweet Italian sausage.
We got rid of the confit step all together. And, we simply cook our (pre-soaked) beans while we sear and saute our meats.
Then, everything gets layered into the Dutch oven and cooked for 3 hours, checking occasionally to be sure it's not too dry, and to break up any crust that has formed.
The result is a rich, hearty, and very satisfying dish that only takes 4 hours to make from start to finish. It's still not a 30 minute meal, but it can be made ahead, and the extra time is definitely worth it.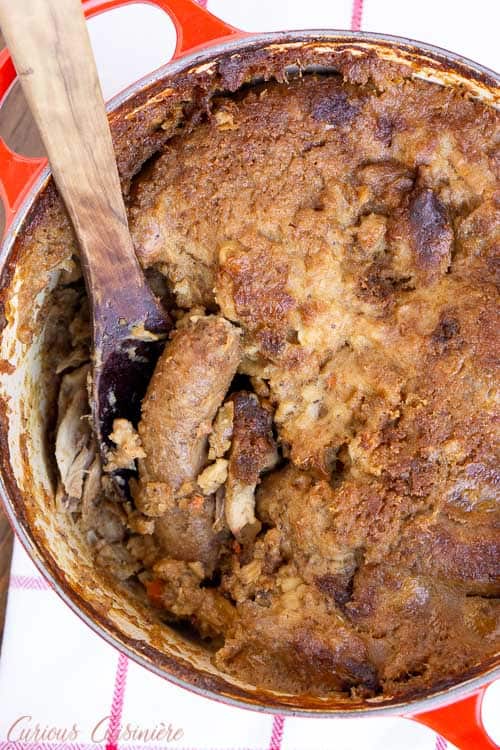 What do you serve with cassoulet?
Nothing.
Really, cassoulet is a rich and filling dish on it's own that doesn't need any accompaniments.
If you must have a first course, a salad is a nice light complement. And, for dessert, again, something light, maybe fruit-based would be a nice end to the meal.
What wine goes with cassoulet?
You really want to know what to serve with cassoulet?
Wine!
Cassoulet calls for a full-bodied red to go with its meaty richness. A wine from South France is always a great option: like Côtes du Rhône or Lauguedoc regions.
However, today, we're pairing our cassoulet with a wine from a different part of the world entirely: a Tannat form Uruguay.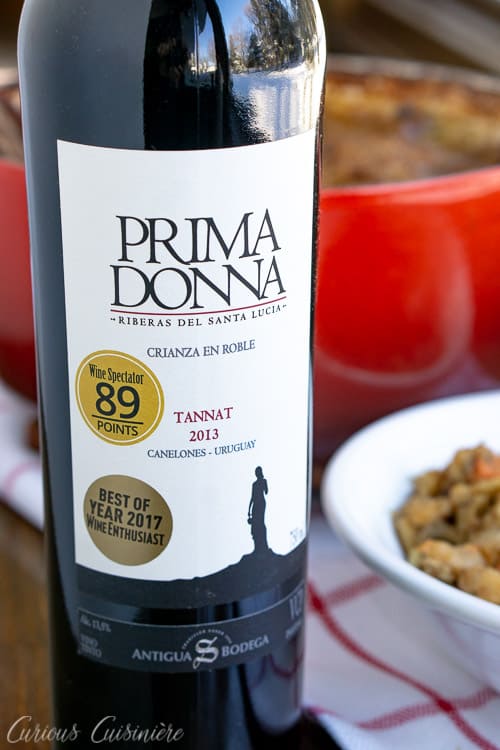 DISCLOSURE: We received samples of the Tannat wine mentioned below. As always, all opinions are our own.
Why a wine from Uruguay with a French dish?
Although we're talking about a wine from Uruguay, the Tannat grape is a French varietal, from the same area in France that cassoulet hails from.
So, how did this grape get to Uruguay?
In the middle of the 1800s Uruguay saw a large influx of French immigrants. (Nearly 50 % of their immigrants at that time were French.) And, one particular immigrant in the late 1800s brought the Tannat grapes with him. The vines took well (although changing slightly in flavor with the tropical climate) and it has become the country's top varietal.
Tannat Wine
Uruguay is most known for their production of red wine from these Tannat grapes. This grape that originally comes from South-West France is now considered the "national grape" of Uruguay.
Tannat wines from Uruguay are characterized by being lighter in body and with softer tannin than Tannat from other regions (like France).
We received samples of Tannat wine from Antigua Bodega Uruguay, a family run winery going back to 1928. Their vineyards sit on a unique piece of land that is surrounded by stone quarries of ping granite, which are wonderful for growing grapes and lend their flavor to the wines.
We found their 2013 Tannat to be quite fruity on the nose with notes of blackberry and raspberry. After 15-20 minutes to let the wine open up, we found a smooth and earthy wine with a bit of chalkiness and the blackberry carrying through.
The fat and meaty protein in the cassoult are the perfect match for a Tannat. Even with the softer tannins of the Tannat from Uruguay, we found the pairing to be spot on. The fat from the dish smoothed the edges of the wine, brought out the dark berry notes, and gave it an incredibly clean finish.
This was a wine and pairing that we enjoyed immensely, and we are excited to try out more wines from Uruguay in the future!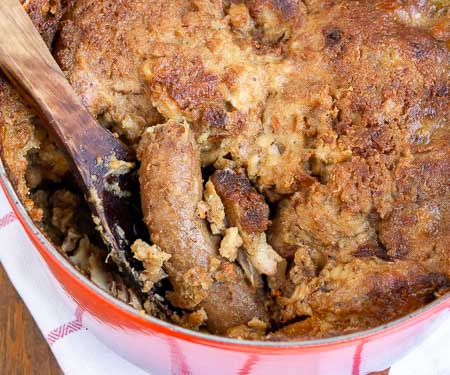 French Cassoulet (Chicken and Bean Stew)
Our easy French cassoulet recipe includes chicken, sausage, beans, and bacon, and brings you the flavors of traditional cassoulet in just a few hours.
Yield: 4.5 quarts of stew
Keyword:
beans, chicken, sausage, stew
---
Ingredients
1

lb dry

navy beans,

soaked overnight in salt water and drained

2

Tbsp

duck fat

(or unsalted butter)

4

chicken leg quarters

(legs and thighs)

1

lb sweet

Italian sausages

(pork)

½

lb

thick cut bacon,

diced

2

carrots,

diced

1

onion,

diced

1

stalk

celery,

diced

4

cloves

garlic,

minced

3-4

c

chicken stock

(we prefer low sodium)

2

tsp

parsley

1

tsp

thyme

2

bay leaves

½

tsp

salt

1

c

breadcrumbs
Instructions
Place the soaked and drained beans in a medium pot and cover with 2 inches of water. Cover the pot and bring the beans to a boil. Reduce the heat and simmer until the beans are just barely tender, 20 minutes.

While the beans are cooking, heat the duck fat in a 5-6 quart Dutch oven.

Over medium high heat, sear the chicken leg quarters until golden brown on both sides. Remove the chicken from the Dutch oven and set aside on a plate.

Sear the sausages until golden brown. Remove and set aside.

Add the diced bacon and cook until crisp. Remove and set aside.

Remove about half of the fat from the Dutch oven. Add the diced carrots, onion, celery, and garlic. Sauté until softened and lightly golden.

Add 2 cups of chicken stock to the veggies in the Dutch oven and deglaze the pan, scraping up any stuck bits with a wooden spatula.

Preheat your oven to 325F.

Drain the beans from their cooking liquid and add them to the Dutch oven. Add the parsley, thyme, bay, salt and cooked bacon. Mix well.

Return the sausages and chicken to the pot, nestling them as evenly as possible among the beans. Add as much of the remaining stock to the dish so that you can see moisture peeking through the ingredients at the top.*

Sprinkle the breadcrumbs over top of the dish and place it in the oven, uncovered to bake for 1 hour.

After 1 hour, remove the dish from the oven and press down any breadcrumbs that haven't been moistened. If the dish looks too dry on top, you can add a bit more chicken stock (or water). Return the dish to the oven to bake, uncovered for another 1 hour.

After the second hour, again remove the dish from the oven and break up the top crust to moisten the breadcrumbs. Return the dish to the oven to bake, uncovered, for 1 final hour.

After 3 hours of cooking time, remove the dish from the oven and let it rest, uncovered for 20 minutes.

Serve warm.**
---
Recipe Notes
*Your cassoulet can be made ahead up to this point. Let it cool and then refrigerate it overnight, until you are ready to cook it. Before cooking, let the refrigerated cassoulet come to room temperature for 2 hours.
**Keep in mind that the chicken legs and thighs will be fall apart tender, this means that some bones or cartilage might fall apart into the thick stew as you scoop servings out. If you are serving this dish to young children, you may want to carefully extract the chicken legs and thighs from the dish before and de-bone them before serving.
---
If you're excited to start trying more wines from Uruguay, have a look at these wonderful pairings for wines from Uruguay from our fellow Wine Pairing Weekend comrades.
If you liked this recipe, here are some similar dishes you may enjoy!