Jalapenos and bright lime lend a unique sweet and hot twist to the classic in this refreshing spicy margarita recipe.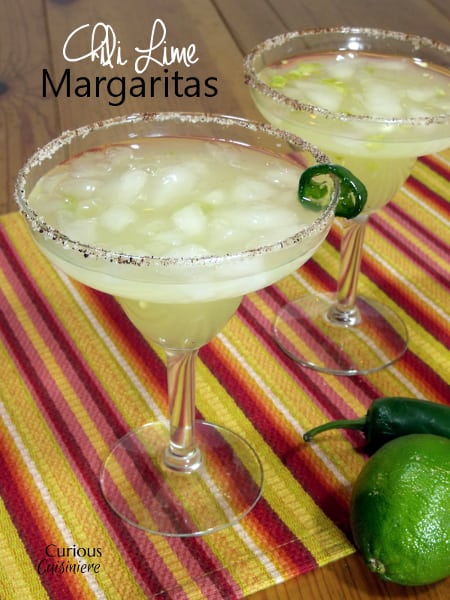 Happy National Margarita Day!
You're getting an extra post from us this week, and it is for a very good reason. Today's National Margarita Day!
To celebrate, Heather over at girlichef has brought together a bunch of bloggers for a margarita party, and we have quite the lineup of drinks and margarita-inspired treats for you today!
Figuring out what to make for the party was tough. There are so many options! Did we want to go traditional? Fruity? Way off the deep end?
Our Chili Lime Margarita
In the end, we decided to recreate one of our favorite margaritas of all time, a Chili Lime Margarita that we had a few years back at a restaurant in Milwaukee. The margarita is no longer on the menu, which is quite a shame. But, we remember the sweet and spicy flavor well.
The thing is, the margarita we remember was a lovely rose color with a fun deep-red, chili-salted rim.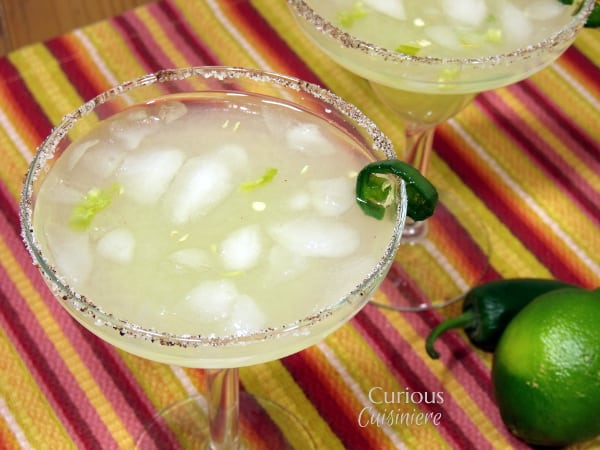 Now, if you're sitting there looking at these pictures wondering if we're blind, I assure you, we're not. That color is the tale of woe that goes along with these margaritas.
Unfortunately, during mid-winter in Wisconsin, it is impossible to find red chilis anywhere, believe me, we tried. So, we had to let go of our grand ideas of sweet red jalapenos contributing a rosy-hue, and settle for the classic lime-green. But, we weren't letting go of the chili-salted rim!
Actually, we added a bit of sugar to the rim in order to make up for the sweetness we were hoping for in the red jalapenos.
Making Our Spicy Margarita Recipe
Like we talked about in our Hot Sauce post, the cool thing about these is you can dial the heat up or down all by the jalapeno you pick up. A smooth, tight-skinned jalapeno will give little heat with a fun pepper flavor, while a highly veined and scarred jalapeno will pack a punch that might have you sweating.
With two shots of tequila per drink, these babies do pack a punch, no matter how hot you make them, so you just might want to serve them up with some chips and a Black Bean Salsa to get a little food in your tummy while you sip!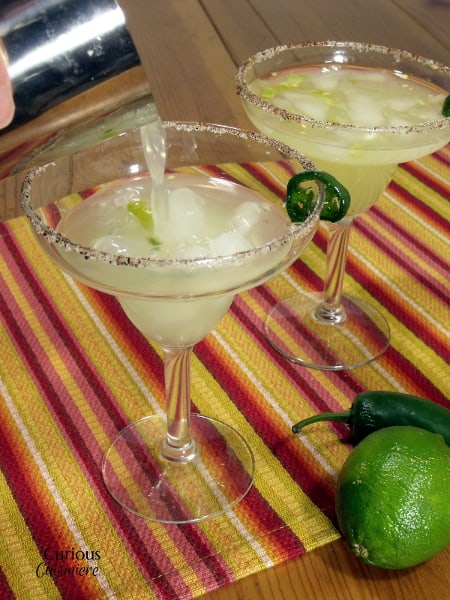 Chili Lime Margaritas
Jalapenos and bright lime lend a unique sweet and hot twist to the classic in this refreshing spicy margarita recipe.
Yield: 2 drinks
Ingredients
6

oz (3/4 c)

Silver Tequila

6

oz (3/4 c)

lime juice

2

oz (1/4 c)

Triple Sec

2

inches

jalapeno,

sliced

¼

tsp

salt

¼

tsp

sugar

1/8

tsp

chili powder

Crushed ice

(to serve)
Instructions
Combine tequila, lime juice, and Triple Sec in a tall glass or drink shaker. Add jalapeno slices and muddle well with a wooden spoon or rubber-tipped muddler, crushing the jalapenos to release their juice.

On a plate, combine salt, sugar, and chili powder.

Moisten the rim of your glasses with some lime juice (or the juice from a slice of jalapeno!) and dip the glass rim in the salt mixture. Fill the glass halfway with crushed ice, and pour the margarita mixture over the ice.

If desired, garnish the glass with a slice of jalapeno.
Nutrition
Calories:
323
kcal
|
Carbohydrates:
8.2
g
|
Protein:
0.5
g
|
Fat:
0.1
g
|
Sodium:
2506
mg
|
Fiber:
0.6
g
|
Sugar:
24.9
g
---
But, wait! There's more! From drinks to bites, here's how these bloggers celebrate National Margarita Day! 
Margaritas:
Margarita Bites:
If you liked this recipe, here are some similar dishes you may enjoy!