Entrecote Bordelaise, or Bordeaux style steak, combines the richness of a hearty steak with a flavorful red wine sauce. You can't beat the combo of red wine and steak!
Open That Bottle Night
This month's Wine Pairing Weekend, was a two-part event in conjunction with Open That Bottle Night (#OTBN). On February 28th, we opened a special bottle of wine that had spent too many dusty years on our wine rack and treated it to a nice meal.
Now, we're not the type of people to sit on a bottle of wine. Our wine inventory changes pretty rapidly and if we can't remember when or where we got the wine, then we know it's probably way over-due for the cork to pop.
So, to keep in the spirit of Open That Bottle Night, we decided to look through our current selection and pick the oldest vintage. We were actually surprised when we came across a 2005 Meritage from Red Oak Vineyard in Sturgeon Bay, WI.
We purchased the bottle only a few years ago during one of our cherry picking trips.
Meritage Wine
A Meritage is a full-bodied wine made in the Bourdeaux-style from a very specific blending of grapes grown on American soil, mostly in California. A red Meritage must contain a combination of at least two of Cabernet Sauvignon, Merlot, Cabernet Franc, Carmenere, Petite Verdot, Gros Verdot, and St. McCaire, and no single varietal can compose more then 90% of the blend.
The Red Oak Vineyard Meritage is a nearly half and half blend of Cabernet Sauvignon and Cabernet Franc. The wine itself bears the weight and flavor of a Cabernet Sauvignon, but with much more pronounced juicy, fruit notes and a bit of acidity. The combination is quite incredible because you are first hit with the flavors of a dryer Cabernet, but almost immediately, the fruit notes flood your mouth and the acid cleanses your palate just enough that you are left with the lingering notes of fruit, rather than dry tannin.
Being such a hearty red, this wine practically screamed to be paired with a steak.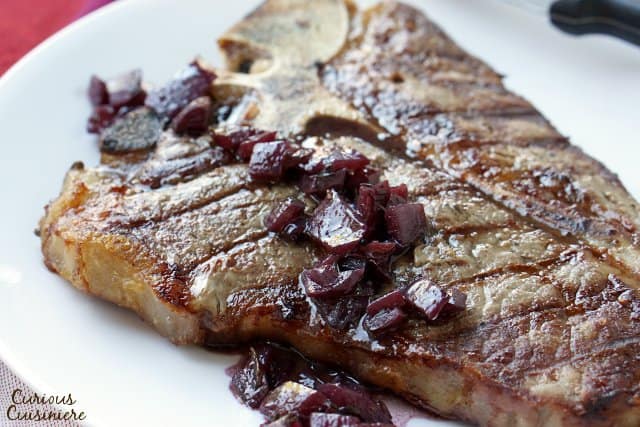 Entrecôte Bordelaise: Bordeaux Steak
Since the wine is done in a Bordeaux style, we decided to look to the Bordeaux region of France for inspiration for our meal.
We came upon a traditional style of preparing beef and lamb, so common to Bordeaux that it is simply referred to as à la bordelaise.
It is an incredibly simple method, where the meat is seared and then served with a rich sauce made from Bordeaux wine, butter, shallots, herbs and bone marrow.
Entrecôte Bordelaise takes this method and pairs it with a nice, juicy steak. (Entrecôte simply being the French word for a good cut of beef used for steaks, sometimes referred to as rib steak.)
The fat in the sauce and the richness of the steak are the perfect pairing for the richness and tannin in the wine. And, the light and flavorful shallots created the perfect accent to the wine's fruity finish.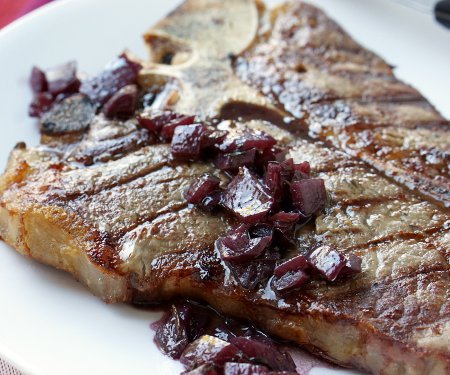 Entrecôte Bordelaise (Bordeaux Style Steak)
Entrecote Bordelaise, or Bordeaux style steak, combines the richness of a hearty, seared steak with a flavorful red wine sauce.
---
Ingredients
1

Tbsp

salted butter

2

shallots,

minced (about ½ c)

¼

tsp

salt

1

c

red wine

(preferably Bordeaux)

1

tsp

thyme,

dry

1

c

beef broth

(we prefer low sodium)

1

Tbsp

beef bone marrow *

(see Roasted Beef Bone Marrow recipe below)

1

lb

T-bone steak
Instructions
For the Sauce
Heat butter in a large sauté pan. Add shallots and salt. Sauté over medium heat until the shallots are soft, 3 min.

Add the wine. Simmer over medium-high heat for 5 min.

Add the thyme and beef broth. Simmer over medium high heat until the sauce has reduced by half 10-15 min.

Stir in the marrow and season the sauce with salt and pepper to taste.

Remove the sauce from the heat.
For the Steak
Heat a cast iron skillet or grill over high heat. Cook the steak for 3-5 minutes (depending on the steak's thickness) until your desired doneness is reached. (3-5 minutes per side will give you a good medium steak.)

Remove the steak from the pan and let rest for 5 minutes before topping with the sauce and serving.
---
Recipe Notes
*If you can't find bone marrow (or a marrow bone), or just really don't want to (and, we don't blame you in the slightest), simple add an additional 1 Tbsp of butter to the sauce to finish. This will add richness to the sauce, the way the marrow would.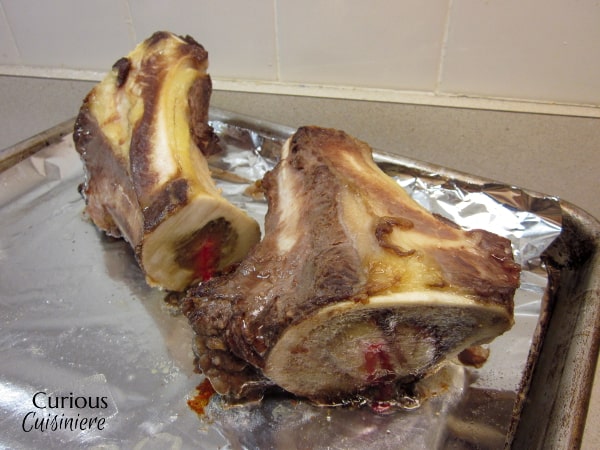 Roasted Beef Bone Marrow (and a simple Beef Stock)
You can find beef marrow bones in your grocer's meat section. Look in the area they have beef liver and suet. If you can't find them, ask the butcher.
Yield: roasted beef marrow and 3-4 quarts of good quality beef stock
---
Ingredients
2

large

Beef marrow bones
Instructions
For the Roasted Beef Bone Marrow
Preheat your oven to 400F. Roast the marrow bone for 20-30 min, until the marrow in the center of the bone is soft.

Remove bones from the oven and let cool. The marrow is now ready to be scooped out and used. Use the marrow in recipes, spread it on toast, or use the whole bones to make beef stock/bone broth.
Making Simple Beef Stock/Bone Broth
Place 2-3 lbs of roasted bones in a large stock pot with a chopped onion, a couple of chopped carrots, a chopped celery stalk, 1 Tbsp salt, 1 Tbsp parsley, and a bay leaf. Cover the mixture with 4-5 quarts of water.

Simmer the mixture for 2-4 hours. Strain the liquid into a large container with a cover and refrigerate the broth overnight.

After refrigerating, the fat will separate and harden on the top of the broth. Pick the fat off of the top of the broth and reserve it for high-heat cooking/sautéing. Strain the liquid again into containers or ice cube trays.

Broth can be stored in the refrigerator for 1-2 weeks or frozen for up to 6 months.
---
---
This is one of the recipes from the early days of Curious Cuisiniere. We've updated our pictures since we first made it, but we've left some originals here, in case you've found us in the past and are looking for that old, familiar image.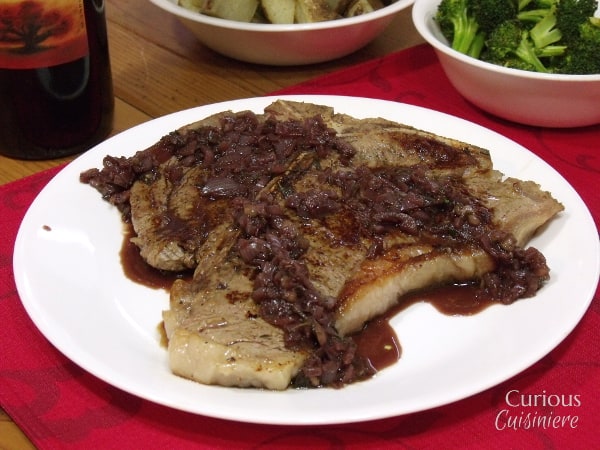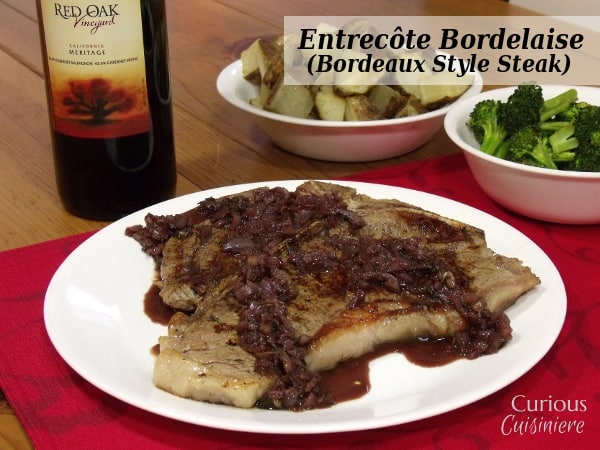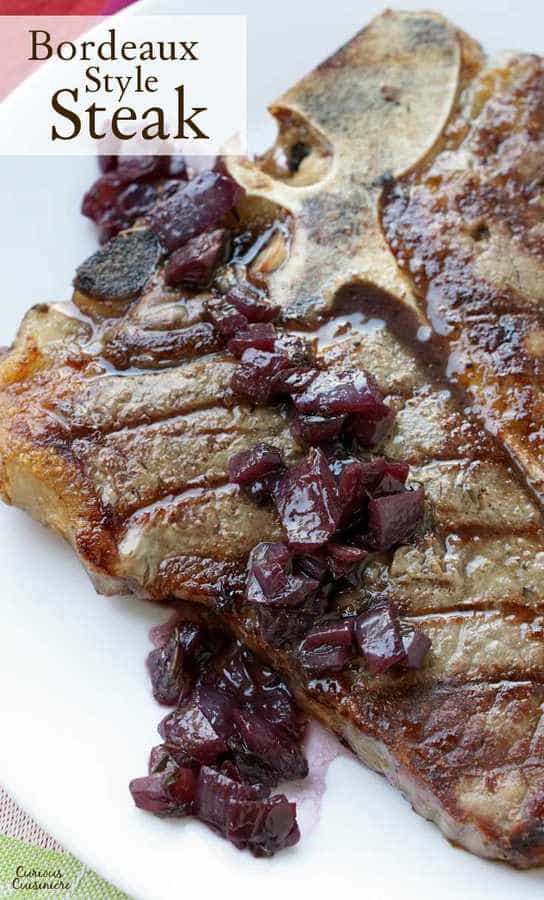 ---
If you've ever wondered what bottles of wine winos consider too special to open, take a look at the pairings below!
David of Cooking Chat started this event in June of 2014, and every month since then this group of wine and food lovers have had a great time! For more background, check out the original post announcing Wine Pairing Weekend. You can see the full list of past and upcoming #winePW events here.
If you liked this recipe, here are some similar dishes you may enjoy!