This Strawberry Kiwi Salad is anything but ordinary. It's actually a dandelion salad! Dandelion leaves make a unique, peppery addition to this spring salad!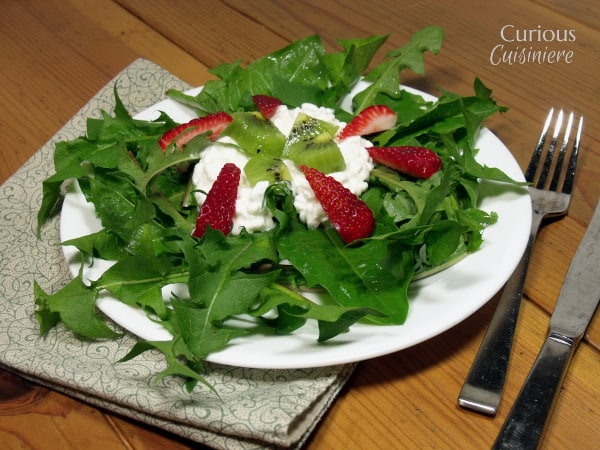 Have You Ever Picked Dandelion Greens?
The other day I did something I never thought I would do.
I went out and picked dandelions.
Not the flowers, mind you, but the leaves.
As I stood, accumulating a nice bag of dandelion leaves, I had to chuckle a bit at what any on-looking neighbors must be thinking.
While some may beg to differ, I'm not crazy. I swear.
The Nutrition of Dandelion Leaves
Dandelion greens are actually quite good for you: packed with calcium, iron, and antioxidants.
With an edible powerhouse nearly taking over parts of our yard, I figured that nothing was stopping me from trying them out for myself.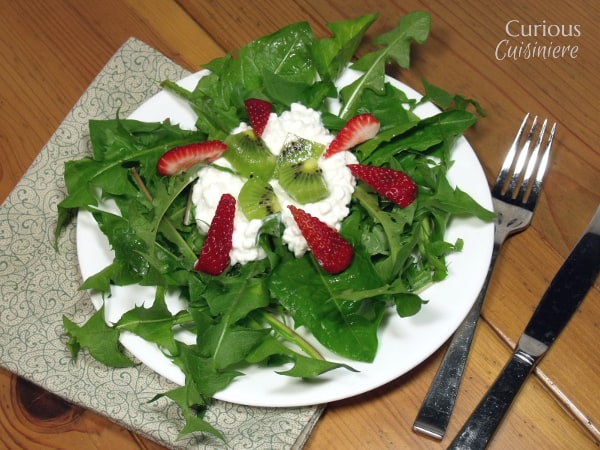 Our Dandelion Greens Salad With Strawberries and Kiwi
The verdict?
These greens pack quite a strong, almost peppery flavor, similar to mustard greens.
We decided that for a salad they are best eaten chopped up and intermixed with other greens, to add just enough punch of flavor.
Creamy cottage cheese is the perfect, cooling complement to these spicy greens. The fruit adds a nice sweetness and juicy texture.
It's a fun spring salad that is worth giving a try.
I mean, they're already growing in your yard.
Go ahead. Let the neighbors think you're crazy.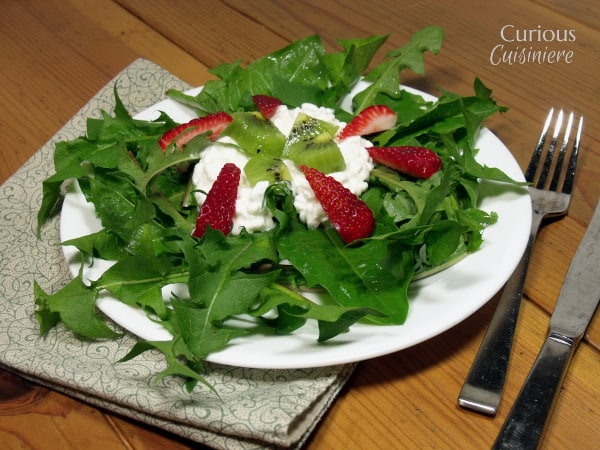 Strawberry Kiwi Salad with Dandelion Greens
Have you ever had a dandelion salad? Dandelion leaves make a unique, peppery addition to this spring salad!
---
Ingredients
2

large handfuls

dandelion greens

4

large

Romaine lettuce leaves

2-3

large

strawberries

1

kiwi

1/3

c

cottage cheese

Your favorite fruity vinaigrette salad dressing*
Instructions
Wash greens thoroughly and chop into bit-sized pieces.

Remove stems and chop strawberries.

Peel and chop the kiwi.

Place a bed of greens on your serving plate. Top with cottage cheese and fruit.

Add dressing. Toss and enjoy!
---
Recipe Notes
*We used a citrus vinaigrette. Raspberry vinaigrette or Vidalia onion would work well too.
If you liked this recipe, here are some similar dishes you may enjoy!