Rhubarb is an unexpected ingredient that gives these baked beans a pleasantly sweet and tart flavor!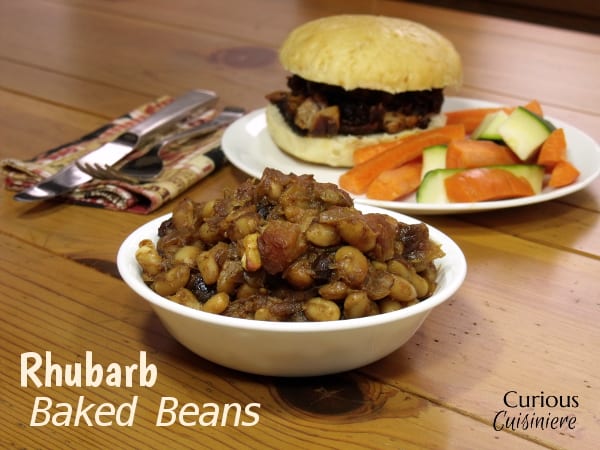 Didn't I tell you Rhubarb needs so much more credit than Strawberry Rhubarb Pie?
Last week, we brought you a fantastic, sweet and tangy Rhubarb Slaw, and now, we're wrapping up this week on the darker side.
Deep and dark. The caramelized flavors of baked beans, that is!
Would you ever think of throwing rhubarb into a simmering pot of baked beans?
Yeah, us neither.
But, after loving the tang rhubarb gave to last week's slaw, we started thinking: "What else do we like sweet and tangy?"
While turning some leftover pork into pulled pork sandwiches for dinner one night, a baked bean craving set in, and a crazy inspiration struck.
Now, these aren't your classic maple and bacon baked beans.
Although, rhubarb and bacon… Now, there's a combo we should try. Pancakes maybe? Oh, do stay tuned!
But, I digress.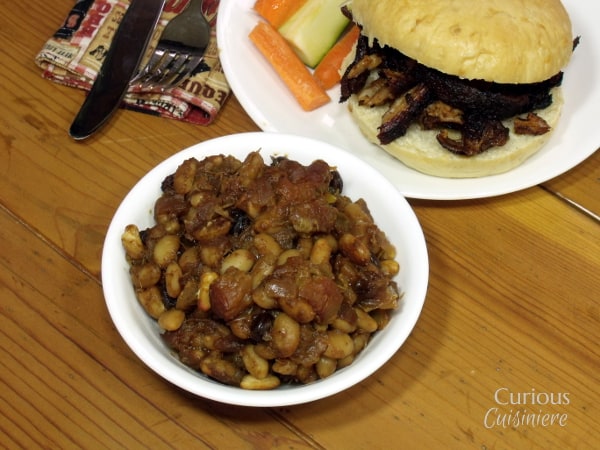 These baked beans have a lighter, brighter flavor, but the molasses and low and slow cooking gives them just enough depth to round out the brightness. You might be surprised by the raisins in there. (Tim sure was!) But, don't worry. They help to deepen and sweeten the flavors, without having to go overboard on the molasses or sugar.
You're welcome!

Rhubarb Baked Beans
Author:
Sarah | Curious Cuisiniere
Ingredients
½ tsp oil
1 small red onion, diced
1 ½ c rhubarb, cut into ½" pieces
½ c raisins
1 c water
3 Tbsp tomato paste
2 Tbsp molasses
1 Tbsp apple cider vinegar
1 tsp mustard powder
¼ tsp cloves, ground
½ tsp nutmeg
¼ tsp salt
¼ tsp garlic powder
3 c cooked great northern beans (1 c dry, soaked and cooked or 2-15oz cans, drained)
Instructions
Preheat oven to 350F.
Heat oil In a large skillet. Add onions and rhubarb. Sauté over high heat until rhubarb begins to soften, 2-3 minutes.
Add remaining ingredients and simmer over medium-lower heat until the mixture beings to thicken, 7-10 min.
Transfer beans to a 1.5-2 quart, oven-proof baking dish.
Bake, covered for 30 minutes. Uncover and return to the oven to bake for 15 minutes, until beans are thick and bubbly.
Nutrition Information
Serving size:
½ c
Calories:
186
Fat:
1.2g
Carbohydrates:
37.6g
Sugar:
12.8g
Sodium:
113mg
Fiber:
7.9g
Protein:
8.6g
If you liked this recipe, here are some similar dishes you may enjoy!