This flavorful Herb Roasted Turkey Breast is perfect for a small-scale Thanksgiving dinner with very little prep or clean up.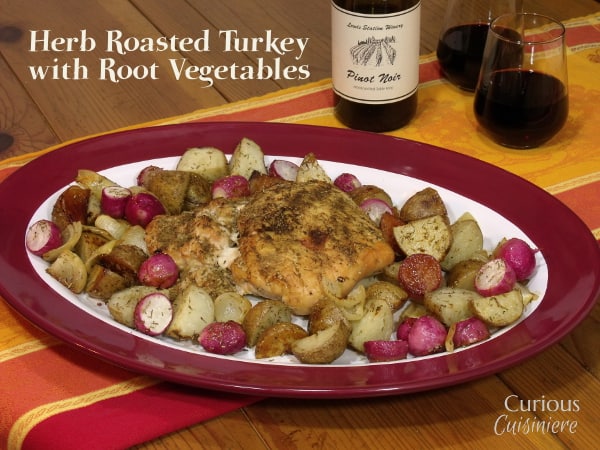 To me, Thanksgiving is a time for mass chaos as family gathers around a huge table (or two or three tables) to enjoy laughter and LOTS of food. Even when we make turkey at home, I always go overboard. Do we really need an 11 pound bird for two of us? Probably not, but I just can't go any smaller.
Cooking for a small Thanksgiving celebration
However, if it is just two or three gathered for Thanksgiving, that doesn't make the holiday any less special. And, so we decided to scale things down a bit today and feature a scaled down version of Thanksgiving dinner that is no less delicious than spending the whole day roasting an entire bird.
Rather than go with a smaller whole turkey, we chose to roast a boneless turkey breast. If you're not going big (10 pounds plus) with a whole turkey, we've found that the meat to bone ratio just isn't worth our time. If we're going to de-bone a turkey, we better be feeding an army or have leftovers for at least a couple weeks. (And enough bones for stock!)
Getting the boneless breast to roast saves the hassles of messy cooking prep, extended cooking time, carving and de-boning for clean up. And, with a nice herb rub, it can be just as flavorful as a whole roasted turkey.
An easy clean up holiday meal!
Roasting a smaller piece of meat also means that there is room to cook veggies right in the pan with the turkey.
That means there's one pan to clean up.
Did you catch that? One pan! (I don't know about you, but that makes me pretty excited.)
And, you can change up the veggies to suit your preference. We used potatoes and radishes, because that's what we had on hand, but carrots, sweet potatoes, turnips, even Brussels sprouts, could be used. Just make sure everything is chopped to roughly the same size, to ensure the veggies cook at the same rate.
Pairing wine with herb roasted turkey breast
We're pairing today's dish with Lewis Station Winery's new release for November: Pinot Noir.
The Winery's owner, Rob, and his crew know what they're doing over there, because they chose to release this elegant and versatile wine just in time for Thanksgiving.
We found their Pinot Noir to have an incredible balance between a juicy fruitiness that will give the wine a wide appeal and the tannin dryness red wine lovers crave. The blanace of the wine makes it perfect for pairing with Thanksgiving dinner.
With so many types of food on the table, to create a good wine pairing for Thanksgiving, you need a wine that is incredibly versitile. Rob calls these wines "bridge wines," wines that bridge all types of flavors. And, his Pinot Noir does just that.
Herb Roasted Turkey Breast with Root Vegetables
This flavorful Herb Roasted Turkey Breast is perfect for a small-scale Thanksgiving dinner.
Ingredients
For the Turkey
3

lb

boneless turkey breast,

thawed if frozen

½

tsp

mustard powder

½

tsp

rosemary

½

tsp

thyme

½

tsp

sage

¼

tsp

salt

1/8

tsp

ground white pepper
For the Veggies
1 ½

lbs

potatoes,

cut into 1" chunks

1 ½

lbs

other vegetables

(carrots, beets, radishes, sweet potatoes, Brussels sprouts, etc), cut into 1" chunks

1

onion,

chopped

1

Tbsp

salted butter,

melted

1 ½

tsp

thyme

1 ½

tsp

rosemary

¾

tsp

garlic powder

¾

tsp

salt
Instructions
For the Turkey
Preheat your oven to 350F.

Place turkey breast on an aluminum foil lined baking sheet with high sides (a roasting pan can be used as well).

In a small bowl, mix together herbs. Spread the mixture under the skin of the breast (directly on the meat),as evenly as possible.

Place a piece of aluminum foil loosely over the turkey breast to prevent it from browning too fast and place it into the oven.

Roast for 1 hour.
For the Veggies
In a large bowl, toss the chopped veggies and onion with the melted butter and spices to coat evenly.

Increase your oven temperature to 400F.

Remove the turkey breast from the oven and remove the top aluminum foil. If any drippings have collected in the pan from the turkey, carefully drain those drippings into a heat-proof container using a baster or small ladle. (Save this to make gravy.*)

Arrange the veggies around the bird and return the pan to the oven.

Roast for an additional 20-30 minutes, until the veggies are golden brown and tender. The turkey is done when a thermometer inserted into the thickest part of the breast reads 165F.

Remove the pan from the oven and let the turkey rest 5-10 minutes before carving.
Notes
*To make your drippings into gravy: Place the drippings and juice into a small saucepan. Heating over medium-low heat, whisk 1 Tbsp of flour into the drippings, until smooth. Slowly pour 1 cup of chicken broth into the pan, whisking constantly. Turn your heat to medium-high and heat the gravy to a simmer, whisking often. The gravy will thicken as it starts to simmer. Remove the pan from the heat once the gravy has thickened slightly. (The gravy will thicken slightly as it cools as well.)
-
Any nutrition information provided is approximate, based on using potatoes and carrots.
Nutrition
Calories:
378
kcal
|
Carbohydrates:
32.2
g
|
Protein:
59.4
g
|
Fat:
3.2
g
|
Saturated Fat:
1.3
g
|
Cholesterol:
146
mg
|
Sodium:
597
mg
|
Fiber:
6.4
g
|
Sugar:
8.1
g
If you liked this recipe, here are some similar dishes you may enjoy!