It's time for this month's Eating the Alphabet Challenge hosted by Brenda over at Meal Planning Magic!
This month's challenge is brought to you by the letters G and H. So today, we're featuring Green Beans in this perfect picnic side.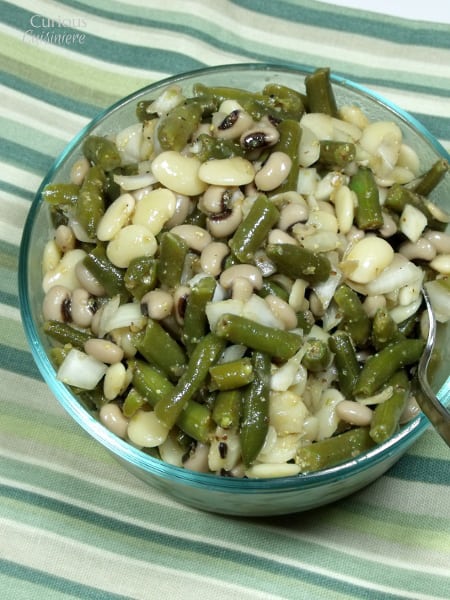 This is a sweet and tangy bean salad with crisp and refreshing flavors of two kinds of vinegar – cider and balsamic. The sweetness comes only from the vinegar though, no sugar in this green bean salad.
Crisp green beans are the base for this dish. We used a bag of frozen beans, but I can just imagine how tasty this would be using fresh beans that had been quickly blanched.
Lima beans add a very nice texture to the dish and black eyed peas bring a deeper, earthy flavor.
We haven't cooked much with black eyed peas. They have such a unique flavor, and I'm glad we branched out to use them in this dish, more of a 'safe' application. Now I'm getting excited about using them more often.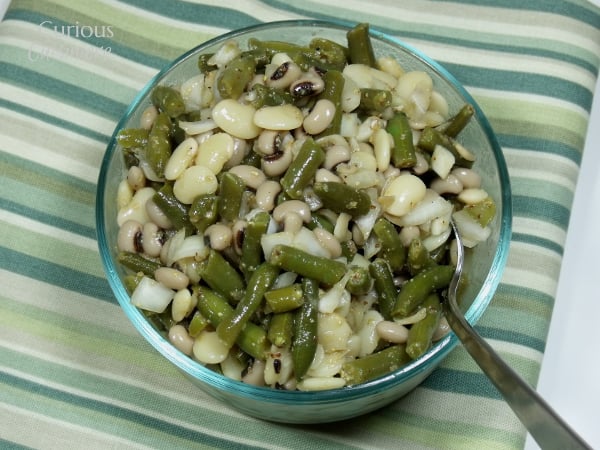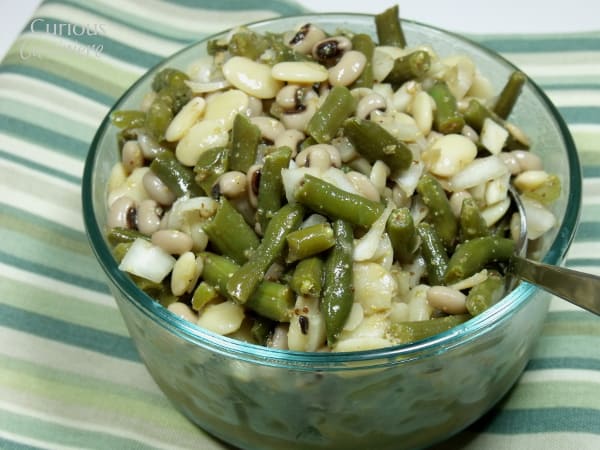 Green Bean Salad
A sweet and tangy green bean salad with crisp and refreshing flavors of two kinds of vinegar.
---
Ingredients
1

lb

green beans

(frozen or fresh)

2

c

cooked black eyed peas

(or roughly one 15 oz can, drained)

2

c

Lima beans

(frozen or cooked dried beans)

1

Vidalia onion,

diced

6

Tbsp

apple cider vinegar

2

Tbsp

balsamic vinegar

2

Tbsp

sweet, whole grain mustard

1

Tbsp

yellow mustard

¼

tsp

salt

¼

tsp

ground black pepper
Instructions
If using frozen beans, thaw completely. If using fresh green beans blanch quickly until slightly tender.

In a large bowl mix together green beans, black eyed peas, Lima beans, and diced onions.

In a small bowl or liquid measuring cup (for easy pouring), whisk together remaining ingredients.

Pour dressing over beans and toss to coat.

Refrigerate until serving. Serve chilled.
---
If you liked this recipe, here are some similar dishes you may enjoy!