With a fun play of sweet, sour, and bubbles, this recipe for a French 75 cocktail is perfect for any celebration!
The French 75 Cocktail
Legend has it that the classic 1920's drink, the French 75, was crafted on the battlefields of WW I. But, that story is probably more myth than fact.
The name, however, was inspired by WWI. It comes from the French 75mm field gun used during the war. (Known in French simple as Soixante Quinze, or Seventy Five.) That piece of machinery was know to be a light gun with incredible accuracy and a quick rate of fire. It was one of the first guns with a new recoil mechanism that kept it quite steady and smooth to handle.
As you would expect form a drink named after such a smooth, yet powerful, gun, the French 75 is not a drink to take lightly. One novelist named it "the most powerful drink in the world." With the sweet, tart, and effervescent combo, you won't notice the gin.
Do beware. This isn't just Champagne you're drinking!
While the drink was popularized in the 1920's, it definitely wasn't invented during the Prohibition era, since even Charles Dickens, in the late 1800's, was known to have requested "Tom gin and champagne cups." A Champagne Cup was a mixture of Champagne, sugar, citrus, and ice. Adding Tom gin, would pretty much give you a French 75.
French 75: A Twist On A Tom Collins
In style, a French 75 is identical to a Tom Collins – gin, lemon, sugar and soda – except that the soda is switched out for Champagne. Being that it was a spin-off of a Tom Collins, it should really be served in a tall Collins glass, not in a Champagne flute. But, we can't help ourselves. Any excuse to break out the flutes is a good one, and we'll take it!
By using regular gin (not London Dry) and Extra Dry sparkling wine rather than a Brut Champagne, our version below is less dry than some. The result is a nice blend of citrus and botanicals that pair well to create a fun play of sweet and sour.
Not to mention all the fun of bubbles! (And, yes, it does have a kick!)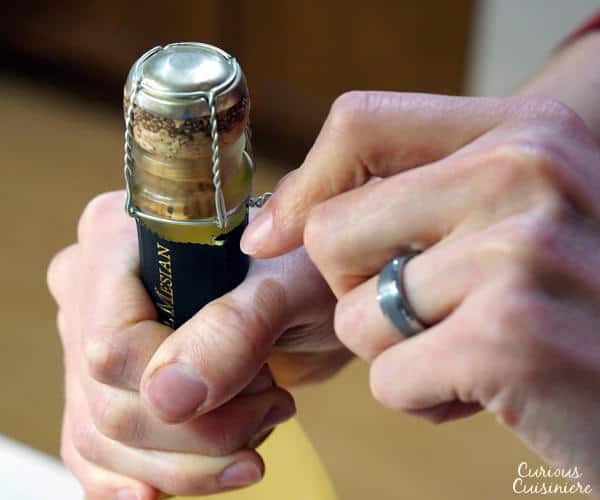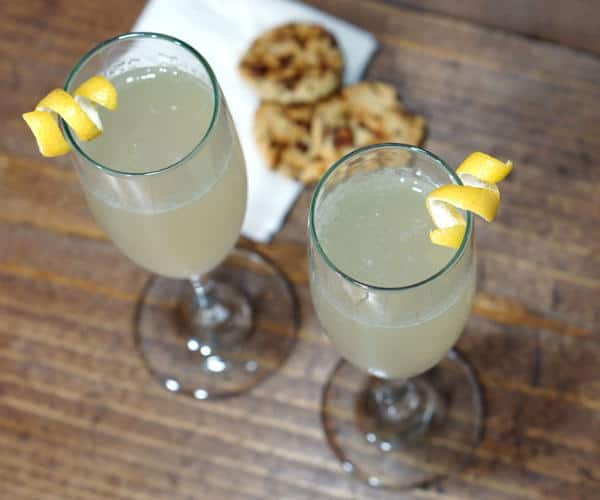 French 75 Cocktail
Add a punch to your champagne with this classic cocktail!
---
Ingredients
1

oz

gin

1

teaspoon

sugar

1/2

ounce

fresh squeezed lemon juice

(1 Tbsp)

2

ounces

Extra Dry Champagne

or sparkling wine, chilled (more to taste)

Lemon twist

(to serve)
Instructions
Mix gin, sugar and lemon juice in a cocktail shaker with a couple of ice cubes. Shake well until the sugar dissolves.

Strain the mixture into a Collins glass filled with cracked ice (or a champagne flute) and top off with champagne.

Serve garnished with a lemon twist.
---
If you liked this recipe, here are some similar dishes you may enjoy!