Your slow cooker does all the work for these deep and flavorful Boston Baked Beans. They're the perfect side dish for a party when you don't want to turn on the oven!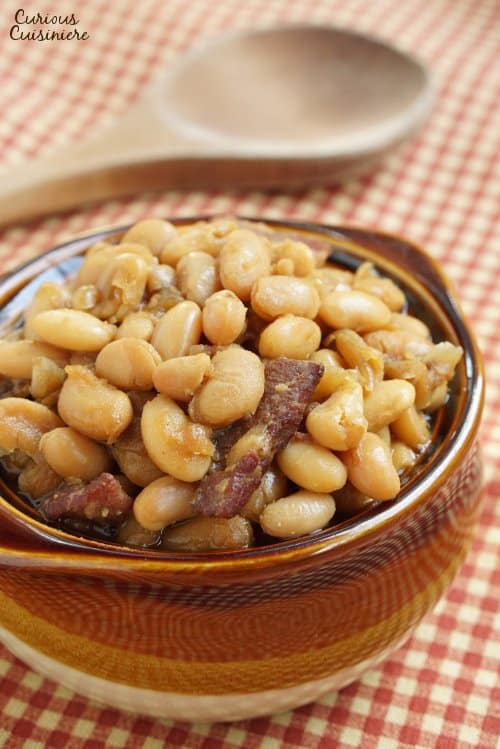 Why are they called Boston Baked Beans?
Before the Pilgrims arrived in colonial New England, the Native Americans were baking beans using maple syrup as a sweetener in a large pot over an open fire.
As the Pilgrims established Boston as a port city, it became very important for trade. As part of the trade system, cane sugar was imported into Boston from the West Indies. That cane sugar was processed and used to make rum that Boston then exported to Europe.
What does this have to do with Boston baked beans?
Molasses is the happy byproduct of processing cane sugar.
So, with an overabundance of molasses, thrifty Bostonians began using it in place of maple syrup to sweeten beans in the recipe they learned from the Native Americans.
Brilliant!
What Are Boston Baked Beans?
So, at their most basic, Boston baked beans are beans that are sweetened with molasses.
The other staple of Boston baked beans is that they are flavored with salt pork (or bacon). This creates a unique sweet and savory combo that people have come to know and love.

How Do You Make Boston Baked Beans?
Traditionally, Boston baked beans are made in a large, heavy pot, known as a bean pot.
The beans, salt pork, and molasses are be layered in the pot with some water and then placed, uncovered to cook all day in a warm brick oven.
This is some original low and slow cooking folks!
Cooking the beans this way allows them to develop intense layers of flavor as they cook. The starch from the beans thickens the liquid, and the molasses develops a dark caramel-y flavor.
The end result isa deeply flavored pot of beans that makes for an incredibly satisfying meal and pairs perfectly with a slice of hearty brown bread.
Our Easy Slow Cooker Boston Baked Beans Recipe
In our easy Boston baked beans recipe, we're letting the slow cooker do the "baking". Sure, they're not technically baked, but if you're cooking for a crowd or just don't want to turn on our oven, it's the perfect way to have flavorful beans incredibly easily.
We cook our beans covered at first, for 6 hours. Then, we uncover the beans for 2-3 hours to help develop that deep Boston baked beans flavor.
These beans just get better with time, so they are the perfect dish to make ahead if you're feeding lots of guests!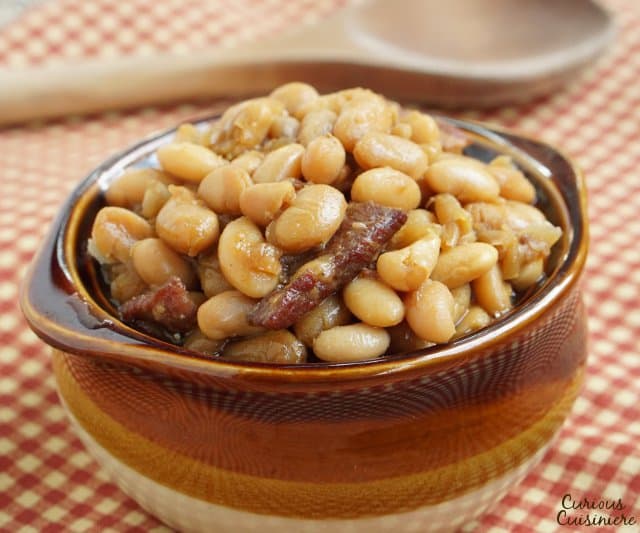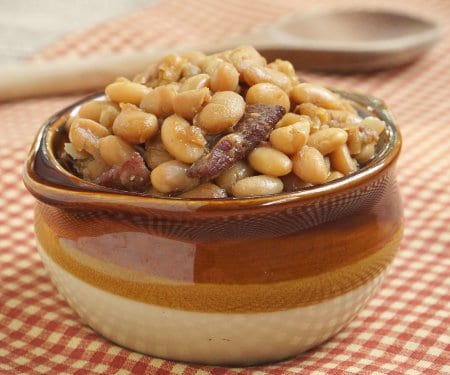 Boston Baked Beans in the Crock Pot
Your slow cooker does all the work for these deep and flavorful Boston Baked Beans. They're the perfect side dish for a party when you don't want to turn on the oven!
Yield: 8 cups
---
Ingredients
1

lb

navy beans,

dry

1

large onion,

diced

½

lb

salt pork

or bacon, cubed 1 inch

½

c

molasses

¼

c

brown sugar

2

tsp

prepared yellow mustard

¼

tsp

ground black pepper

2

c

reserved bean boiling liquid

or water

Salt

(to taste)
Instructions
Prepare The Beans (Done Ahead Of Time)
In a large saucepan or medium soup pot, heat 2 quarts of water and dry navy beans to a boil. Let boil for 5 minutes. Remove beans from heat and let soak 1 hour. (Alternately, soak dry beans overnight in cool water.)


Drain the beans and cover with 1 inch of water. Return the beans to the burner and simmer, covered until the beans are tender (approximately 1 hour).

Drain the beans, reserving 2 c of the liquid. (This can be done a day or two in advance of making the actual baked beans.)
For The Boston Baked Beans
In a large skillet, saute the salt pork (or bacon) 1-2 minutes over medium high heat, to release a bit of fat.


Add the diced onion and saute 5-7 minutes, until lightly golden. Transfer the pork and onions to a 2.5-3 quart slow cooker.


Add the cooked beans to the slow cooker.


In a medium bowl, combine molasses, brown sugar, mustard, and pepper. Pour the mixture over beans in the slow cooker.


Add the reserved bean boiling liquid until you see liquid about an inch below the surface of the beans. (Reserve any extra liquid.)


Cover the slow cooker and cook on low for 6 hours, adding more liquid if the beans look dry.

After 6 hours, uncover the beans and continue cooking uncovered for 2-3 hours, until the beans have thickened and darkened.


Taste the beans and add salt, if desired.

---
Recipe Notes
To make the Baked Beans ahead of time: After cooking in the crock pot, cool the beans and refrigerate overnight. The next day, bring the beans to room temperature by setting on the counter for 2 hours. Then, reheat the beans in the slow cooker on high heat for 1 hour. Reduce the heat to low once they are hot to keep them warm until serving.
---
This is one of the recipes from the early days of Curious Cuisiniere. We've updated our pictures since we first made it, but we've left the original images here as a fun throwback and shout out to how far we've come. Enjoy!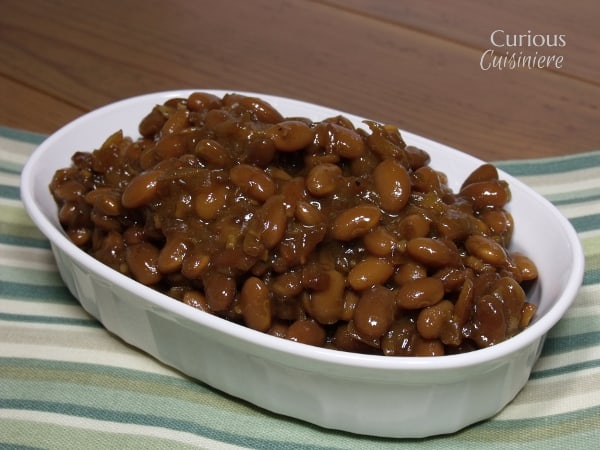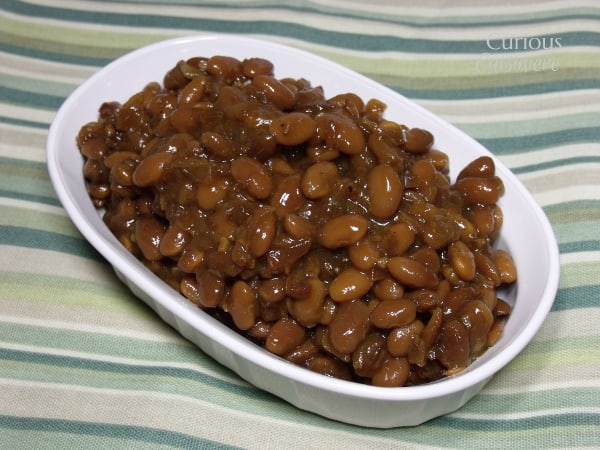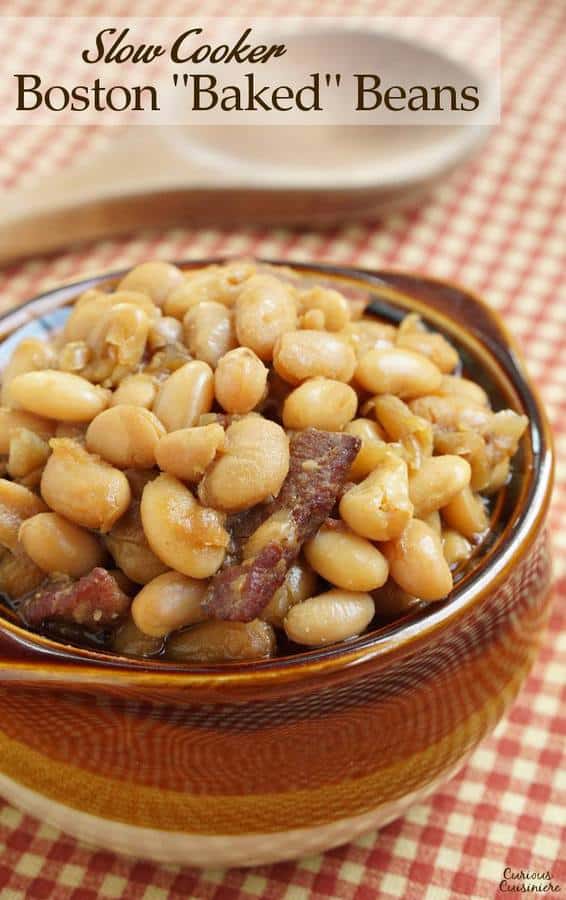 ---
Save
Save
Save
Save
Save
Save
If you liked this recipe, here are some similar dishes you may enjoy!