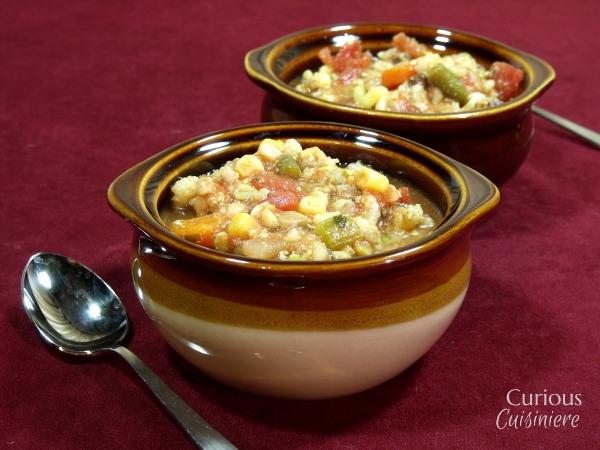 We may be nearing the end of February, but judging from the sounds of the snow-plow outside and the forecast of more snow on the way, I'd say winter is still in full swing.  While we may be longing for summer salads and grilling, there will be plenty of time for that, once we get past the season for hearty soups and stews.
Tim and I have found ourselves a bit under the weather this week, and this soup has hit the spot for our sensitive tummies and sore throats.
We like our soups thick and hearty.  As you can see, there's not much broth in there, it's mostly vegetable and grain goodness.  Which means this soup is a stick to your ribs kind of soup, even though it's mostly nutrient rich veggies.
If you do like your soups more broth-y, I wouldn't fault you in the slightest for adding a bit more vegetable stock to thin the soup out.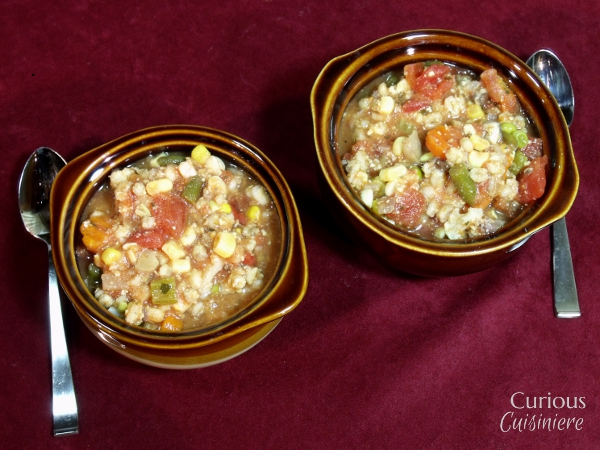 I'd love to hear, what's your favorite comforting and nourishing soup when you're under the weather?

Chunky Vegetable and Barley Soup
Author:
Sarah | Curious Cuisiniere
Ingredients
2 tsp oil
1 onion, diced
1 celery stalk, diced
4 oz mushrooms, drained
1 (14.5 oz) cans diced tomatoes, un-drained
3 c vegetable stock
1 ½ c water
½ c pearled barley, dry
1 tsp parsley
1 tsp garlic powder
½ tsp oregano
½ tsp thyme
½ tsp savory
¼ tsp salt
⅛ tsp red pepper flakes
½ tsp Worcestershire sauce
1 (16 oz) bag of frozen mixed vegetables, thawed
½ c walnuts, chopped
Instructions
In a large, 4 qt, soup pot, heat oil. Add onions and celery and saute until translucent.
Add mushrooms, tomatoes, vegetable stock, water, and barley.
Mix in parsley, garlic, oregano, thyme, savory, salt, red pepper flakes, and Worcestershire sauce.
Cover and bring mixture to a simmer, until barley is tender.
Add thawed mixed vegetables and walnuts, return soup to a simmer to heat through.
Serve alone or topped with Parmesan cheese.
If you liked this recipe, here are some similar dishes you may enjoy!