Balsamic vinegar is an unexpected ingredient that gives this cherry bread pudding an extra burst of flavor.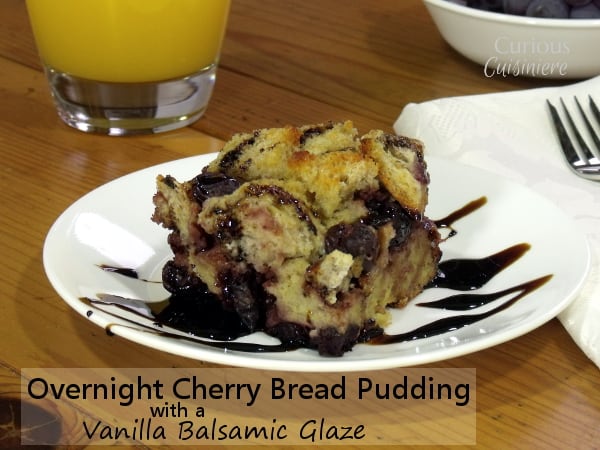 It's finally here!
Cherry picking season, that is!
Cherry Picking Season In Wisconsin
Unfortunately, due to the harsh winter and some crazy spring and early summer weather, the cherry crop seems to have taken a beating this year. But, starting this weekend, Wisconsin Door County Cherries are in season and ready to be picked!
The trees typically bloom during the end of May. (I've heard cherry blossom time is absolutely AMAZING to see on the peninsula. Maybe one year we'll try to get up there for the blossoms AND the picking!) Cherries are then typically ready to harvest about 60 days after the blossoms drop their petals.
Most of the cherries grown in Door County are Montmorency (Tart) Cherries. These tart cherries are a nutritional powerhouse! The very same compound that gives them their bright red color and sour taste (the flavonoid anthocyanins) helps you sleep better, relieves muscle soreness after workouts, fights inflammation from arthritis, and helps reduce the risk of heart disease.
Powerful little bites!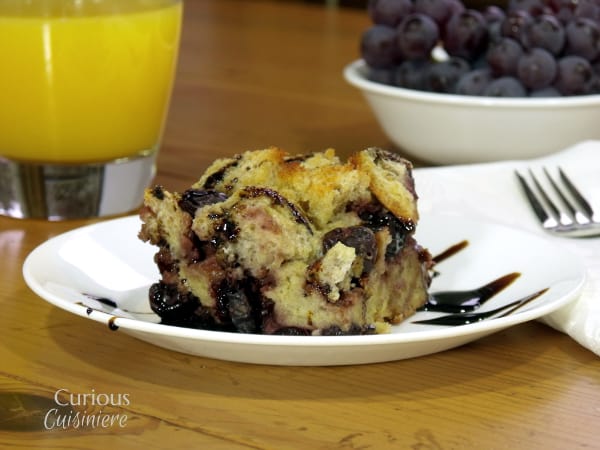 Our Sweet Cherry Bread Pudding Recipe
Fear not, Sweet Cherry lovers! Door County has plenty of sweet cherries too!
It's those sweet little gems that we're featuring today in this easy, breakfast dish.
Sweet cherries and just a touch of sugar make this cherry bread pudding a decadent-seeming treat that you can feel good about chowing down on for breakfast.
But, it's a surprising balsamic vinegar reduction that takes this bread pudding to a whole different level.
Using Balsamic Vinegar
Balsamic vinegar is naturally sweet with a bit of a tang.
We've added a bit more sugar and vanilla to our balsamic vinegar, and then cooked it down to a syrupy reduction.
When all is said and done, this sweet, vanilla-scented sauce is deep like those dark, sweet cherries and slightly tangy like the bright, tart cherries, creating the perfect cherry combo!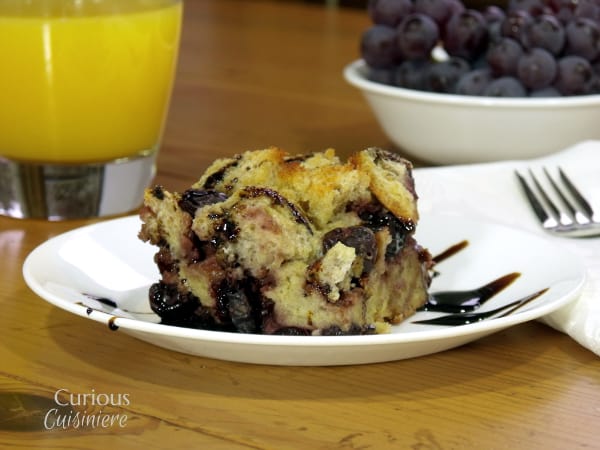 Overnight Cherry Bread Pudding with a Vanilla Balsamic Glaze
Balsamic vinegar is an unexpected ingredient that gives this cherry bread pudding an extra burst of flavor.
---
Ingredients
For the Bread Pudding
4

eggs

¾

c

milk

2

Tbsp

sugar

1/8

tsp

salt

5

c

dry bread,

cut into 1" cubes

1 ½

c

sweet cherries,

pitted
For the Vanilla Balsamic Glaze
½

c

balsamic vinegar

1

Tbsp

sugar

2

tsp

pure vanilla extract
Instructions
For the Bread Pudding
In a large bowl, mix together eggs, milk, sugar, and salt until the eggs are well beaten and the sugar is dissolved.

Add bread cubes and cherries. Mix until the bread is well coated with the liquid mixture.

Turn the mixture into a greased 8x6 baking dish (or 6c casserole dish). Cover with aluminum foil and refrigerate 2 hours or overnight.

When you are ready to bake the bread pudding, place the dish into a cool oven. Heat the oven to 375F and bake, covered, for 1 hour.
For the Vanilla Balsamic Glaze
While the bread pudding is baking, make the glaze. In a small saucepan, mix the balsamic vinegar, sugar and vanilla over medium-low heat until it reduces by half, 10-15 minutes.

Serve the bread pudding warm, drizzled with the vanilla balsamic reduction.
---
If you liked this recipe, here are some similar dishes you may enjoy!