When you're in Wisconsin, no outdoor event is complete without roasted or grilled corn. Here is our guide for how to roast corn that tastes just as good as the State Fair corn on the cob!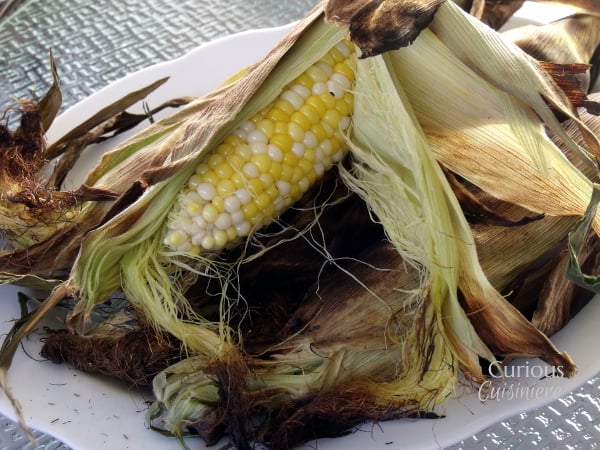 Summer Corn: Boiled or Roasted?
For as long as I can recall, I remember my mom boiling corn on the cob in the summer.
It was such a treat when she would come home with a bag full of corn in the husk, and we would get to sit outside shucking the corn before popping it into the biggest pot she owned.
It was not until I came to Wisconsin, however, that I learned there was another way to cook corn on the cob that makes it a staple at every outdoor event in the state.
Wisconsin State Fair Corn on the Cob
From the Wisconsin State Fair to small family BBQs, you will nearly always find someone holding an ear of roasted sweet corn by the husk and chowing down.
It's just the way they do summer up here.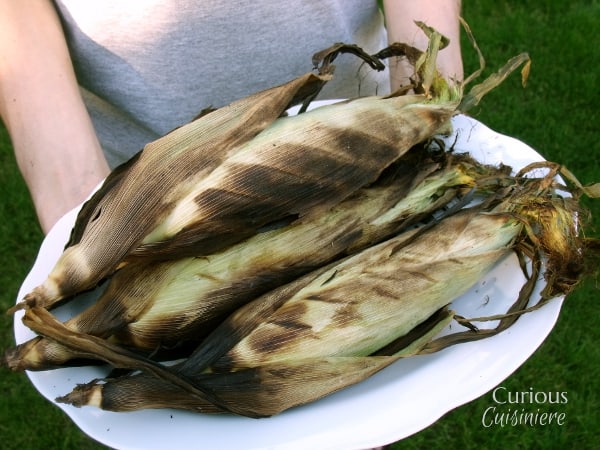 How To Choose Fresh Corn
Buying corn from the store or the farmer's market can seem like a grab bag.
How do you know if those little yellow and white kernels are actually plump and juicy and not brown, withered, and dry?
The easiest way to know is to look.
Really.
No one wants a nasty surprise when they open their perfectly roasted husk. So, take a peek. Just a small one is all you need.
Grab the corn by the tip and separate the silk until you can see the first inch of the ear. If those kernels are plump, then you've got good eating. If they are dry, pale, or brown, then you want to find another ear.
Roasted Corn On The Grill
Once you get them home, fire up the grill. (Some places that kick out a lot of roasted corn have huge, rotating roasting ovens, but we'll stick to the grill for now.)
Now, this is the VERY important part.
Are you listening?
Take those ears of corn and submerge them – husk, silk, and all – in cold water for 15-30 minutes. You want the husk and silk to get nice and soaked.
If you skip this step, there's a possibility you won't get roasted corn at all.
What you will have instead is a fire that starts on top of your grill grates (or in your oven's broiler, if you're craving corn and it's too snowy to grill… not that we've ever experienced that one…).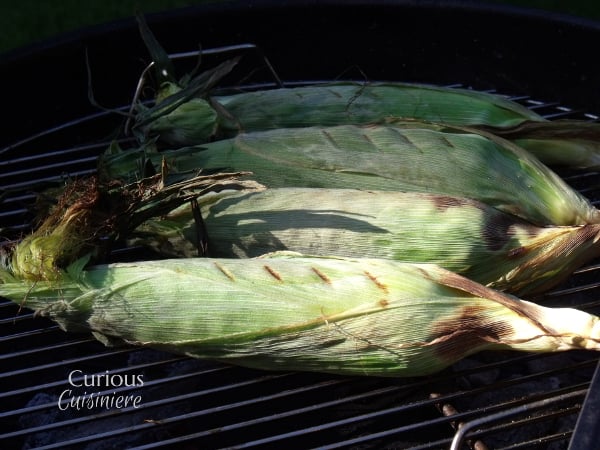 How To Roast Corn On The Cob
Place the corn on the grill and cover the grill. Check it every 5 minutes or so, and once the husks start to dry out and you have nice grill lines on the bottom side, flip them.
Unfortunately, there isn't really a set amount of time to cook your corn. It all depends on how hot your grill is.
A good rule of thumb is that when the husks have dried out, your corn is probably good to go.
(That's another reason to soak the corn. It's your timer!)
Eating Corn On The Cob
Now comes the tasty part!
Back home, whenever we had corn on the cob, the ends were neatly cut and we used cute little corn-shaped skewers to hold the ears so our hands didn't get all buttery and salty.
But, I've found that up here, even with as much corn on the cob as they eat, it's rare to find a family that owns those corn skewers.
They just peel back the husk and use it as nature's handle.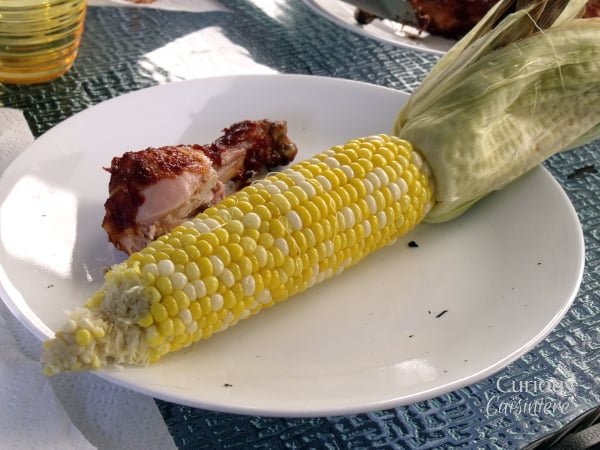 Maybe they just can't be bothered to take the time fussing with getting the skewers situated right. I guess I don't blame them.
Wisconsin sweet corn is some of the best corn I've ever tasted!
Makes sense they'd want to dive right in.
Wisconsin Roasted Corn
Roasted corn on the grill that tastes just as good as the State Fair corn on the cob!
Yield: As many ears of corn as you feel like roasting!
Ingredients
4

plump ears

Wisconsin sweet corn

(yes, we are bias)

Optional toppings:

butter, salt, season salt, pepper
Instructions
While the grill coals are heating, submerge your corn in cold water. Leave to soak 15 -30 min.

Place the corn on the grill, avoiding any intense hot pockets, and cover.

Check corn every 5 minutes or so to be sure nothing is burning and your coals are still hot.

Once the husks start to dry out, and you have nice grill lines on the bottom side, flip the ears. Repeat the same process with this side.

The corn is done when the outer husks have dried out.
If you liked this recipe, here are some similar dishes you may enjoy!