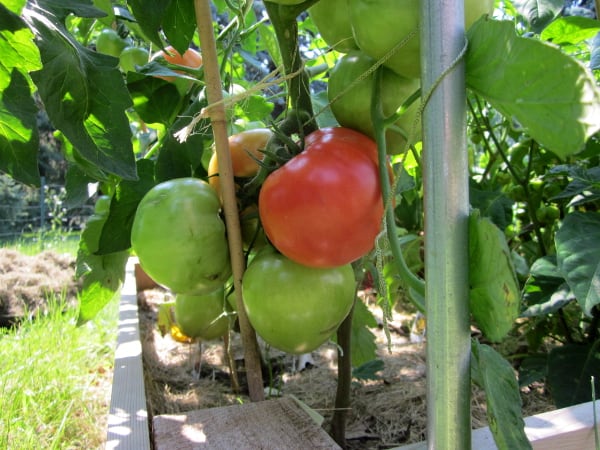 First, we noticed some dappled yellowing on our tomato leaves, accompanied by leaf curling. Then, we noticed some VERY sickly leaves that looked like something more out of a bad science experiment than a healthy plant.
It's starting to feel like we're getting hit with everything that could go wrong with our plants this growing season. But, I guess that just means next year we'll be seasoned pros.
… Right?
The Yellowing
We noticed it both on our hot peppers and tomatoes, but in completely different ways.
The peppers slowly started yellowing from the outer edges of the leaves, while a yellow mosaic pattern slowly appeared in our tomato leaves, starting with the oldest growth. (You can see it a bit in the picture below.)
What to do?
The horticulturist at a local greenhouse suggested that both cases might be the result of a fungus. The infected leaves needed to be removed and the plant sprayed with a copper fungicide.
It has been quite a relief to see that the yellowing has seemed to slow down. Maybe we've stopped this one in its tracks!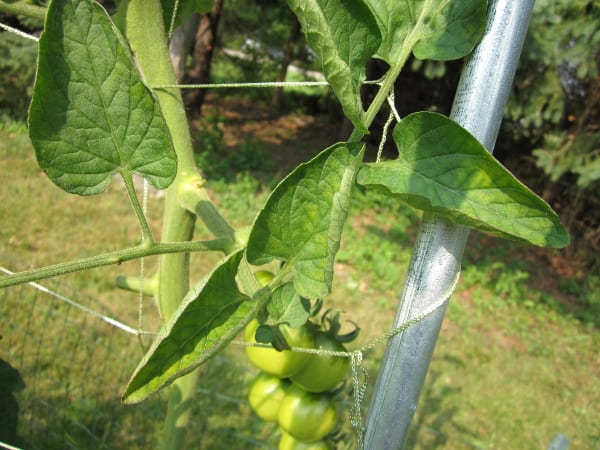 One key thing we learned from this scare was the importance of proper watering. 
Sometimes, it is difficult to know just how much water your garden needs. Even if the top of the soil looks dry, odds are it is still moist 3-4 inches below the surface.
It is important to water like Mother Nature does, deeply and regularly. (Although some weeks, Mother Nature seems a bit fickle.) Ideally, as long as temperatures are in the 70s and low 80s, one DEEP watering a week should be sufficient. Any warmer, then two – three waterings a week become necessary.
Too much water, particularly in soil that does not drain very well, could cause roots to rot and disease to spread.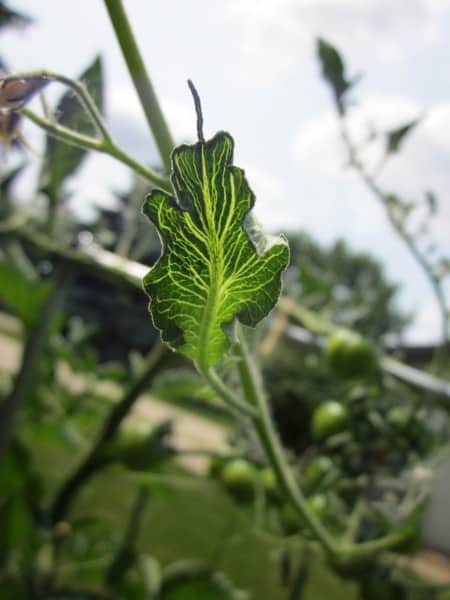 Leaves From Beyond
As we were treating the leaf yellowing, we noticed something else out of place. Normal tomato leaves are evenly green, smooth, and spreading. Not at all like the picture above. The leaves of the new tomato growth had yellow veining with crinkly edges and a shriveled appearance.
Looking further, we found leaves looking mottled, with a raised texture, on our grape vines, cucumbers and zucchini.
Yikes!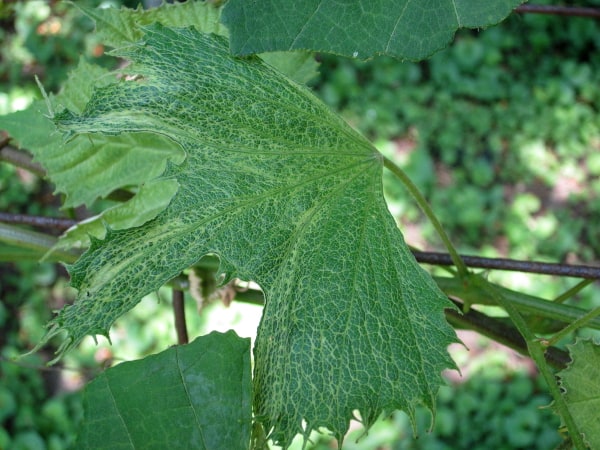 Our friendly horticulturist informed us that most likely it was mites causing our misshapen leaves.
Mites are tiny black or red insects that wreak havoc quickly on many types of plants by piercing the plant's cell walls and sucking out the moisture within. This is typically the time of year they become an issue in Wisconsin, and they cause distorted growth AND yellowing in leaves.
We have been using Neem Oil twice a week to combat the mites and have seen a slowing in the spread of the damage so far.
Neem Oil is an organic foliar insecticide spray. (The oil is a natural pesticide found in the seeds of the tropical neem tree.) It doesn't kill bugs that don't chew on the plant's leaves, so it won't do any harm to beneficial bugs. Neem Oil also works to combat many fungus problems. (Which is perfect for us this year!)
How do you combat disease and pests in your garden? We'd love to hear what you have tried and your go-to solutions!