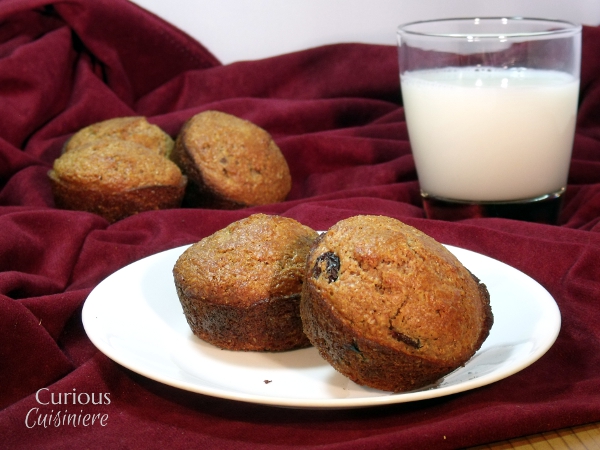 Bran muffins can be somewhat of a tricky subject.  You think bran muffin and you think healthy, maybe not just because of the bran, but because they taste healthy – low flavor, dense, and dry.
I'm quite determined that this doesn't have to be the case.  And these moist muffins, full of juicy cherries, are a first step to prove that stigma wrong.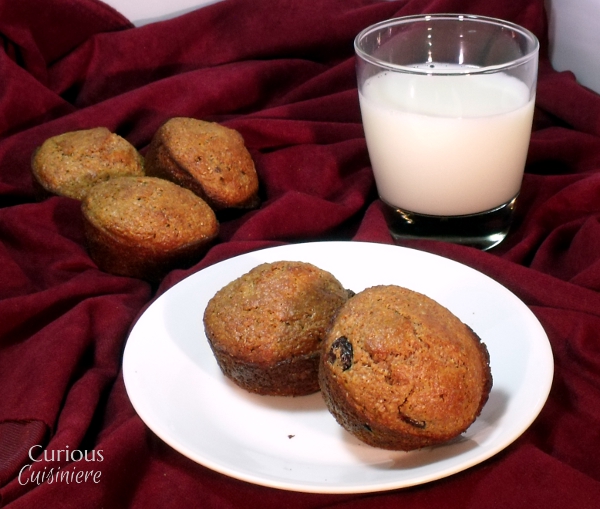 Slipping a little wheat bran into your diet is a great way to help your digestive system and help regulate your blood sugars.  Bran fills you up faster and keeps you full longer, but, it doesn't have to result in foods that are dense, dry, and a chore to eat.
The thing about bran is that it is very dry and loves moisture, so it will soak up all the moisture you put in your batter.  In this recipe, soaking the bran lets it absorb all the moisture it needs before baking the muffin.  That way, it won't steal all the moisture during baking.
The result is a lighter and fluffier bran muffin.  One that makes for a hearty and tasty breakfast, bursting with the bright flavors of cherries with a distinct nutty, wholesome flavor from the bran.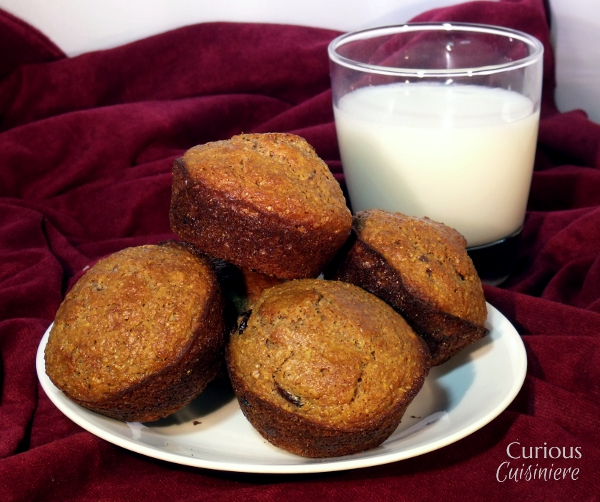 Tart Cherry Bran Muffins
Yield 12 Muffins
Author:
Sarah | Curious Cuisiniere
Ingredients
2 eggs, beaten
1 c milk
2 Tbsp butter, melted
1 c wheat bran
⅔ c dried tart cherries
½ c boiling water
1 c flour
3 tsp baking powder
⅓ c sugar
½ tsp salt
¼ tsp cloves
Instructions
Preheat oven to 400°F.
In a large bowl, mix eggs, milk, melted butter, and bran. Let stand 15 min for the bran to absorb the liquid.
In a small bowl, add cherries and boiling water. Let soak for 5 min to re-hydrate cherries.
In a small bowl, mix together flour, baking powder, sugar, salt, and cloves.
After the bran mixture is thick and moistened, add cherries and water. Mix to incorporate. Add flour mixture and stir until just moistened.
Spoon into greased muffin tins.
Bake 20-25 min, until golden brown and a toothpick inserted in the center of a muffin comes out clean.
Cool in the pan for 5 min before removing muffins to cool completely on a wire rack.
If you liked this recipe, here are some similar dishes you may enjoy!