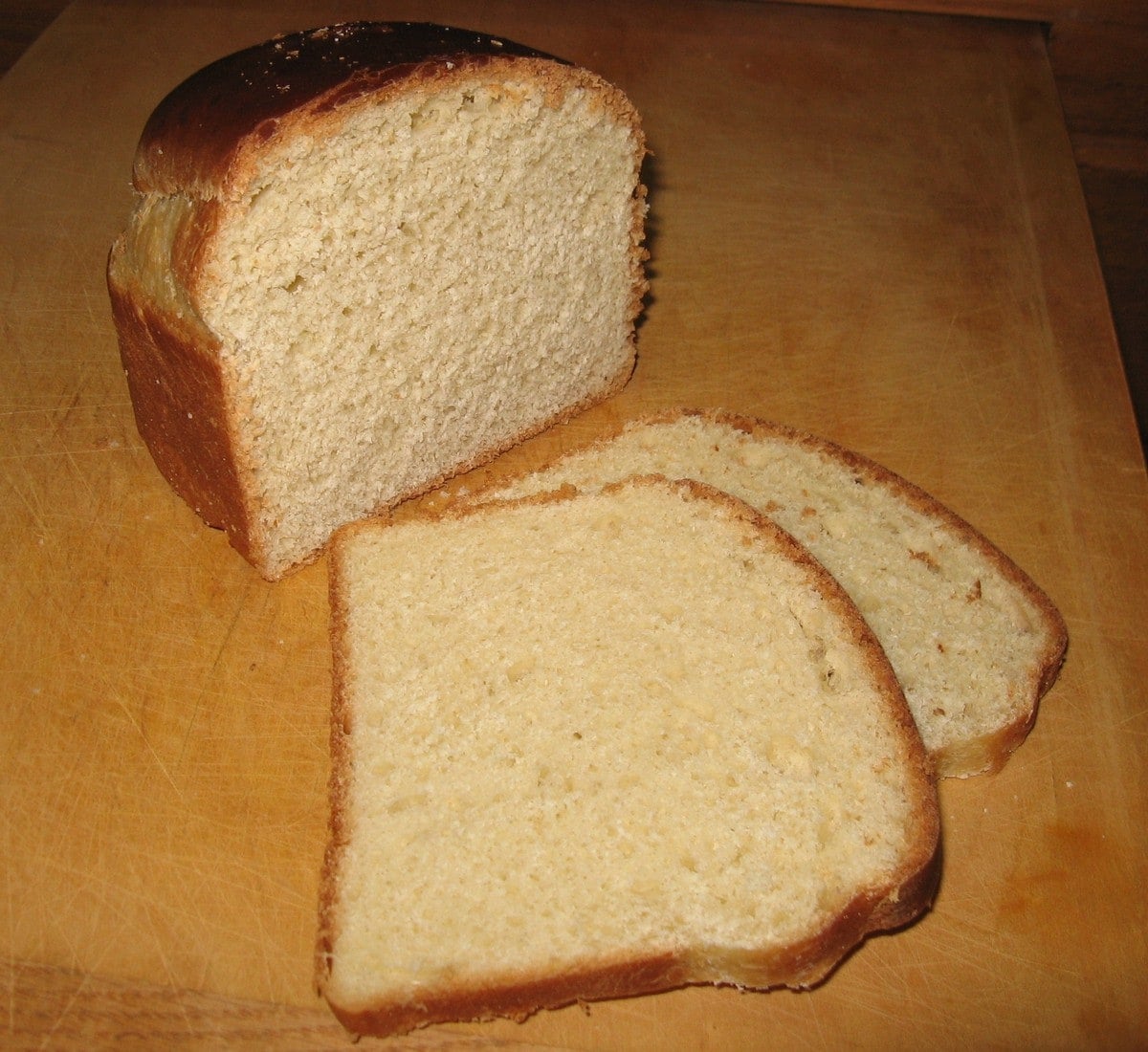 It's so great to be back doing Fresh From the Oven challenges after a month off because of holiday craziness. And, I'm super excited to get to be using one of my Christmas presents: a kitchen scale! I no longer have to search for conversions, but I can do my recipes by weight!
This month's Fresh From the Oven challenge was from Silvia and Ivan from mushitza. They challenged the bakers to bake not so much a new type of bread, but to bake with a new bread baking method: the Tangzhong (water roux) method. The roux is a mixture of 1 part bread flour cooked in 5 parts water to 65ºC (140ºF). The water roux keeps baked breads moist, soft and fresh for days. The reason – when cooked "the gluten in the flour and water mixture absorb the moisture and become leavened. When tangzhong is added into other ingredients of the bread, the bread dough will be heightened and produces softer bread."
This dough is quite sticky and requires the use of a stand mixer to bring it together. I really liked using the stand mixer to kneed the bread though, this is something I will be trying with future breads as it seemed to work really well to develop the gluten and create a fine crumb. This bread was moist and ever so slightly sweet. It was a great accompaniment to dinner and also made great sandwiches.

Tangzhong Bread Recipe
Adapted from Christine's Recipe
Ingredients:
For the Tangzhong-
30 gr flour
150 gr cold water
For the Dough-
125 gr milk (buttermilk works too)
5 gr instant yeast (or 15 gr fresh yeast)
350 gr strong flour
55 gr sugar
5 gr salt
1 egg
120 gr tangzhong
30 gr butter, melted and cooled
For Glazing-
The rest of the tangzhong – it adds gloss and nice golden colour to the crust during baking
Directions:
1)  Prepare the tangzhong. Whisk together cold water and flour (there should be no lumps) and cook over low heat (stirring all the time) until the temperature reaches 65ºC (140ºF). (If you don't have a thermometer – no problem – cook until the spoon you're stirring with leaves a trace. The mixture should have the consistency of something in the middle between crème anglaise and pastry cream.)  Leave the tangzhong to cool down at room temperature before using it.
2)  Prepare the dough. Dissolve yeast in the milk. In the bowl of your stand mixer, combine together flour, sugar and salt then add in milk with the yeast, tangzhong and egg.
3)  Use your hand or stand mixer equipped with the dough hooks to mix all the ingredients into a soft dough then add in the butter.
4)  Let the mixer do the kneading part for 15 – 20 minutes. You can say if the dough is ready by tearing a small piece of it and stretching it to a very thin membrane before it tears.
5)   Cover the bowl and leave it to become double in bulk.
6)  Knock the dough down on a lightly floured counter top, give it a quick knead just to let the gas escape, then form it as desired – a loaf or small buns. Transfer to buttered loaf pan or lined with paper sheet pan if making buns. Cover with plastic wrap and let it double in bulk again.
7)  Preheat the oven to 180ºC (350ºF). Brush with the rest of the tangzhong and bake for 30 – 35 minutes until nicely golden.
If you liked this recipe, here are some similar dishes you may enjoy!