This sweet potato tart makes for a flavorful lunch or light dinner, with roasted sweet potatoes, caramelized onions, and a crisp walnut crust.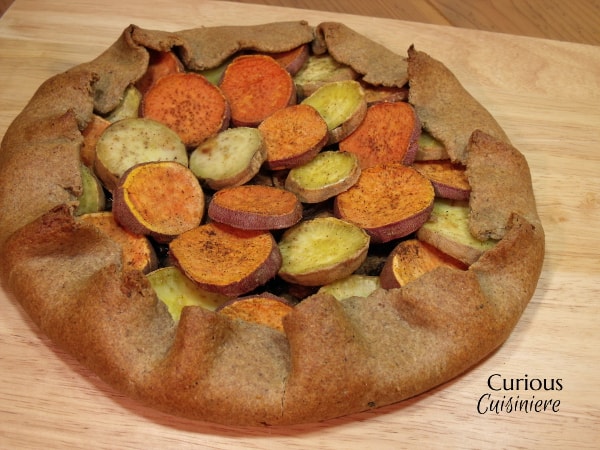 So, we've talked about the new sweetpotato in town and how sweet potatoes in general differ from yams, but why do you always hear that sweet potatoes are such a nutrition powerhouse?
A one cup serving of sweet potatoes contains over half of your daily value of Vitamin C. They are also a good source of potassium (for those sore muscles) and incredibly high in beta-carotene, which  your body converts to Vitamin A (for great skin, among other things).
Sweet potatoes are also the perfect sweet treat for those who monitor their blood sugar, since the potatoes have a very low effect on blood sugar levels.

And, don't throw away those skins! Much of the sweet potato's nutrients are in their skins too, so find a way to include the outer bits in your cooking.
This was another great things about the California sweetpotatoes. Their soft skin cooks down just like the rest of the potato.
You'll notice for all the recipes this week that we haven't mentioned "peel the potato". That's because even leaving the skin on, you can't find the skin in the finished dish. So, if you have picky eaters, these California sweetpotatoes are the perfect way to sneak in all of the great nutrition benefits of the veggie.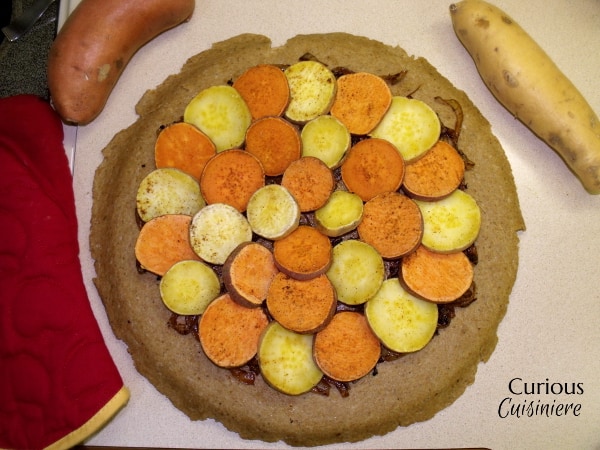 Speaking of nutrients, I want to take a minute to speak about the crust to this lovely tart. Walnuts are ground and combined with the flour to form the base. The oil from the walnuts then works with just a smidge of olive oil and some sour cream to hold the whole dough together in one beautifully nutty and crisp vehicle for this tart. (And the fat content would beat the pants off of a typical pie crust. Just sayin'.)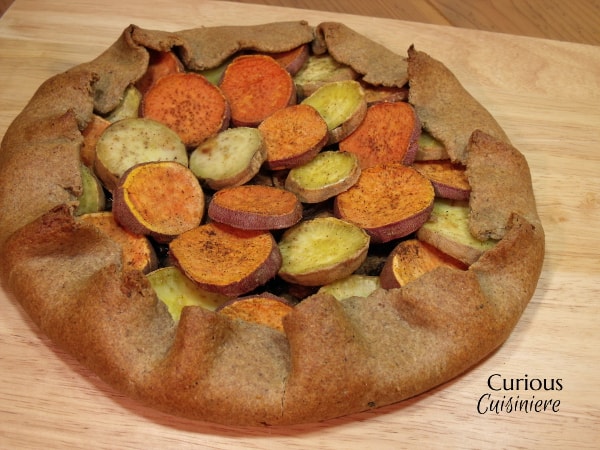 Sweetpotato Onion Tart
---
Ingredients
For the Onions
3

onions,

sliced thin

¼

c + 2 Tbsp

chicken broth

(we prefer low sodium)

2

tsp + 1 tsp

balsamic vinegar

2

tsp

thyme
For the Crust
¼

c + 2 Tbsp

olive oil

¾

c

walnuts

1 ¼

c

whole wheat flour

2

tsp

sage

1 ½

tsp

salt

½

tsp

ground black pepper

¼

c

sour cream

5-6

Tbsp

water,

ice cold
For the Potatoes
1 ½

lb

sweet potatoes,

sliced ¼ " thick

½

tsp

salt

¼

tsp

ground white pepper

2

generous pinches

ground cloves

2

Tbsp

milk

(for brushing the finished tart)
Instructions
For the Onions
Place sliced onions in a large, non-stick frying pan. Add ¼ c broth and 2 tsp vinegar. Cover and heat over medium-low for 25 min, stirring every 5 min to prevent sticking or burning, until onions are dark and caramelized.

Remove onions from heat. Add 2 Tbsp broth, 1 tsp balsamic vinegar, and thyme. Mix well and set aside.
For the Crust
While the onions are cooking, prepare the crust. Pour olive oil in a shallow dish. Place in the freezer to firm up while you start the dough.

Process walnuts in a food processor until fine. Add wheat flour and process a few seconds.

Place walnut mixture in a large bowl. Add all-purpose flour, sage, salt, and pepper. Stir to combine.

Take olive oil from the freezer (it should be thicker, if not slightly solid now). Cut olive oil and sour cream into the flour mixture, using a pastry blender or a fork, until the mixture is evenly moistened and resembles small peas.

Add 1/4 c of cold water and continue to mix the dough with a fork. Continue adding water 1 Tbsp at a time until the dough comes together into a ball around the fork and clean the edges of the bowl. Knead the dough a couple of times with your hands to bring it together into a soft, but firm ball of dough.

Wrap the dough in plastic wrap and refrigerate for 5-10 minutes while prepping the rest of the tart.
For the Potatoes
With the onions starting to caramelize and the crust refrigerating, roast the potatoes.

Place potatoes on a greased baking sheet. Spray with cooking spray and dust with the salt, pepper, and cloves.

Roast at 425F for 10 min. When potatoes are done, reduce oven temperature to 375F.
Putting it all Together
Remove crust from refrigerator and roll into a 15" circle.

Gently place crust on baking stone, pizza pan, or baking sheet. (The edges will hang over at this point.

Leaving a 2" border, spread onions over the crust.

Top onions with roasted potato slices. (Again, leaving a 2" border.)

Gently, fold the 2" border up over the filling.

Brush the tart with milk.

Place tart in the oven and tent loosely with a piece of aluminum foil. Bake, tented for 10 min. Remove foil and continue baking for 40 min.

Remove from oven and let cool for 5-10 minutes before serving.
---
Recipe Notes
*You can prepare your tart elements up to this point ahead of time. Just keep caramelized onions and crust dough refrigerated until you are ready to make your tart.
DISCLOSURE: We received samples of the California sweetpotatoes that were used in this recipe. We were not compensated for our time. As always, all opinions are our own.
If you liked this recipe, here are some similar dishes you may enjoy!