The perfect combination of salty, creamy, and sweet, this Strawberry Pretzel Salad with fresh strawberries is the perfect dessert for a summer picnic.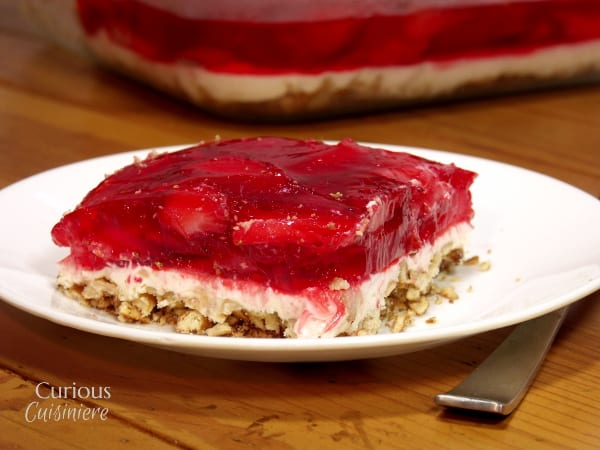 It would probably be an understatement to say we like berries.
The firsts thing we planted this summer were two blueberry plants, a raspberry, a blackberry, and 14 strawberry starter roots.
Everything but the strawberries seems to be doing well, even with the see-saw of temperatures we've been having.
We're just keeping our fingers crossed that the strawberry plants will poke their little heads above the soil sometime here soon.
Until then, we'll be content using store-bought berries, to make summery desserts like this Strawberry Pretzel Salad.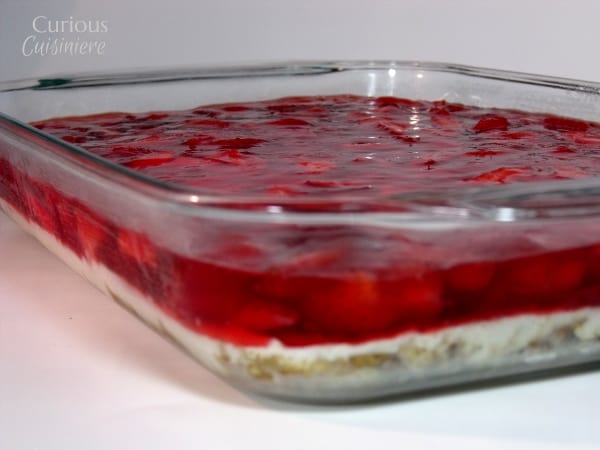 Say hello to delicious!
This salad is a family tradition. My Aunt makes it whenever I'm home for family gatherings, since she knows it's one of my favorite childhood dishes.

Strawberry Pretzel Salad
Yield: 1 - 9x13 pan
Author:
Sarah | Curious Cuisiniere
Ingredients
2 (3 oz) pkgs strawberry jello mix (just the powder)
2 c boiling water
½ c cold water
4-5 c (20 oz) strawberries, sliced (fresh or frozen)
3 c pretzel sticks, well broken (nearly crushed with some large chunks remaining)
½ c butter, melted
1 Tbsp sugar
12 oz cream cheese, room temperature
1 c cool whip
¼ c sugar
Instructions
Preheat oven to 400F.
First we'll mix the jello
Mix the 2 jello packets with boiling water until dissolved. Add cold water and strawberries.
Let mixture gel until it reaches the consistency of jam – jiggly and holding together, but not set firm. (We used fresh berries and this took about 2 hours.)
Next bake the crust
In a medium bowl, mix broken pretzel pieces and crumbs with melted butter and 1 Tbsp sugar.
Press mixture into the bottom of a greased 9x13 baking pan.
Bake for 8 minutes. Remove from oven, and let cool completely.
And the middle
Beat cream cheese, cool whip, and sugar together until smooth. Set aside until ready to make the salad.
Putting it all together
Gently spread the cream cheese mixture over the cooled crust. (This is most easily done by dropping the cheese mixture my Tbsp over the crust so that it is nearly covered with the dollops. Then, take a flexible spatula, and gently smooth the layer with continuous movements – that is, lifting the spatula away from the mixture as little as possible.)
Spoon nearly-gelled jello mixture over the cream cheese layer, making sure to evenly distribute the strawberries.
Cover and refrigerate 2-4 hours before serving.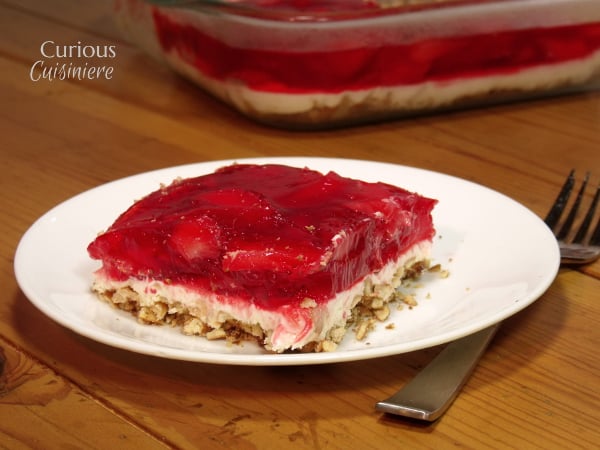 If you liked this recipe, here are some similar dishes you may enjoy!