Sweet honey and warm spices make for a delicious fall dessert in this Spiced Apple Bruschetta.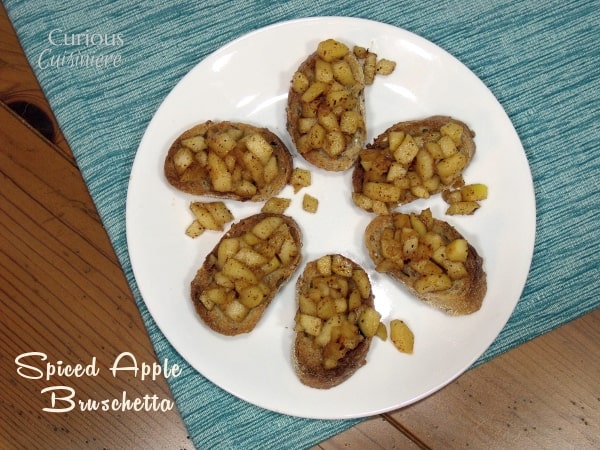 Fall bruschetta
You've undoubtedly seen (or at least heard of) the classic Italian appetizer, bruschetta: bright, fresh tomatoes spooned over a garlic-rubbed and toasted slice of baguette. We love this as an appetizer or even a summer meal, but why not enjoy the concept year round?
In this recipe, wweet honey and warm spice-infused apples make for a delicious topping for toasted-crisp baguette slices in this dessert twist on classic bruschetta.
Whole vs ground spices
We have been curious recently about the difference between fresh, whole spices and the ground version. This past summer, we really noticed that fresh herbs do pack a different flavor from the dried, pre-packaged ones, so it seemed to follow that whole warm spices would be the same.
When Kitchen IQ sent us their V-etched Spice Grater, we were excited to put this theory to the test.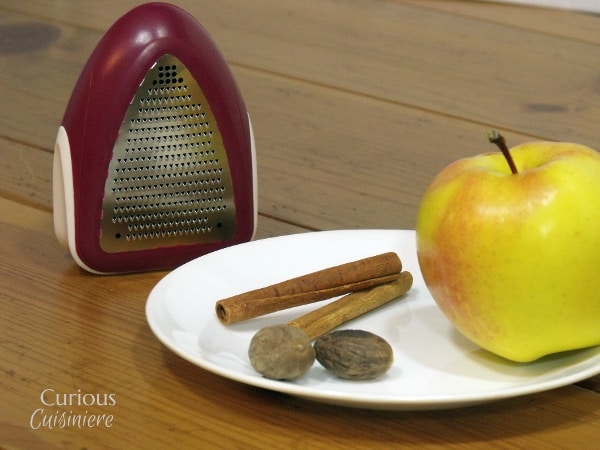 The spice grater was very nice to use, and we liked that it has its own box to collect all the gratings, making collecting and using the ground spices quite easy. Grating whole spices does take a little time, but the difference is well worth it.
For example, did you know that cinnamon is sweet? Fresh grated cinnamon has a robust sweetness and an incredibly warming spiciness that even from the first sniff overwhelms you with how different it is from the version that has been sitting, ground, for who knows how long on the store shelves.
We didn't notice as pronounced a difference with the nutmeg, but it was a bit brighter and fresher than the ground version we had in our pantry.
Our spiced apple bruschetta recipe
Overall, the freshly ground spices contributed intense flavor to the apples in this bruschetta, taking a fairly simple combination to the level of an incredibly elegant appetizer or dessert bite.
We also loved the texture contrast between the soft apples and the crisp toast. So, if you would like to make these ahead of time for a party, we would recommend keeping the topping separate from the toasted baguettes, and putting the bruschetta together just before serving. This way you will keep the texture contrast at its best.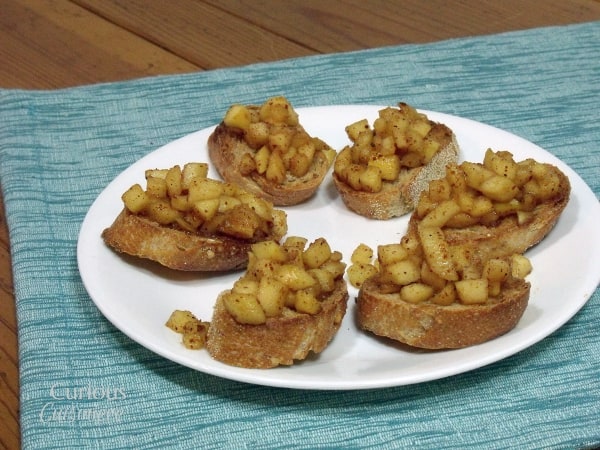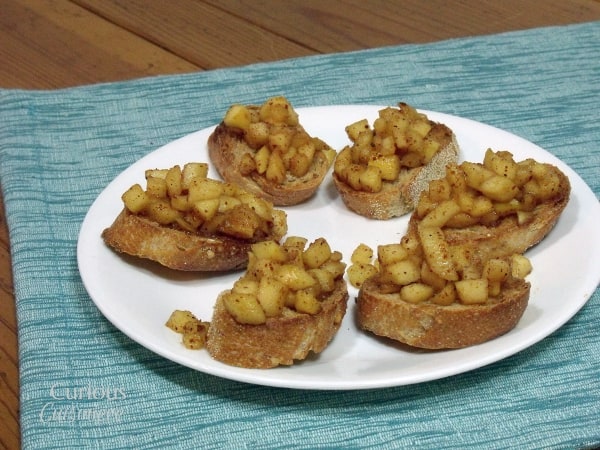 Spiced Apple Bruschetta
Sweet honey and warm spices make for a delicious fall dessert in this Spiced Apple Bruschetta.
Yield: 16 bruschetta pieces
---
Ingredients
1/2

baguette

(roughly 12 inches)

1

tsp

salted butter

2

Golden Delicious apples,

peeled, cored, and diced fine

2

tsp

cinnamon

(roughly 2 sticks, grated)

1

tsp

nutmeg

(roughly 1 small berry, grated)

¼

c

honey
Instructions
Pre-heat your oven's broiler on high.

Slice the demi-baguette into 16, ½ inch slices. Pace the slices on a baking sheet and broil for 1-2 minutes. Flip the slices and broil for an additional 1-2 minutes, until they begin to crisp and darken. (Broiler times may vary, so keep a good eye on the bread so it does not burn.)

Heat butter in a large skillet. Add diced apples, cinnamon, and nutmeg. Saute over medium heat until the apples begin to soften.

Reduce the heat to low and add the honey. Stir to coat the apples and cook, stirring, 1-2 minutes.

Remove the pan from the heat and spoon the apple mixture over the toasted baguette slices.

Serve warm or room temperature.
---
DISCLOSURE: We received the Kitchen IQ Spice Grater used in this recipe. We were not compensated for our time. As always, all opinions are our own.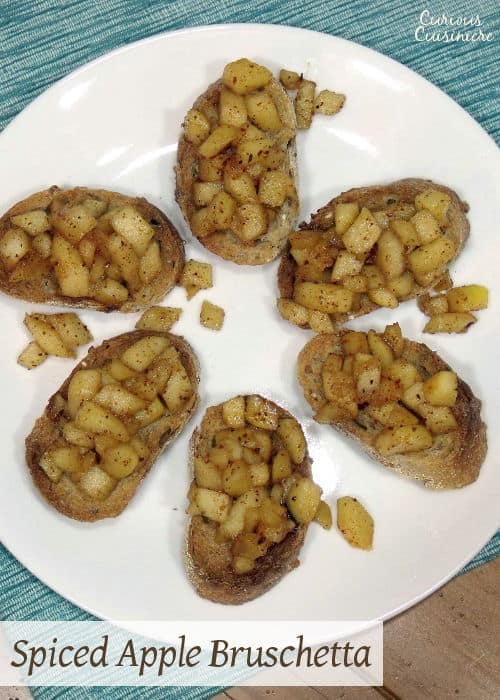 If you liked this recipe, here are some similar dishes you may enjoy!