If you like this dish, sign up for our newsletter to get tasty, cultural inspiration straight to your inbox. Where will you travel this week?
Sweet and smoky pulled pork in the crock pot makes for an easy and delicious game day addition!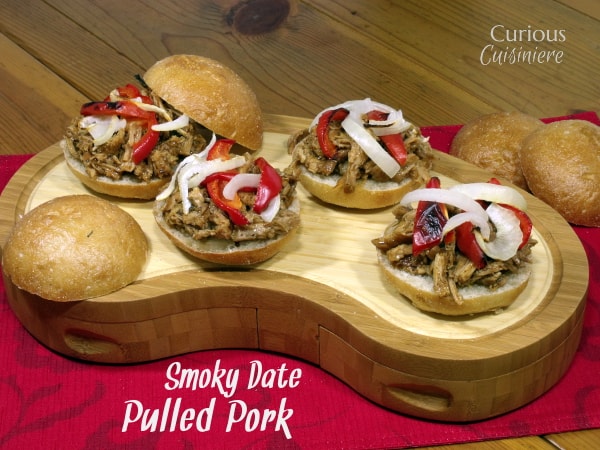 We're back on the slider theme today. But who doesn't love sliders for a tailgate? There's always so much food, and mini-sandwiches give you the chance to sample the whole spread, rather then feeling like to you have to pick and choose.
Smoky Pulled Pork Sliders
And, like our Asian Sliders, this isn't just any pulled pork.
This pork has been infused with a sweet and smoky sauce made with the help of one of our sponsors, Not Ketchup.
Not Ketchup is a line of fruit-based dipping sauces created by Erika Kerekes. Erika has four sauces: Smoky Date, Blueberry White Pepper, Spiced Fig, and Cherry Chipotle.
It was hard to choose, but finally, we settled on the Smoky Date, a sauce made with "sweet California dates and smoked paprika."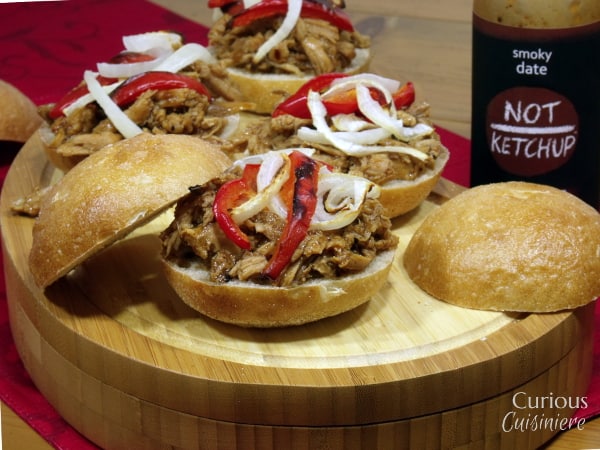 Using A Great Sauce For Pulled Pork
We initially though we would need to incorporate more ingredients into the sauce for this pulled pork, but as soon as we tasted the Smoky Date Not Ketchup, we knew that we didn't want anything to cloud the wonderful flavor. The dates bring a deep sweetness to the sauce that is complimented with just a hint of smoky flavor, making it similar to a barbecue, but without the molasses sticky-ness.
It is the perfect complement for a lighter meat, like chicken or pork.
One of our favorite ways to do game day food is in a crock pot, that way the meat stays hot enough the whole game, and people go eat whenever they feel so inclined. And, we don't have to worry if the food is staying hot enough to eat, so we can enjoy the game, stress-free.
And, slow simmering the meat in the crock pot means that it is infused, through and through, with the sweet and smoky flavor of the sauce.
Add a few roasted onions and red peppers to play with the bright sweetness and add some fun color, and you have some mighty tasty sliders.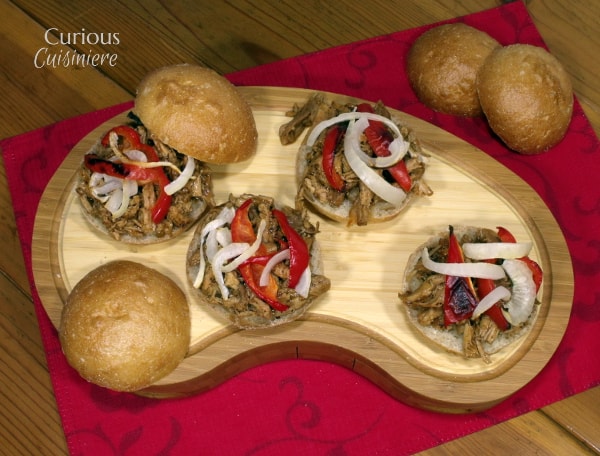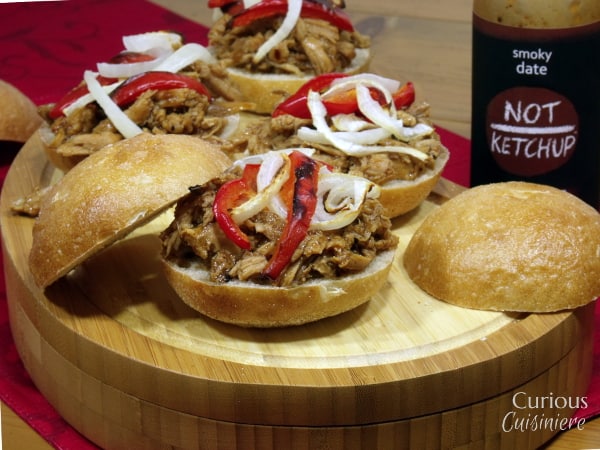 Smoky Date Pulled Pork
Sweet and smoky pulled pork in the crock pot makes for an easy and delicious game day addition!
Yield: 6 sliders
---
Ingredients
1

lb

pork sirloin roast

½

c

vegetable stock

1

onion,

sliced

1

red pepper,

sliced

6

French bread slider buns
Instructions
Mix pork roast, Smoky Date Not Ketchup and vegetable stock in a 2-3 qt slow cooker.

Cook on low for 4-6 hours.

Remove the pork roast form the crock pot and shred with two forks. Return the shredded meat to the sauce in the crock pot to infuse and stay warm while you prepare the veggies.

Preheat your oven's broiler to medium.

Place sliced onions and red peppers on a baking sheet and broil for 10-15 minutes, until they are soft and starting to blister.

Construct the sliders by slicing the buns and layering pulled pork inside. Top with onions and peppers as desired.
---
DISCLOSURE: We received samples of  Not Ketchup that we used in this recipe. We were not compensated for our time. As always, all opinions are our own.
---
And, here's what the rest of the team brought to the table today!
Starters
A huge thank you goes to Culinary Adventures with Camilla for putting together the #10DaysofTailgate event, and to all our sponsors who have graciously donated prizes for our readers.
If you liked this recipe, here are some similar dishes you may enjoy!