Shakshuka. It might look hard to pronounce, but one word holds the key to a flavorful, one pan dinner that is about to get even easier with pantry shakshuka from Pantry To Pan.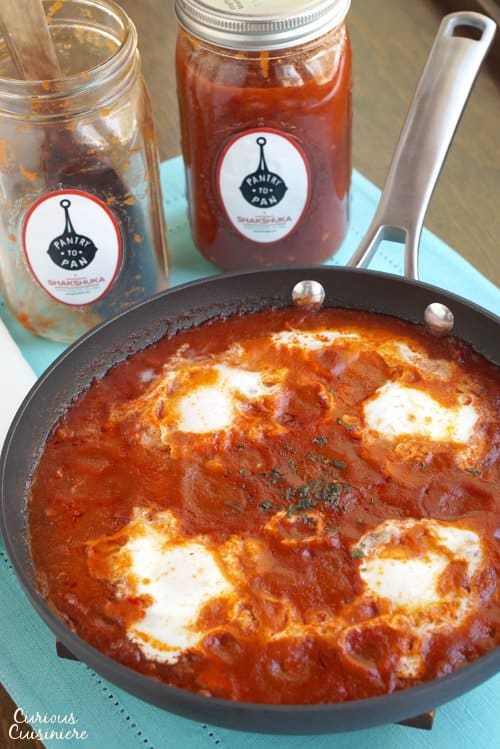 (DISCLOSURE: This post was sponsored by Pantry To Pan. All opinions are our own.)
What is Shakshuka?
It's no secret that we LOVE shakshuka. One bite, and you'll know why it has become a favorite comforting dish, particularly during winter months.
The word "shakshuka" (pronounced shack-SHOO-ka) means "a mixture" in Arabic. The dish is thought to have origins all the way back to the Ottoman Empire, when it was a popular vegetable and meat stew. Over time, ingredients from the West (tomatoes and peppers) were added to the stew.
The dish received its final twist that brought it to the version we know today by North African Jews (particularly in Tunisia), who removed the meat from the dish to make it suit their dietary laws.
Shakshuka has become a staple dish across much of North Africa and Israel, with each region adding their own variations: more spice, different vegetables, unique serving methods.
Pantry To Pan: Super Easy Shakshuka
While most of the time we're all about making homemade shakshuka, some days even chopping a few veggies seems like a lot of work for dinner. That's why we were so excited when we were contacted by Pantry To Pan. They've found a way to make shakshuka even quicker and easier to get onto the table on those busy nights when all you want to do is order takeout.
The folks at Pantry To Pan have created a shakshuka starter that is canned, so it will last in your pantry, just waiting for that busy night when you don't feel like cooking.
Everything you need for a flavorful shakshuka meal is already in the jar. All you have to do is pour it into the pan and add some eggs.
Organic Shakshuka
We really connected with the folks at Pantry to Pan because they're passionate about bringing cultural flavors to every table, in ways that are easy and convenient. They're also interested in promoting healthy eating and quality, whole foods. This is why their shakshuka starter is not only made with 100% real ingredients, canned in the traditional way, not with preservatives,  but it is also made with organic ingredients.
Popping open a jar of their shakshuka starter means that you're bringing 100% wholesome goodness to the table, in 15 minutes flat!
Speaking of popping open the jar, when we opened ours, an incredible aroma of tomatoes and spices wafted forth.
We were excited to eat it even before it started simmering!
Jazz Up Your Shakshuka
While Pantry To Pan's shakshuka starter is wonderful by itself, one jar of shakshuka starter can also be your springboard for extreme creativity.
Add some of your family's favorite veggies (even frozen veggies), potatoes, or chopped greens for a more chunky, veggie-filled meal.
Add some shredded or crumbled cheese! Because, who doesn't like extra cheese?
Add sausage, ground turkey, or tofu.
Serve it over couscous or with lentils instead of (or in addition to) bread.
The possibilities are as far reaching as whatever you happen to have stocking your pantry or fridge!
Making Pantry To Pan Shakshuka
There's really no need for a recipe today, because Pantry To Pan has made their shakshuka SO EASY.
Pop the jar. Add eggs (and your add-ins, if desired). Cook for 15 minutes. Serve with bread.
Seriously. It would take longer to call for deliver or stop at the fast food place on your way home.
(But, if you're ready to make your own shakshuka RIGHT NOW, check out our shakshuka recipe.)
Help Bring Pantry Shakshuka To Life
After devouring a pan of shakshuka, we wanted to run out to the store to grab another jar to try our hand at some fun variations.
But, we'll have to wait just a bit for our next fix.
You see, Pantry To Pan is a startup company that is hoping to get their feet on the ground with their month-long Kickstarter campaign that started today.
We think everyone deserves to experience shakshuka, and once you taste it, we're pretty sure you will too. So, hop on over to their Kickstarter campaign and show them that the world needs to know shakshuka!
And, if you and your family would love pantry shakshuka, be sure to share the word on Facebook and Twitter to help Pantry to Pan get the word out and get the funding they need to bring their passion product to life!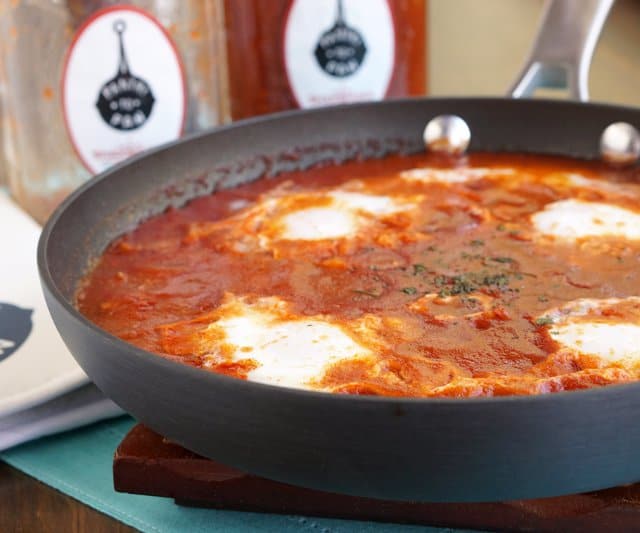 If you liked this recipe, here are some similar dishes you may enjoy!