Grilling whole fish is easier than you would think, and this Grilled Whole Trout recipe is the perfect summer meal to pair with a refreshing wine.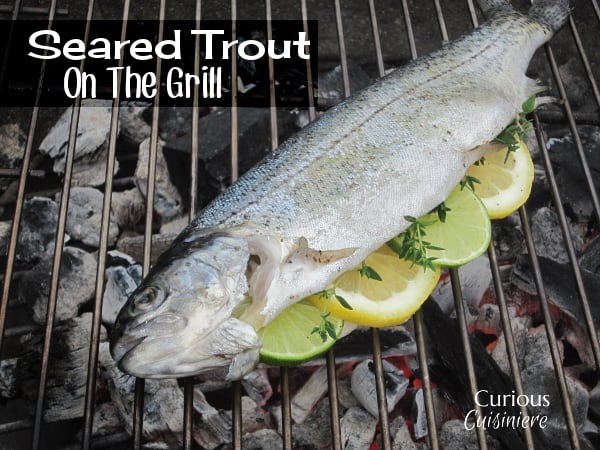 Wine Pairings For Summer
It's pretty easy for us to think about wine as a refreshing summer beverage. A fruity white or a chilled rose are the perfect, cooling drinks for sipping as we sit outside waiting for the grill to heat up.
And, then there's sangria!
There are few things more refreshing on a hot summer day than a a slightly fizzy sangria packed with summer berries.
But, I digress.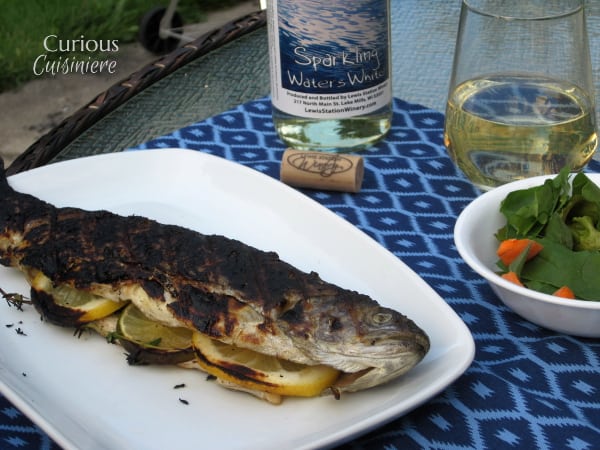 We're talking pairings here.
What's a wine lover to do if you crave those light wines (or wine drinks) with dinner?
Fit the food to the wine!
Pairing Seafood With Summer Wine
Seafood is the perfect choice for those refreshing wines.
Today, we're pairing Lewis Station Winery's Sparkling Waters White with our grilled trout.
Sparkling Waters White is a Tropical Fruit Viogner: a bright wine with notes of melon and peach and a hint of pineapple. To pair with these tropical flavors, we added some citrus to our trout before heading out to the grill.
The citrus brightens the meat, while the dark, searing from the grill gives depth that acts as a wonderful contrast to all the light flavors.
Our Grilled Whole Trout Recipe: It's Really Not Scary
Don't be intimidated by the whole fish thing. Grilling whole fish is way easier than you would think.
The fish comes cleaned and 'prepared.' Which means they've done all the dirty work for you. All you have to do is stuff the open cavity with your choice of seasonings, salt and pepper the outside, and get that grill hot and ready.
General rule of thumb is 10 minutes on the grill per inch of fish thickness. Since our fish was about an inch thick, that meant roughly 5 minutes per side, over medium heat.
Do resist the urge to constantly check the fish though. When it is ready to be flipped, the skin will release easily from the grates. (Just be sure they're CLEAN before you start!)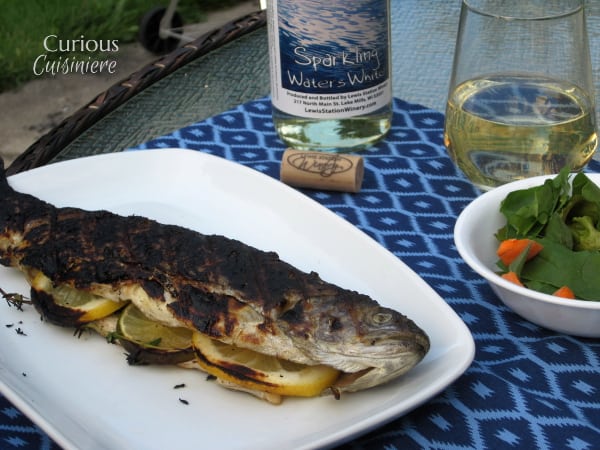 Grilled Whole Trout
Grilling whole fish is easier than you would think, and this Grilled Whole Trout recipe is the perfect summer meal to pair with a refreshing wine.
---
Ingredients
1

whole

Rainbow Trout

(roughly 1 lb), de-boned

½

lemon

1

lime

5

sprigs

fresh thyme

Salt and ground black pepper
Instructions
Preheat grill to medium. (You should be able to hold your hand 4 inches over the cooking grate for 5-6 seconds.

Prepare the fish by sprinkling the cavity and exterior with salt and pepper. Stuff the cavity with lemon and lime slices and the sprigs of fresh thyme.

Place the fish on a hot, clean grill grate. (Both hot and clean are very important here for making sure your fish doesn't stick to the grill!)

Cover and grill 5 minutes. When the fish is ready to flip, the skin will release easily from the grill grate.

Flip, cover the grill, and cook an additional 5 minutes.

Serve warm with a green salad or rice.
---
---
More perfect summer food and wine pairings!
David of Cooking Chat started this event in June of 2014, and every month since then this group of wine and food lovers have had a great time! For more background, check out the original post announcing Wine Pairing Weekend. You can see the full list of past and upcoming #winePW events here.
If you liked this recipe, here are some similar dishes you may enjoy!