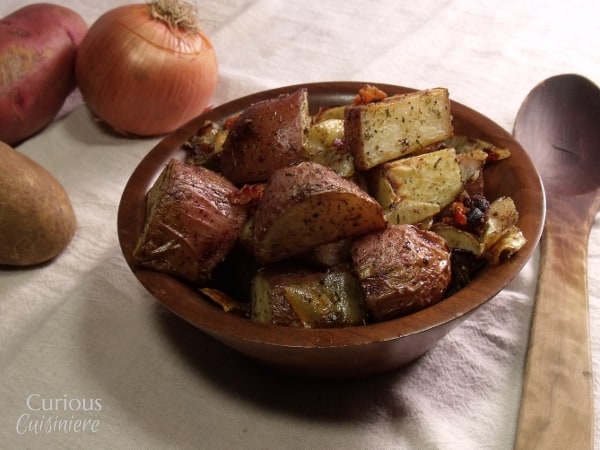 "Po-ta-toes.
Boil em, mash em, stick em in a stew."
…Or roast them, as the case may be.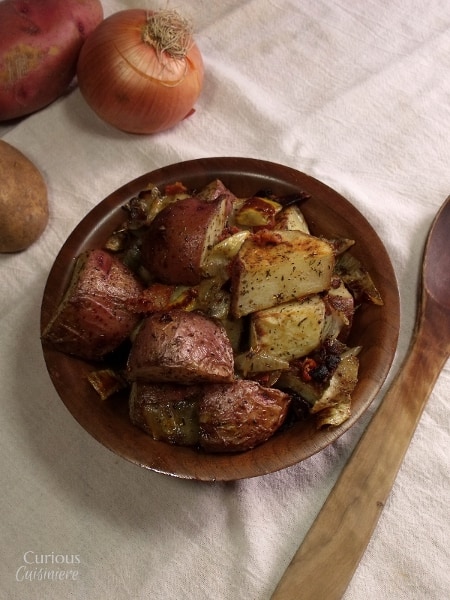 If you haven't already guessed, this week's #SundaySupper is Movie Inspired food. And boy do we have a fantastic lineup for you. From Chocolat to The Godfather, food from movies to food inspired by movies, we're ready for a trip to the cinema today.
The Lord of the Rings comes up surprisingly often in our house when we have potatoes, so these roasted potatoes were just the thing to get us thinking like Sam.
The onions, bacon, and herbs, give this potato dish a quite robust and earthy flavor.
Yes, they just might leave you dreaming of frolics in the Shire.
And now, I think it's time for second breakfast…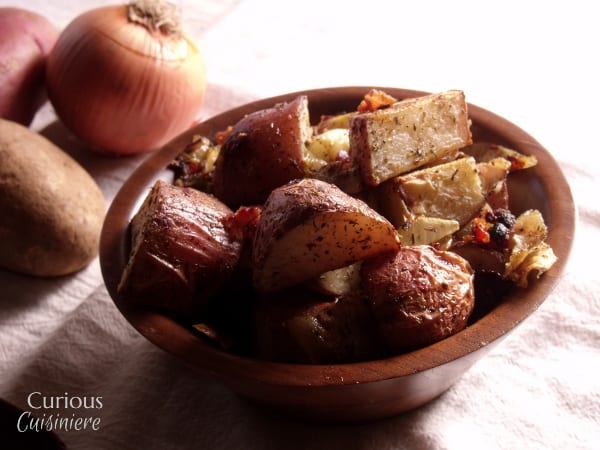 Roasted Taters with Bacon
And easy and classic roasted potatoes, studded with bacon and roasted onions.
---
Ingredients
6

slices

bacon

3

lb

red potatoes,

washed and cut into 2" chunks

1

onion,

quartered and sliced 1" thick

2

tsp

thyme

1

tsp

sage

½

tsp

garlic

½

tsp

salt
Instructions
Preheat oven to 425F.

In a medium frying pan, cook bacon over medium high heat until crisp, about 4 minutes on each side.

Remove bacon to drain on a paper towel. When cool, crumble and set aside. Set the fat leftover from frying the bacon to one side.

In a large bowl, place potato chunks and onions. Pour roughly 2 Tbsp of the leftover bacon fat over the potatoes and toss to coat. Sprinkle thyme, sage, garlic, and salt over potato mixture. Mix with a rubber spatula until the potatoes are evenly coated with seasonings.

Spread potato mixture onto a greased cookie sheet, roasting pan, or baking dish.

Place in oven and roast for 40-45 minutes, stirring every 15 minutes, until potatoes are tender and easily pricked with a fork.

Sprinkle with bacon crumbles before serving.
---
---
Don't forget to check out all the other #SundaySupper recipes. Thanks to Heather from GirliChef for hosting.

HTML:
Toast (bready things)
No Reservations (soups and salads)
Today's Special (fish, chicken, beef, and pork)
Forks Over Knives (veggie-heavy dishes and sides)
Udon (pasta and noodles)
Just Desserts (sweet treats)
Bottle Shock (beverages)
If you liked this recipe, here are some similar dishes you may enjoy!