Ice cream makes this festive Red White and Blue Trifle with fresh summer berries the perfect cooling treat for a summer cookout.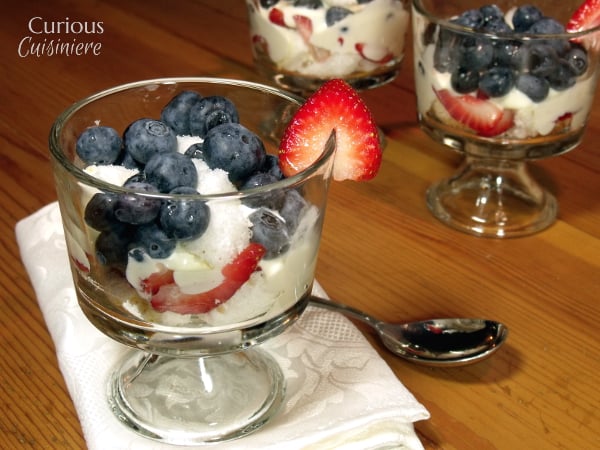 A 4th Of July Dessert!
Is the grill all prepped for tomorrow's 4th of July festivities?
We're still deciding what to make, but we know their will be charcoal involved.
And some of these cute individual Red White and BlueTrifles.
A Traditional British Trifle
A trifle is a classic English dessert that is made with fruit, sponge cake, and custard. All topped with whipped cream.
For our red white and blue trifle today we're straying a bit from the traditional trifle recipe and using ice cream rather than a custard.
It might not be traditional, but it is tasty and makes for a perfect, cooling summer dessert.
Our Red White And Blue Berry Trifle Recipe
We're making these individual berry trifles easy by using a store bought angel food cake. Because, when we're cooking for a summer crowd, the last thing we want to do is turn on the oven and mess with making a sponge cake.
And bright and fresh summer berries are the perfect complement to light and fluffy angel food cake in any capacity.
Plus, they make this dessert quite patriotic!
While you could make this red white and blue trifle as one large dessert, we decided to make use of our individual trifle dishes. Each trifle comes together so quickly, that they can be made up as dessert time rolls around.
Or, put all the ingredients out on the buffet table and let each person make up their own!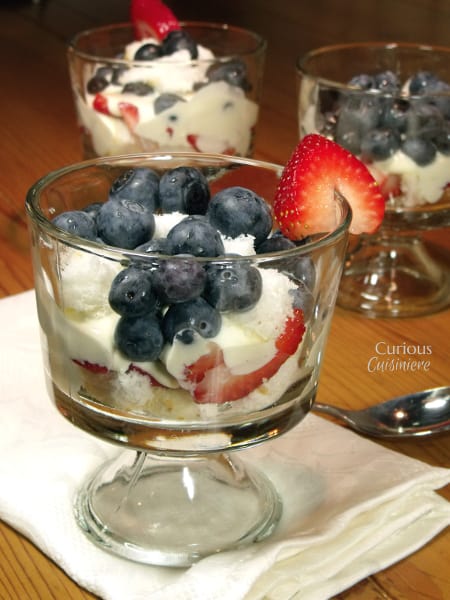 Why Red White and Blue?
Because I like to ask odd questions, I found myself wondering about the red, white, and blue that I so often take for granted as our National colors.
I mean, the green, gold, and purple for Mardi Gras have meaning, shouldn't our red, white, and blue mean something too?
After a bit of searching, I found my answer.
Apparently the Founding Fathers didn't have special meaning when they adopted the flag in 1777. However, the colors were given meaning in 1782 when the Great Seal of the United States was adopted with the same coloring.
Red is for valor and bravery.
White is for purity and innocence.
Blue is for vigilance, perseverance, and justice.
Let's keep these values of the Founding Fathers in mind as our nation's colors grace our tables and fill the night sky this week.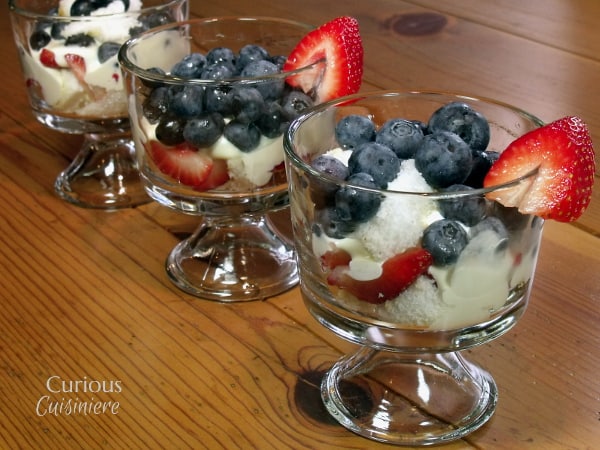 Whether you attend a big BBQ or just enjoy the fireworks after a day off with your family, we hope you have a fantastic 4th of July!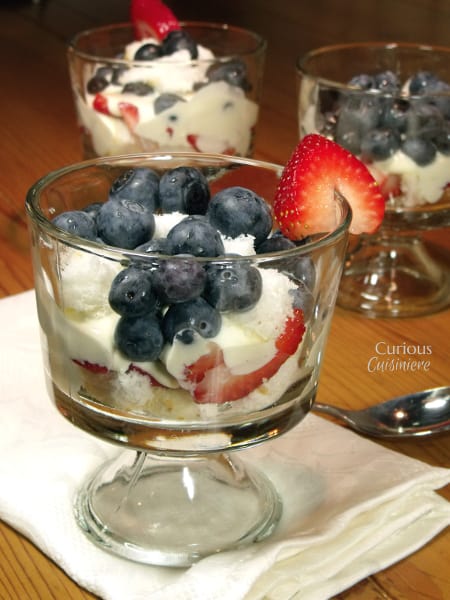 Red White and Blue Trifles with Summer Berries
This recipe is for 8 (10 oz) trifle dishes. You can use this same concept in your large trifle dish, just adjust the amounts of ingredients.
---
Ingredients
1/2

angel food cake

16

strawberries,

stems removed and sliced

1

pint

blueberries

3

c

vanilla ice cream,

soft, but not melted
Instructions
Gently cut the angel food cake into 1/2" pieces.

Layer cake pieces in the bottom of each trifle dish, about 1/4 of the way up.

Cover the angel food cake layer with sliced strawberries.

Top strawberries with dollops of softened ice cream.

Sprinkle a few more pieces of cake over the ice cream and finish off with a generous layer of blueberries.

Dessert can be eaten immediately, or frozen for enjoying later. If freezing for later, remove trifles from freezer 5-10 minutes before serving.
---
If you liked this recipe, here are some similar dishes you may enjoy!