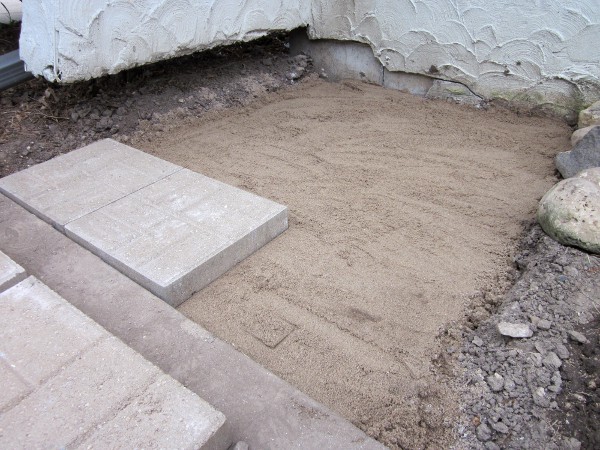 Just in time for a week of rain, we decided our rain barrel finally needed to go up!
But, first, we had to create a stone area for it to set on. At only 3 feet by 4 feet, I guess you could call it a small patio.
So, we headed to the store and began our first attempt at laying pavers!
The process isn't necessarily difficult, just a bit tedious. You want to make sure your ground is level, right? And, like anything, you need a good foundation.
We decided our rain barrel would go tucked behind our burning bush in a spot very close to our new beds.
The spot we set aside was originally part of a flower bed. So, first, we had to dig some of the dirt out. We dug about 4 inches down. It seems like a lot, but if we were doing a big patio, it would have been more. But, since this little section won't be walked on or disturbed much, we decided to go a bit more shallow. The hole has to take into consideration draining gravel, leveling sand, and the pavers.
Once we had the area dug, the first layer to go down was the gravel. Laying gravel first provides drainage and prevents water from pooling under the pavers. This layer is particularly important for us since we have clay soil that doesn't drain very well. Really, the finished product will only be as level as this gravel layer is. So, it was very important to get this layer as level as possible.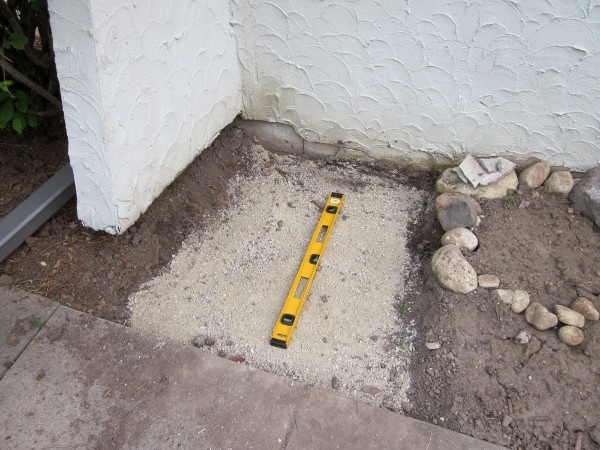 Next comes the leveling sand, which we smoothed out over the gravel. When we finished with the sand, it was time for the pavers!
Since we had a specific, but small, area we were looking to fill, we decided to go with a mixture of large and small paver stones to make it as cost effective and easy for laying as possible.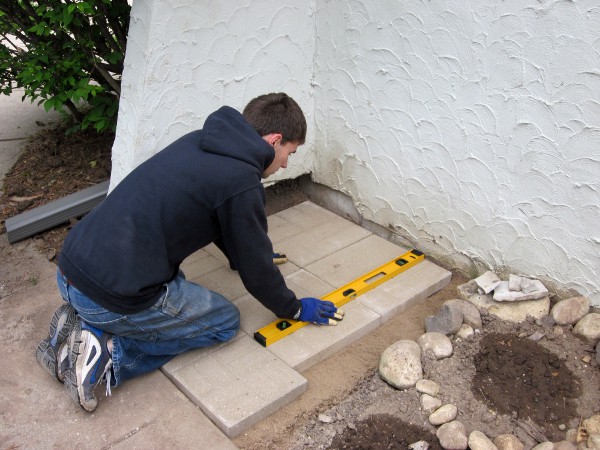 Once the pavers were laid, we sprinkled more sand over the top and swept it into the cracks, to keep them from moving and setting.
Now, on to the barrel.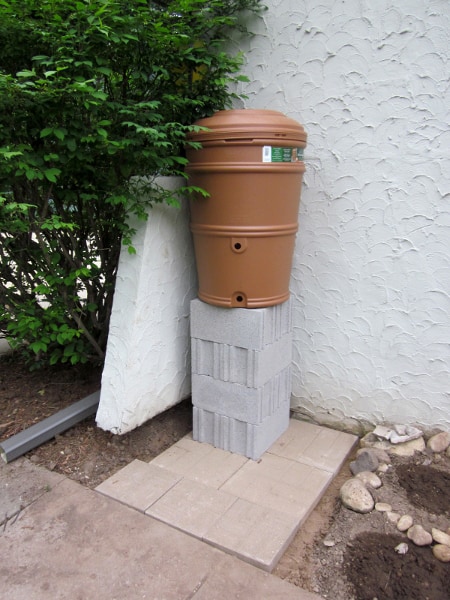 Yup, it's high. Thirty two inches, to be exact.
Why? Well, first, we wanted the tubing that connects the barrel to our down spout to be nearly level. Our rain barrel has a nifty overflow valve, meaning that once it's full, the water will just go back to flowing down the downspout. No overflowing rain barrel!
Second, getting the rain barrel off of the ground give you more pressure when using attachments like hoses from the barrel.
We set it up on some cinder blocks, and Tim drilled into the downspout and connected everything up.
Eventually, we will get some nice bricks and make a retaining wall around the cinder blocks to make it a bit more decorative. But, it's been wet and rainy, so the decorative touches will have to wait.
It's great to have water so close to the garden. Unfortunately, we've learned that our 45 gallon rain barrel doesn't give enough pressure to get water through our 25 foot hose. We may try to get a shorter hose and see if that works any better. But, either way, it is nice to have a water source on the side of our house that is closer to the garden for filling up watering cans and such.
And, I can't end today's post without giving you a small glimpse into some of the beauties growing in our garden!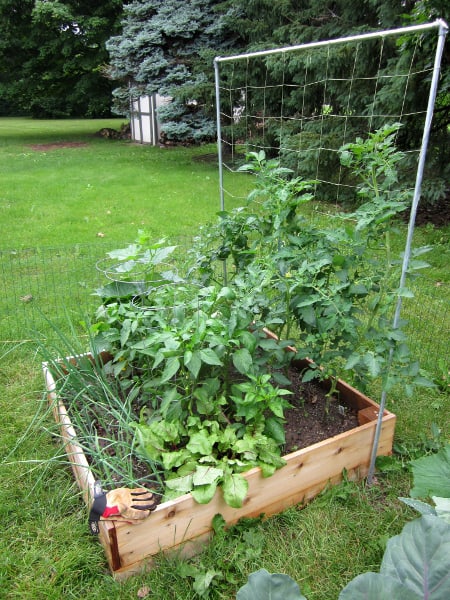 Look at how big everything is getting!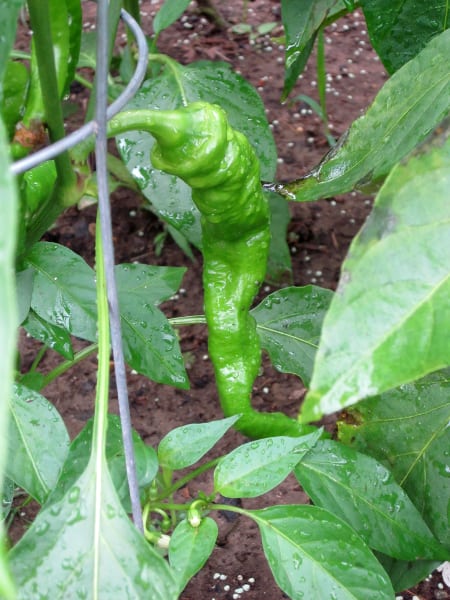 These Jimmy Nardello Peppers were the first ones to show up.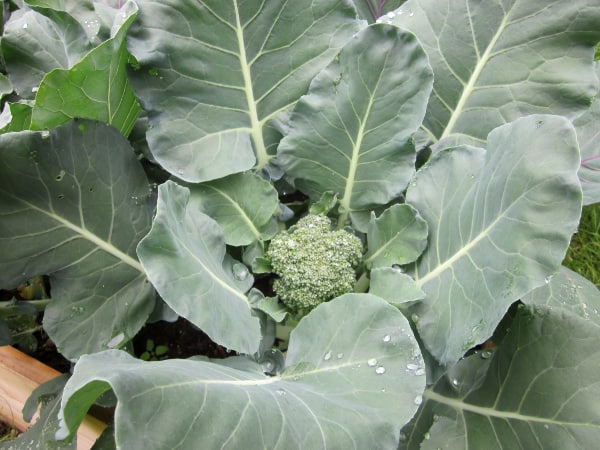 We had no idea what the broccoli was going to look like when it started. But, there it is!