Pumpkin pie becomes the perfect, elegant fall breakfast with this recipe for Pumpkin Stuffed French Toast.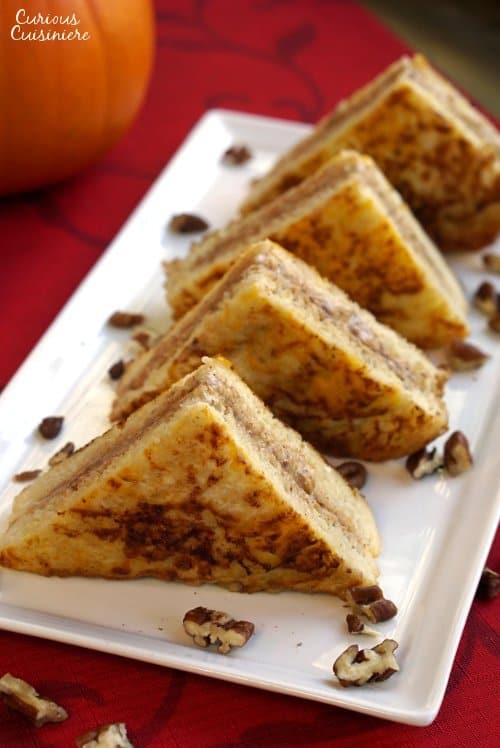 Happy Friday!
Happy first day of November.
I saw someone comment recently that as the weather changes and we turn the page on our calendar, we are moving into a time of year where we come inside to those we love. We are no longer running around, busy with summer activities. But, we spend more time indoors, which gives us more opportunity for a different kind of quality time. We look to our homes for comfort from the cold, and we turn with gratitude to our families.
It was a reminder to me, as I stand wrinkling my nose at the dropping temperatures and cascading leaves, that this too is a beautiful season.
The cold causes nature to turn inside, to slow down, to stop giving, and to just be. There is a stillness in the foggy fall mornings, and the snow that will eventually come will bring a blanket of silence.
It is as if nature is calling us too to slow down, to take some time in silence, to return to that which nurtures and nourishes us, so that we too can be rejuvenated.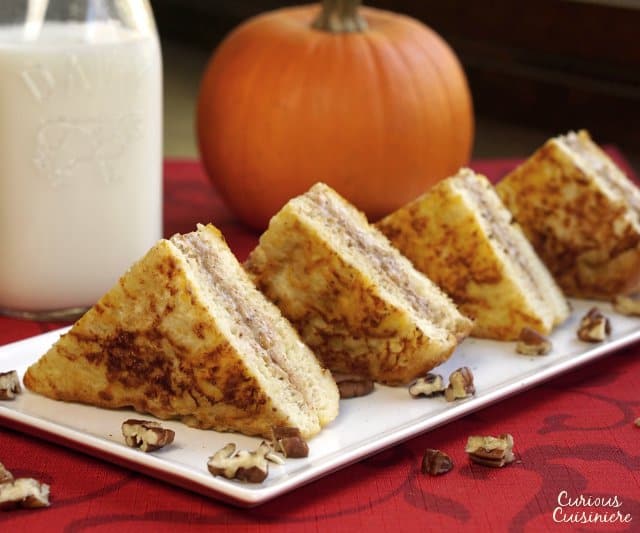 Not just pumpkin French toast, it's pumpkin STUFFED French toast
This is a fun twist on a classic French toast for a cool and crisp, fall Saturday morning. We decided not just to make any old pumpkin French toast, but to kick this French toast up a notch and make it pumpkin STUFFED French toast.
We've added pumpkin puree to the bread soaking mixture, making a base of pumpkin French toast.
But, we didn't stop there.
We filled the two slices of pumpkin French toast with a sweetened cream cheese spiced with classic pumpkin pie spices.
This epic pumpkin pie French toast sandwich then goes into the skillet to be toasted up to a fluffy, golden deliciousness.
It's toasty. It's creamy. It evokes memories of creamy pumpkin pie filling and crisp pumpkin pie crust.
We found these pumpkin stuffed French toast to be so flavorful on their own that we didn't even think about breaking out the maple syrup.
Not that we'll judge if you decide they needed a little drizzle.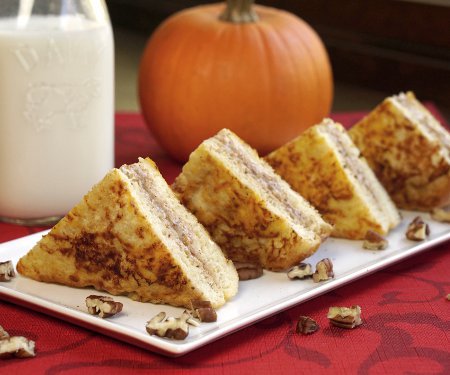 Pumpkin Stuffed French Toast
Pumpkin pie becomes the perfect fall breakfast with this recipe for a Pumpkin Stuffed French Toast.
---
Ingredients
2

eggs,

beaten

2/3

c

milk

1/3

c

pumpkin puree

(NOT pumpkin pie filling)

Dash

salt

4

oz

cream cheese

(full fat or reduced fat), softened

2

Tbsp

brown sugar

2

tsp

cinnamon

½

tsp

pure vanilla extract

½

tsp

nutmeg

½

tsp

ginger

1/8

tsp

cloves

8

slices

bread

1

Tbsp

salted butter
Instructions
In a flat-bottomed dish with 1" sides, whisk together beaten eggs, milk, pumpkin puree and salt.

In a small bowl, mix softened cream cheese with brown sugar and vanilla. Add spices and mix until combined.

Evenly divide cream cheese mixture between 4 slices of bread. Spread evenly, leaving ¼ " border of bread uncovered. Top with another slice of bread.

Heat a large, nonstick frying pan with a lid over medium heat.

Place each "sandwich" in egg mixture until just soaked through but not soggy.

Melt butter in frying pan. When hot, add the soaked bread to the pan. Cover and cook over medium low heat for 3-5 minutes on each side.

Serve warm with syrup or powdered sugar.
---
Recipe Notes
This recipe from 2013 was updated November 2016. We made this stuffed french toast even more delicious! Enjoy!
---
This is one of the recipes from the early days of Curious Cuisiniere. We've updated our pictures since we first made it, but we've left the original images here as a fun throwback and shout out to how far we've come. Enjoy!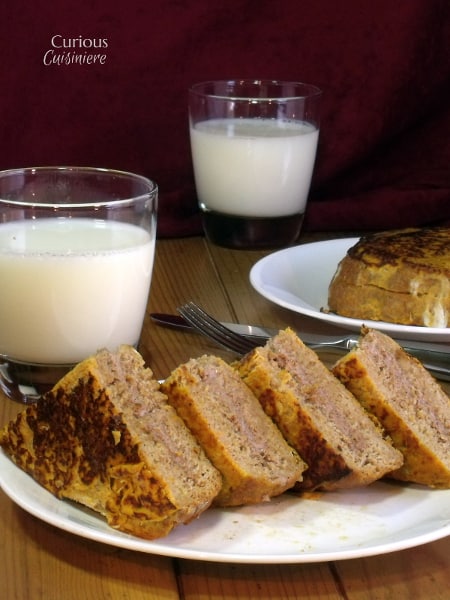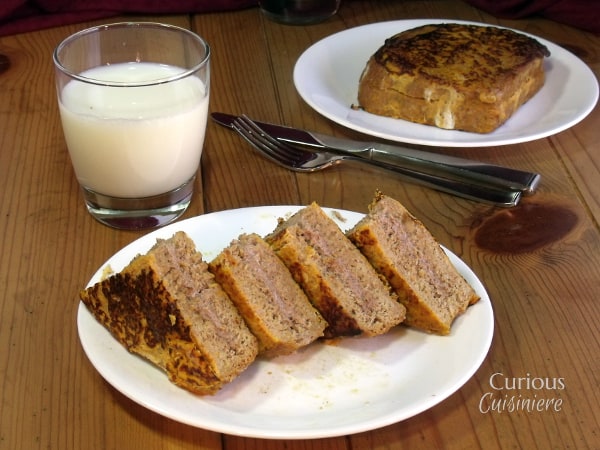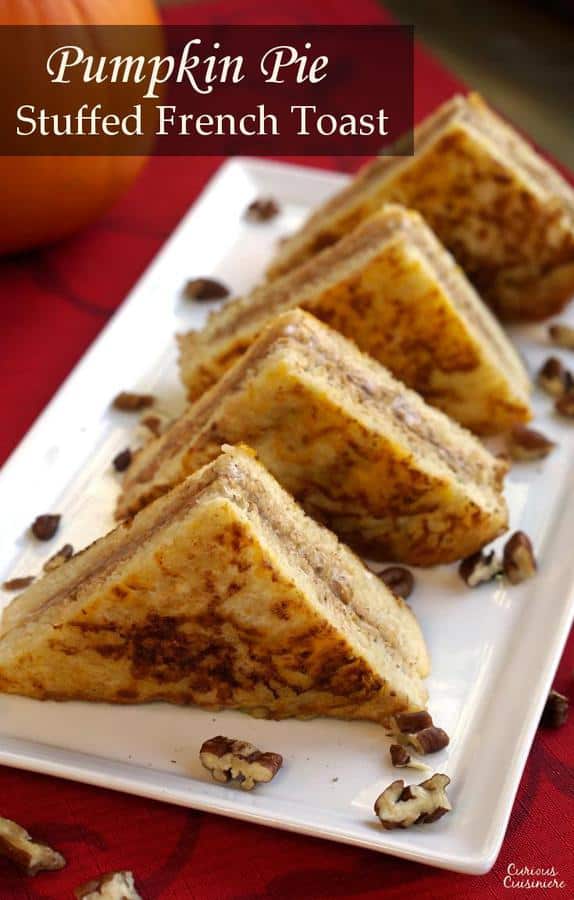 If you liked this recipe, here are some similar dishes you may enjoy!