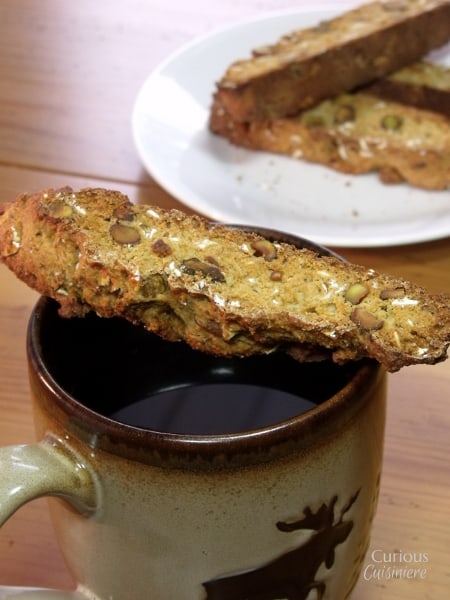 These pistachio biscotti would make a great small treat to greet guests at a brunch, before the main food is served, or as an addition to the dessert table, for those looking for something not too sweet but still satisfying with a nice warm coffee.
They make me think of cool mornings, wrapped in a blanket, a steaming mug of tea in hand.
They also make me think of the wonderful bridal showers put on by my Aunt and Mother-in-law when Tim and I got engaged. There is something about biscotti that reminds me of coffee time shared with good girlfriends and women coming together to share their hearts. Our bridal showers were such a wonderful time to get family and friends together, and to see many people whom I hadn't seen in a while. Great conversation and fantastic food were had at both. Until having my own, I don't think I fully understood how important showers are to making a woman feel supported and loved while she is going through some of the biggest (and incredibly joyful) changes in her life.
Not only are these biscotti perfect for any brunch get-together or small coffee date, but they also make a great gift. Who wouldn't like to receive a little bag of these as a party favor or homemade gift?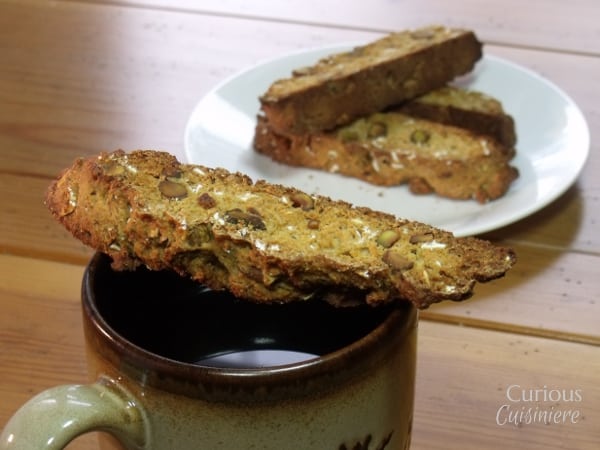 Pistachio Biscotti
Yields 1 dozen 4" biscotti
Author:
Sarah | Curious Cuisiniere
Ingredients
½ c white whole wheat flour
½ c all purpose flour
1 tsp baking powder
2 Tbsp honey
1 egg, slightly beaten
1 Tbsp milk
1 ½ tsp vanilla
2 Tbsp lemon juice
½ c pistachios, shelled, salted
Instructions
Preheat oven to 350F.
In a large bowl, mix flours and baking powder.
In a small bowl, mix together honey, egg, milk, vanilla, and lemon juice. Add to dry ingredients, and mix to combine.
Add pistachios and turn dough onto a counter top and knead 10-15 turns, until well incorporated.
On a baking sheet, shape dough into a 3"x10" log that is roughly ¾" high.
Bake 20-25 minutes; log will be firm but have a slight spring when touched.
Remove from oven and let cool 10 minutes.
Place on a cutting board and cut diagonally with a serrated knife into ½" slices.
Place slices back onto the baking sheet, cut side down.
Bake 10 minutes, until slightly golden.
Remove pan from oven; flip each biscotti to the other cut side. Return to oven and bake an additional 10 minutes.
Remove from oven and transfer immediately to a wire cooling rack. Biscotti will still be soft, but will harden as they cool.
If you liked this recipe, here are some similar dishes you may enjoy!