Chock full of crunchy pecans and tart cranberries this Pecan Cranberry Jello Salad proves that your holiday cranberries don't have to be ordinary. 
Cranberry Jello Salad: A family tradition
This recipe was handed down from my Dad's Aunt Jackie. She loved jello salads and always made two different varieties for family Thanksgiving gatherings.
One bite of this cranberry jello salad reminds me of loud Thanksgivings spent gathered around a large table laden with traditional American Thanksgiving fare – turkey, cranberries, mashed potatoes, rolls, the works.
And, it reminds me of the rowdy "kids" table tucked in the kitchen, where we were always asking for more mashed potatoes and corn.
I was blessed to grow up so close to my Dad's family.  The family was (and still is) tight-knit, and when we were growing up, nearly all of them live within fifteen minutes of each other.
This meant grandparents, aunts, uncles, and cousins could get together often to celebrate or just share life.  It was beautiful to grow up surrounded by such support, and something that I definitely took for granted before I moved a few states away.
Now that the "kids" are growing up, the family is spread over a wider region of the US.
For the most part, we only see them at the Holidays, and even then, it's hard to get the 'whole crew' back together.  But, even if we're missing a few, they're in our hearts and on our minds, and we all really cherish the time that we do have to be together.

Aunt Jackie's Cranberry Jello Salad Recipe
My Great Aunt Jackie's cranberry jello salad is not for the faint of heart.
Each serving is chock full of crunchy pecans, sweet pineapples, and, of course, sweet and tart cranberry goodness.
Top it all off with a creamy and fluffy cream cheese and whipped cream layer, and you have everything you could imaging in a creamy, sweet, tart, crunchy combo.
Aunt Jackie's original cranberry jello salad recipe calls for a package of cherry Jello powder and 2 cups of prepared, sweetened whipped cream. True to our fashion, we decided to tweak her recipe slightly in an attempt to cut a bit of the sugar and make it with more whole ingredients.
So, the cherry Jello powder became cranberry juice concentrate and unflavored gelatin, and we decided to whip our own cream for the topping.
We were really impressed with how the adjustments turned out. Pretty darn near the original, as I remember it!
Enjoy!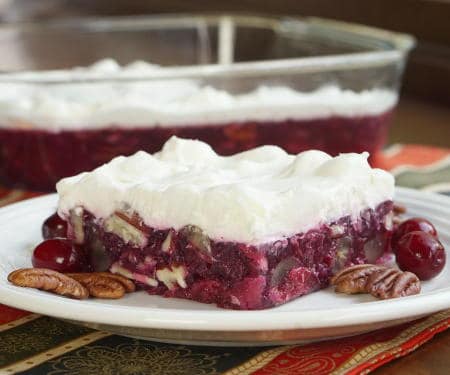 Pecan Cranberry Jello Salad
This salad can be made ahead of time and refrigerated, covered, overnight.
Yield: 1 (9x13) pan (Recipe can be halved to fit a 8x8 pan.)
---
Ingredients
For the Jello Layer
1 ⅓

c

water

⅔

c

100% cranberry juice concentrate,

thawed

½

c

sugar

12

oz

cranberries

(fresh or frozen, thawed)

3

Tbsp

unflavored gelatin

(3 pkgs)

½

c

cold water

1

can (10 oz)

crushed pineapples,

with juice

3

c

red grapes,

halved

1 ½

c

pecans,

coarsely chopped
For the Topping
1 ½

c

heavy whipping cream*

1

pkg (8 oz)

cream cheese

(1/3 fat works well), softened to room temperature

½

c

powdered sugar

1

c

mini marshmallows
Instructions
For the Jello
In a medium saucepan, mix 1 1/3 c water, the cranberry juice concentrate, and sugar. Add the cranberries and bring the mixture to a boil. Reduce the heat to medium low and simmer until the cranberries have all popped open, 3-5 min.

While the cranberries are simmering, in a small bowl, sprinkle the gelatin over ½ c cold water. Let it stand to bloom, or soften, for 5 minutes.

Scoop the softened gelatin to the hot cranberry mixture. Stir to mix well.

Remove the saucepan from the heat and mix in the crushed pineapple (with juices), halved grapes, and chopped pecans.

Pour mixture into a 9x13 baking dish.

Refrigerate for 2 hours, or until mixture has set.
For the Topping
In a large, chilled bowl, beat the heavy cream with an electric mixer fitted with whipping beaters, until soft peaks form. Set aside.

In a medium bowl, beat the softened cream cheese with the powdered sugar, until light and fluffy.

Scoop the whipped cream cheese into the bowl with the whipped cream. Continue beating until the mixture holds stiff peaks.

Add marshmallows and fold them in with a rubber spatula, until evenly distributed.

Spread the topping evenly over the set cranberry mixture.

Return the salad to the refrigerator and chill at least 1 hour before serving.
---
Recipe Notes
*If you would like, substitute 2 cups of already sweetened whipped cream for the heavy cream and powdered sugar in the topping. Simply whip the cream cheese until fluffy and then add it to the whipped cream along with the marshmallows.
This recipe was updated November 2016. We made a few tweaks to use more whole ingredients. Enjoy!

If you liked this recipe, here are some similar dishes you may enjoy!