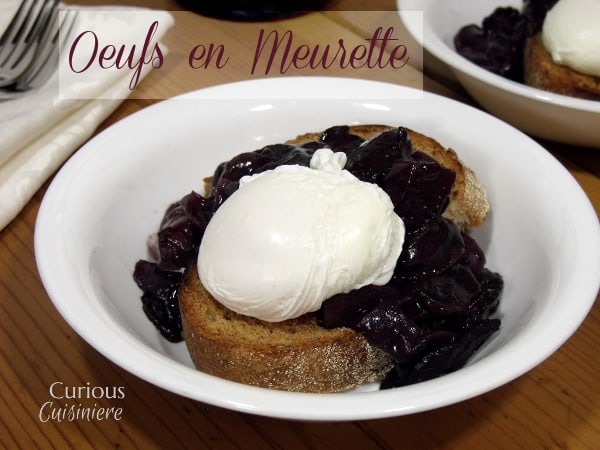 We are very excited to be participating in today's Sunday Supper, partnered with Gallo Family Vineyards. This year is the 50th Birthday of Gallo's Hearty Burgundy wine. And, to commemorate the milestone, Gallo Family Vineyards is producing a limited edition Hearty Burgundy with a special birthday label.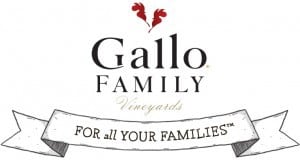 Gallo considers Hearty Burgundy their "original Red Blend", and we found it to have an incredible, dark flavor. Many dry red wines pack quite the bite, but not the Hearty Burgundy. As the first splash hits your tongue, you feel the dryness of the wine, but quite quickly it transitions into a plum and black cherry fruitiness that rolls smoothly into the back of your mouth.
Can you tell we were impressed?
It is a bold wine that would pair well with intensely flavored foods like Italian sausage, or spicy beef, making it the perfect wine for a big family gathering or party. (The 1.5L bottle it comes in helps there too!) But, true to our nature, we decided to go a different direction, with a classic recipe that lets the Burgundy wine really shine through a-midst a number of supporting flavors and textures: Oeufs en Meurette.
Oeufs en Meurette is a traditional dish of Bourgogne, one of France's main wine-producing regions. What really amazed us is how each element of this dish is truly essential in contributing to the finished plate.
The featured element is the Meurette, or red wine sauce. Typically a Meurette is flavored with bacon, onions, mushrooms, and spices. It is in this slow-simmered sauce that the wine's robust flavor infuses the vegetables with intense flavor, as it reduces.
The garlic toast base breaks up the smooth and soft textures of the rest of the dish with crispness and structure. And, even the lightly poached egg is a necessity, as the runny yolk adds a richness to the bold flavors of the wine, completing the dish.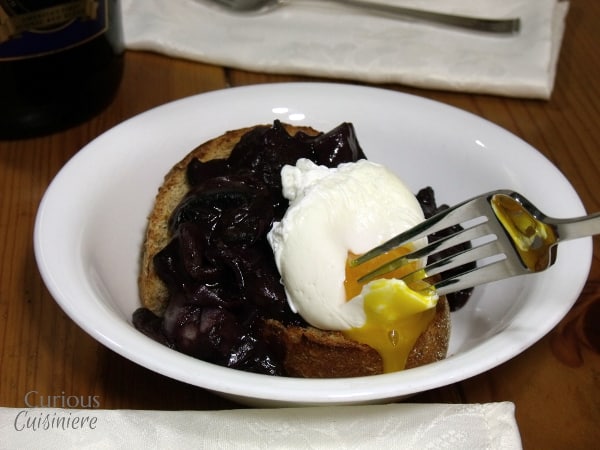 As elegant as Oeufs en Meurette looks (and sounds), it is the perfect dish for entertaining because all the parts can be made ahead of time. The sauce can then be re-heated prior to constructing the plates and serving, leaving you more time to enjoy the company, and the wine!
For more information about Gallo Family Vineyards or the Hearty Burgundy Wine you can visit their website. Take a peek at their store locator to find the 50th Birthday Hearty Burgundy near you. And, have some fun with the family creating your own family crest with their Crest Creator. You can also stay up to date with the Gallo Family through their social media outlets: Facebook, Twitter, Instagram, and YouTube.
Compensation was provided by Gallo Family Vineyards via Sunday Supper, LLC. The opinions expressed herein are those of the author, and are not indicative of the opinions or positions of Gallo Family Vineyards.

Oeufs en Meurette
Author:
Sarah | Curious Cuisiniere
Ingredients
The Meurette
8 thick slices of bacon, cut into 2" pieces
1 large onion, diced
2 garlic cloves, minced
½ lb mushrooms, cleaned and sliced thick
2 Tbsp flour
1 bay leaf
1 clove
1 tsp thyme
¾ tsp salt
½ tsp sugar
½ tsp parsley
¼ tsp pepper
1 ½ c Gallo Family Hearty Burgundy
¾ c beef broth, no sodium added
The Garlic Toast
4 slices French bread, cut 1" thick
1 garlic clove, sliced in half
The Eggs
2 qts water
3 Tbsp white vinegar
4 eggs, cold
Instructions
The Meurette
In a large, non-stick skillet add bacon pieces and fry over medium-high until crisp (5 min). Remove bacon and dry on paper towels. Drain most of the fat from the skillet into a small mug. (Set this aside in case you need extra while sautéing the veggies.)
Add onions and minced garlic to the remaining bacon grease in the skillet and sauté over medium-high heat until soft and just starting to brown (2-3 min). Add sliced mushrooms and sauté until they begin to soften (2-3 min). Sprinkle flour over the veggies and stir to coat evenly. Reduce heat to medium and cook 1-2 minutes until the flour begins to turn a golden brown.
Add the bay leaf, clove, thyme, salt, sugar, parsley, and pepper. Mix well. Pour in the red wine and beef broth, scraping up any stuck bits as the liquid sizzles. Return the cooked bacon to the pan. Over high heat, bring the mixture to a boil. Reduce the heat to medium-low and simmer, uncovered until the sauce is thick (25-30 min), stirring occasionally.
The Garlic Toast
While the sauce is simmering, brush the bread slices with garlic and toast in a small, non-stick frying pan with a little bacon grease over medium-high (5-7 minutes per side).
The Eggs
Bring water and vinegar to a boil in a large saucepan, reduce heat to medium-high to maintain a steady simmer, but not a rolling boil. Break one egg into a small bowl.
Using the back of a wooden spoon, create a whirlpool in the boiling water by stirring quickly in one direction. Slide the egg from the bowl into the center of the whirlpool. Poach the egg for 2-3 minutes, until the whites are firm, but the yolk still gives to the touch.
Remove the egg using a slotted spoon and place on a paper towel to drain.
Continue with the remaining eggs.
To Serve
Place each toast on a serving dish. Cover with wine sauce, and place a poached egg on top.
Serve with a green salad.
Nutrition Information
Serving size:
4 SERVINGS
Calories:
351
Fat:
10.4g
Saturated fat:
3.2g
Carbohydrates:
31.1g
Sugar:
5.2g
Sodium:
1148mg
Fiber:
2.4g
Protein:
17.3g
Cholesterol:
177mg
Take a look at how we are celebrating Hearty Burgundy'ls 50th Birthday this week with recipes that are all about the wine! 
Join the #SundaySupper conversation on twitter on Sunday! We tweet throughout the day and share recipes from all over the world. Our weekly chat starts at 7:00 pm ET. Follow the #SundaySupper hashtag and remember to include it in your tweets to join in the chat. Check out our #SundaySupper Pinterest board for more fabulous recipes and food photos.
Would you like to join the Sunday Supper Movement? It's easy! You can sign up by clicking here: Sunday Supper Movement.
If you liked this recipe, here are some similar dishes you may enjoy!