With oozing cheese and blood-red tomato sauce, this savory Pizza Monkey Bread is the perfect Halloween appetizer!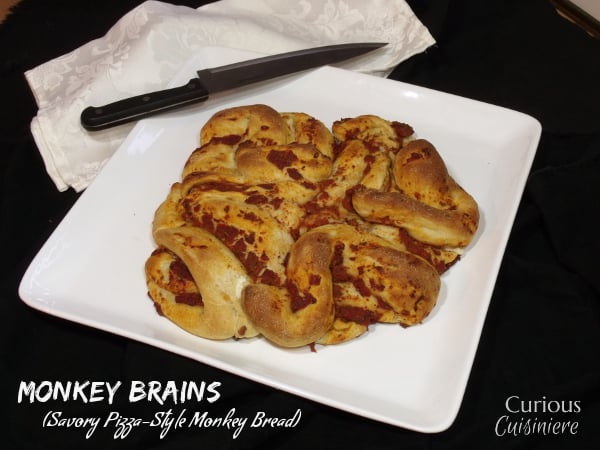 Savory Monkey Bread
You've heard of Monkey Bread, right?
That cinnamon pull apart brunch bread that everyone goes crazy over.
Ok. Now, that we're on the same page, what if we took that concept and went in a savory direction? Say, with mozzarella cheese and marinara sauce.
Sound tasty?
We thought so too.
Making Our Pizza Monkey Bread Recipe
To make this spooky loaf, we stuffed fluffy potato bread dough with mozzarella cheese and snaked the strands together with a thick tomato sauce.
In the oven the dough becomes fluffy, the tomato flavor starts to infuse the bread, the cheese starts to ooze.

A few key tricks for working with bread come into play for this loaf.
First, bread dough won't rise if you roll it too thin. So, when you roll out the dough, you want it about a third to a half of an inch thick. The cheese is beautiful, but this bread is super tasty too, and you really want some fluffy, potato bread goodness interspersed with the melt-y cheese.
Second, moisture is key when it comes to bread. And, for this loaf, moisture comes in two ways.
In the dough – To create a fluffy potato bread, you want your dough to be soft and slightly tacky. As you knead, it shouldn't stick to your hands or leave any dough bits behind.

In the sauce – The tomato sauce gives a fantastic flavor to the bread, but too much moisture in the sauce will add too much moisture to the bread dough as is bakes, causing the inside of the loaf to cook at a different rate than the crust. The sauce should be thick, not watery, which is why you need to drain the crushed tomatoes. Adding a couple tablespoons of tomato paste helps to thicken any liquid left after draining. You are looking for a sauce that is more spreadable than pour-able.
The end result makes for a perfect Halloween centerpiece, and the flavor combo is sure to be a bit hit!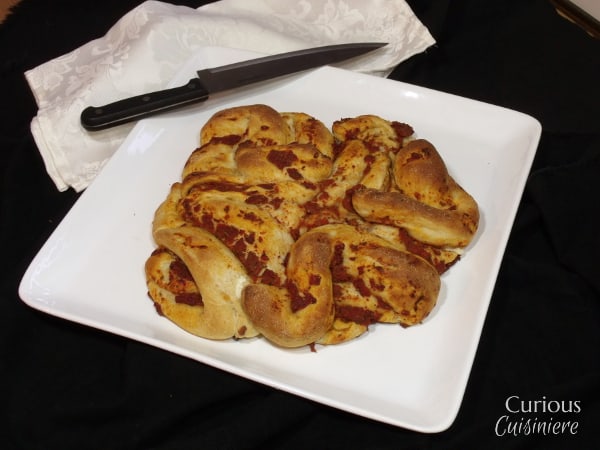 Monkey Brains (Pizza Monkey Bread)
With oozing cheese and blood-red tomato sauce, this savory Pizza Monkey Bread is the perfect Halloween appetizer!
---
Ingredients
For the Bread
½

lb

potatoes,

peeled and cut into 1/2" chunks*

2

quarts

water

2 ¼

tsp

active dry yeast

(1 packet)

¼

c

water,

warmed to 100F

¼

c

milk,

warmed to 100F

¼

c

potato cooking liquid

or water, cooled to 100F

1

Tbsp

salted butter,

melted and cooled

1

Tbsp

sugar

1 ½

c

white whole wheat flour

1

tsp

salt
For the Sauce
1

(14.5 oz) can

crushed tomatoes,

drained

2

Tbsp

tomato paste

1

Tbsp

basil

1

Tbsp

oregano

½

tsp

garlic powder

¼

tsp

salt

¼

tsp

ground black pepper

2

c

mozzarella cheese,

shredded
Instructions
Place potatoes and water in a large soup pot. Boil until the potatoes are tender, 7-10 minutes. Transfer the cooked potatoes to a bowl and mash with an electric hand mixer, adding the potato boiling liquid until the potatoes are very smooth and creamy. Reserve the remaining liquid. (This step can be done up to a day ahead of time.)

In a large bowl, dissolve yeast in the warm water. Let stand 5-10 minutes, until the yeast begins to foam.

Add milk, ¼ c potato cooking liquid, butter, sugar, ½ c white wheat and ½ c all-purpose flours. Mix to combine.

Mix in the mashed potatoes (you should have roughly 1 c) and salt.

Mix in remaining ½ c all-purpose flour and ½ c white wheat flour. Turn the dough onto a lightly floured surface and knead in the last ½ c of white wheat flour, using just as much as you need to achieve a soft and slight tacky dough as you knead for 10 minutes.

Place dough in a greased bowl. Cover and let rise in a warm, draft-free place for 45 min, until doubled in bulk.

While the dough is rising, make your sauce by mixing the drained, crushed tomatoes with tomato paste and seasonings in a medium bowl. Set aside.

When the dough has risen, punch it down and divide it into 6 pieces.

Roll each piece out into a roughly 12inch long, 4 inch wide strip, 1/3 – 1/2 of an inch thick. Place roughly 1/3 c of mozzarella cheese down the center of each strip, and seal the dough around the cheese.

Twist the cheese-filled snakes of dough together on a greased baking sheet, scooping sauce between the snakes to coat the pieces.

Cover loosely with plastic wrap and let rise for 30 minutes.

Pre-heat your oven to 375F.

Bake for 30-35 minutes, until puffy and golden.

Remove from the oven and let cool 5 minutes on the baking sheet before transferring to a platter to serve.
---
Recipe Notes
*Or, 1 c leftover mashed potatoes, un-seasoned.
If you liked this recipe, here are some similar dishes you may enjoy!